Delhi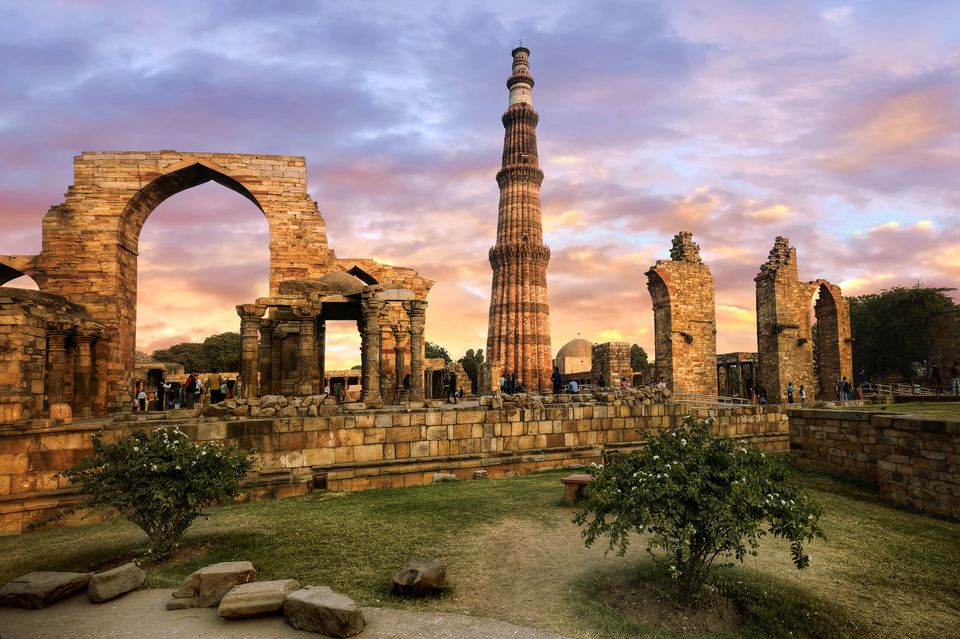 Discover some of the many faces of Incredible India by visiting Delhi. Some of the best images of India's diversity can be captured here. Delhi is one where you will be astound and impressed at every edge. There are end number of places in Delhi which you can stopover and fancy.
The city of Delhi is full of fascinating places to visit and see. Some of the main ones are as follows –
Alluring Qutab Minar Complex, appealing Red Fort, elegant Purana Quila, splendid Jama Masjid, fascinating Safdarjang's Tomb, dazzling India Gate, marvelous Rashtrapati Bhawan, graceful Rajghat, pleasing Purana Quila, exquisite Jantar Mantar and divine Humanyu'sTomb,Bangla Sahib or the colourfull Sahajanabad & Chandni chowk .
Shopping in Delhi
Apart from historical places Delhi is also acclaimed for its incredible range of shopping options specially handicrafts like carpets, silk, jewellery and cotton that are synonymous with India. Delhi is a paradise for shopping, eating and sight-seeing. Recorganized markets and bazaars are must see places in Delhi like Chandni chowk, Delhi haat, palika bazaar, karol bagh, Khan market, Lajpat nagar, Cannaught place, Janpath and Sarojini Nagar.
Religious places in Delhi
In India there are very scanty places which can together be described as modern and traditional, historical and new. Delhi is one of them. In addition to this the city has plentiful options in gardens, malls of South Extension, places of worship which symbolizes equality and brotherhood(Jama Masjid , Bangla Sahib, Akshardham temple, Lotus Temple and Sacred heart church)excursions, food outlets and culture.
Famous Food Corners in Delhi
Influencial food corners in Delhi are Paranthe Wali Gali, Lala Babu Chaat Bhandar, Bishan Swaroop, Shree Balaji Chaat Bhandar, Khandani Pakode wala, Kulcha King, Prince's Paan & Chaat Corner, Dilli Haat, Khan Chacha, Sitaram Diwan Chand, Bittoo Tikki wala, Salim's Kebabs, Dolma Aunty ke momos and Al-Bake.
Jaipur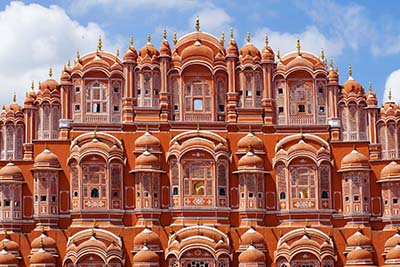 Jaipur the Pink city, multicolored Jaipur, the capital of Rajasthan the City famous for its unique culture, tradition, soothing music, beautifully laid out gardens, parks, attractive monuments and marvelous heritage hotels. All the places in the Pink city are worthy of admiration. Jaipur is connected with most Parts of India by both railways or by airways and also connected with roadways. Jaipur can be reached from Delhi by traveling by road or flying directly to Jaipur either from Delhi or Mumbai. From Agra one needs to drive to Jaipur or take a train to Jaipur and in between visit some famous monuments like Fatehpursikri or the famous stepwells The Abhaneri .
Places to visit in Jaipur
Bountiful places to visit in Jaipur such as Amber Fort, City Palace, Jantar-Mantar, Hawa Mahal, Nahargarh fort, Jaigarh Fort, Jal Mahal, Birla Mandir, Albert hall museum, Rambagh Palace, Govind devji temple, Raj Mandir Cinema, Jaipur zoo.
Jaipur is one of the colorful experiences you can ever have. Its real charm lies in inner lanes, streets and markets. This desert city has all the amenities of the big city. Its airy is infused with the romance, adventure, and gallantry of an incredibly rich historical tradition. Jaipur tour is half done without Camel ride, folk music and desert sounds. People here are very cheerful and will make your trip eventful.
Festivals in Jaipur
Though the Indian State of Rajasthan is known for its monuments, Forts, and Festivals. There are a lot of festivals especially organized by Rajasthan tourism Dept. throughout Rajasthan but in Golden triangle route in Jaipur Teej festival, kite festival, Gangaur festival, and Dhulandi festival are specially organized. Basically, the Dhulandi festival attracts foreigners to celebrate Holi in Jaipur in a unique way. Holi is celebrated in all over India at the same time during the month of March.
Famous Bazaars of Jaipur
The ideal destinations in Jaipur is its markets which has numerous stories engraved in every corner.Famous bazaars are:
Johri Bazar: Oldest as well as the largest shopping mall in the city. Famous for precious gems, stones, timeless jewellery, exquisite sarees. It is the busiest marketplace in Jaipur.
Bapu Bazaar: Place which can't be missed is colorful Bapu Bazar. Largest camel leather market in the world, finest quality 'Morji' shoes and other leather goods like belts, wallets, lamp sheds and bags.
Famous food corners in Jaipur
A trip to Jaipur is not complete without digging into convincing Rajasthani food. You can't return without trying its renowned cuisines like dal bati churma, laal maas, kachori. Some places where you can try authentic food are Spice Court, Natraj, Shri Thaal Village Restaurant, Rawat Mishtan Bhandar, Laxmi Misthan Bhandar and Chokhi Dhani- Place where celebration never stops. The only five-star rated ethnic village resort in India, is one of the best places to visit in Jaipur. Best tourist destination in Jaipur for entertaining its visitors.
Your appetite will grow larger after visiting this place. Traditional food is served with Folk music. Swimming pool, health clubs and popular puppet shows are there to relax your mind.
Agra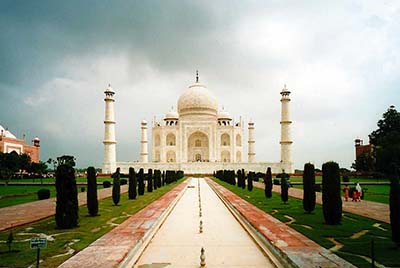 Agra is chiefly famous for its mindboggling Taj Mahal,It is known as home for iconic Taj Mahal, It is the proof of brilliance by Mughals, It would serve as feast to your eyes to watch and it looks more beautiful on the night of full moon day, It stands as a lasting tribute to love and lovers beyond time and also named as wonder of the world. It is the major tourist destination because of its unique history and beauty.
The best way to travel from Delhi to Agra is by different trains . The trains that you can catch from Delhi to Agra are Bhopal Shatabdi, Kerala Express, New Delhi Jabalpur Superfast Express, A P Express, Intercity Express, Nizamuddin Pune Junction,Kalka Superfast Express and fastest train Gatiman Express.
By road and Bus- Your journey can be made enjoyable by road. Make your journey Smooth by travelling from Yamuna Expressway
There are Multiple bus types are available such as Volvo, AC, Non AC, AC available between Delhi Agra.
By road and Bus- Your journey can be made enjoyable by road. Make your journey Smooth by travelling to Agra a enjoyable one.
Places to visit in Agra
From Delhi we move on to Agra where you will observe a completely distinctive airy. Filled with architectural gems, culture,handicrafts and rich tradition. Agra tour has an element of education in it. You will learn a lot while traveling. Every place has a message to serve and element of entertainment. Certain locations are their which stand apart because of their sheer excellence they have to offer in terms of natural beauty. There are end number of places in Agra which you can cherish life long like Agra Fort, Itmad-Ud-Daulah, Wildlife SOS, Mehtab bagh and Shesh Mahal. Three beautiful places which are meagerly famous in Agra are:
Taj Mahotsav- More than a event but not less than a event - Taj Mahotsav is the opportunity to experience Art , Craft , Culture & Cuisine under one roof every year during the Month of March at non other than the city of Taj Mahal- Agra and it is organised of UP tourism dept. Started in the year 1992,this event or festival is now grown up child and offer you to experience around 400 artists from different part of India and many more. It also organise Funfair activities which is big attraction for kids and family. This is the chance to experience the glimpse of whole India at one place.
Excursion from Agra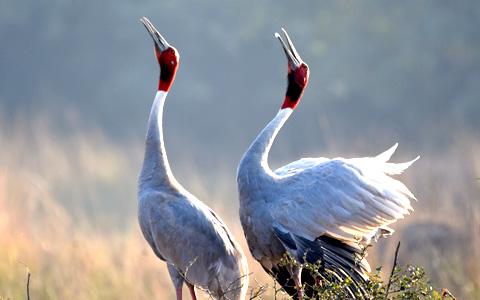 Bharatpur Bird Sanctuary-Famously known as Keoladeo National Park or Keoladeo Ghana National Park. It has thousands of rare and endangered birds, which comes here during the winter season. It serves as a home for mant species of birds. It is major tourist destination in Agra and famous for its beauty. It is also declared as World Heritage site.
Fatehpur Sikri – Majorly famous for its mystic Sufism. Fatehpur Sikri is a fascinating build city. It is one of the praise worthy examplar of Mughal architectural. It is the finest illustration of the culmination of Hindu and Muslim architecture. Fatehpur Sikri Mosque is said to be a replica of the mosque in Mecca and has layouts, imitative from the Persian & Hindu architecture. Prime attractions in Fatehpur Sikri are Diwan-i-Khas, Panch Mahal,Tomb of Salim Chisti, Buland Darwaza, Palace of Jodha Bai, Hawa Mahal, Nagina Masjid, Sunehra Makan and the Jama Masjid.
MUGHLAI FOOD
Agra is maily known because of the Mughals. They only constructed all those famous monuments. Muslim empire left indelible imprints on Agra's cuisine. Mughlai food is famous in Agra for its creamy, boldly flavored curries; lots of ground and whole spices, dried fruits and nuts; roasted meats. It's a rich cuisine fit for a king. Famous points are Indiana, Pinch of Spice, Tajmahal Restaurant.
Typical street stand breakfast consist of sweet and spicy flavor. Mindblowing apptizing Kachori served with a bowl of spicy sabzi. Jalebi is a must try sweet dish in Agra. Famous points are GMB and Shree ji sweets on fatehabad road.
CHAAT
Tasteful Chaat is very popular in Agra—particularly bhalla, various kachori, samosas, and gol gappas. These all satisfying tempting snacks can oly be found on the streets of India. Famous area is Chaat wali gali in sadar bazaar.
Famous point - Rambabu paranthe wale on old Delhi Agra highway
PETHA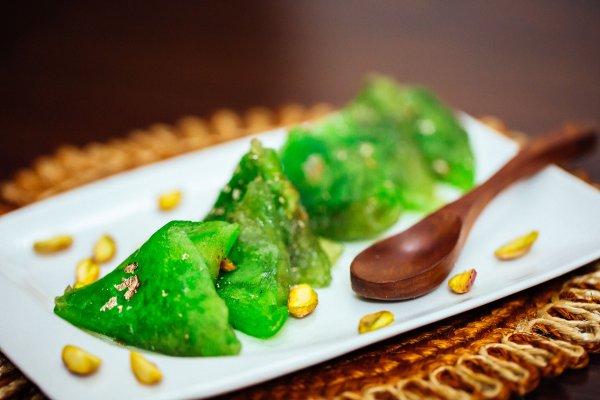 Fragrance of tempting Petha will make you feel tempted as soon as you will enter Agra . It is a centuries-old sweet dish also called as white pumpkin or squash. It comes in many varieties like plain petha of white color, kesar petha, chocolate petha in colorful shades of pineapple, coconut and mango. Famous point and area - Panchhi Petha and Baluganj area.
Gwalior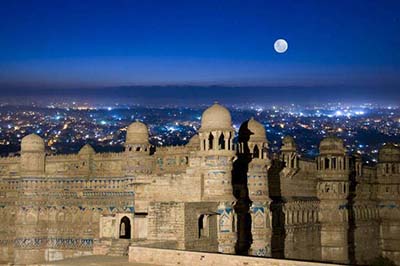 Gwalior famous for its spectacular hilltop fort. Has been described as the pearl among fortresses in india. jai vilas palace, the tomb of tansen, gwalior fort, man mandir palace, gujari mahal, gwalior zoo, teli ka mandir are major sightseeing places.
It has one of the oldest schools of hindustani classical music. gwalior is famous for its vegetarian food. kachoris, samosas, poha and bedai, kebabs, bhutte ki kees, dal bafla, jalebi, imarti, rogan josh, mawa-bati and malpua as well as traditional sweets such as the morena gajak are popular dishes. gwalior has its own airport and railway station which connect it to all the major cities of the country.
Khajuraho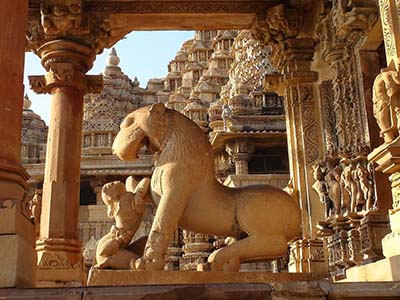 Khajuraho, located in the Bundelkhand region in Madhya Pradesh is known around the world for its stunning temples, is a brilliant example of Indian architecture and its culture back in the medieval period. If you are a kind of person who love architecture and interested in history and culture, then you should visit this place.
Khajuraho is popular for saris, tribal artifacts, traditional handicrafts, handloom products and brassware. Kandariya Mahadev Temple, Light and sound show, Lakshmana Temple, Devi jagdamba Temple, Vishwanath Temple, Adinath temple, Javari Temple, Matangeshwar Temple and Dulhadev Temple are the major attractions. Don't miss Bafla, Mutton Kababs, Korma Moong Dal Halwa, Rogan Josh, Sabudana Khichdi, Chicken Biryani, Jalebi, Kheema, Cashew Barfi, Kusli and Lavang Lata.
Varanasi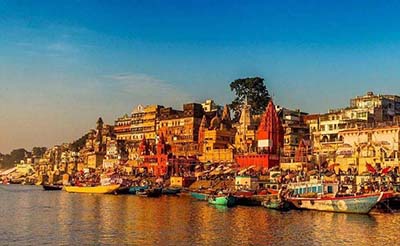 Uttar Pradesh is the land where cultures have evolved and religions emerge. For both Indians and non-Indians, Uttar Pradesh tourism has several exciting destinations. It is also known as heartland of India with Himalayan foothills in the north and the Gangetic plain in the center.
Situated on the west bank of the River Ganga, Kashi or Varanasi is a holy city that has a spiritual legacy dates back to more than 3000 years. To describe the charm of Varanasi, I have only two words, colourful and spiritual.
People come here for spiritual enlightenment and to attain salvation. Renamed after the Varuna and Asi Rivers, it shines with millions of lights, candles, floating diyas and large Jyotis. The magical Indian destination will captivate you with its Ghats, endless lines of Sadhus and Saints, aartis and the floating of earthern lamps over the water of Ganga in the evening.
Varanasi is well connected and accessible to major Indian cities and tourist spots through air, train and bus. You will find daily domestic flights to and from Varanasi to several cities in India. The official language spoken here is Hindi. However, you will find many people who speak English language.
Varanasi Ghats
One of the best things to do in Varanasi is exploring the Ghats. The most charming sight is the Ghats along the River Ganga. To have unrivalled experience, take a walk at sunset hours along the Ghats. The city has almost a hundred Ghats which are bathing Ghats, praying Ghats and cremation sites for Hindus from all over the world. Dashashwamedh Ghat, Assi Ghat, Mata Anandamai Ghat, Manikarnika Ghat, Munshi Ghat, Raj Ghat, Scindia Ghat, Tulsi Ghat, Panchganga Ghat, Kedar Ghat, Rana Mahal Ghat, Causatthi Ghat, Lalita Ghat, Ahilyabai Ghat, Scindia Ghat, Darbhanga Ghat, Harishchandra Ghat, Shivala Ghat, Manmandir Ghat are highly auspicious places to explore that are known for their spiritual ambience. Having boat ride from one Ghat to another is the major attraction here. The Evening Aarti Ceremony which is performed every evening for 45 minutes at Ganges River can be viewed from the Dasawamedh Ghat. Chants, aromas of flowers and incense create a heavenly blessing.
Vishwanath Temple
Without including Kashi Vishwanath Temple, the list of places to visit in Varanasi would be incomplete. It is one of the 12 Jyotirlingas and has also been referred to in the Holy Scriptures. You will experience the divine vibes and vintage charm of the whole city in this temple. Without visiting this holy place, your trip to Varanasi will be outright incomplete. The temple once had a golden spire and domes and so it was also called the Golden Temple.
Sarnath
Just a few kilometers away from Varanasi, there is a sleepy village of Singhpur's Sarnath which is a Buddhist centre of religion. This is the place where Gautama Buddha first came and taught about the concept of Dharma. The Dhamek Stupa, Ashoka Pillar, Chaukhandi Stupa and Dharmarajika Stupa are major attractions. Emperor Ashoka erected a number of stupas and monuments for spreading Buddhism. The crumbling stupas with manuscripts and fascinating inscriptions teach a lot of Indian history, development of Buddhism and provide alternative theories such as Aliens and how they visited the earth.
Chunar Fort
Situated in the Vindhya Range at a distance of about 45 odd km from Varanasi, Chunar fort is located in the Mirzapur district. Lord Vishnu had taken his first step in his Vaman incarnation in the dynasty of Great king Bali and so the fort was called Charanadri initially. However, the name Chunar came after the kingdom is captured by Babar followed by Shershah Suri, Humayun, Akbar, Aurangzeb and finally the Britishers in the year 1772AD.
Inside the fort there is 28 pillars reflecting purely the Hindu style of architecture, Engraving on the mehrab (arch) which is said to have been filled with gold earlier, Deep Bawali (water storage tank) in the fort which still has the water and Samadhi of Bharthari, the brother of King Vikramaditya behind the fort are the major attractions. If you would like to go for a day trek, then the Forest in the Vindhya ranges along the Ganges is an ideal site.
Man Mandir Observatory
Situated some distance away from Dasaswamedh Ghat, the Man Mandir Observatory is a famous tourist spot that is made up of astronomical instruments that calculate time, prepare the lunar and solar calendar and study the movements, distances and angles of the myriad planets, stars and other heavenly bodies.
Kathwala Temple
Situated in the Lalita Ghat, the temple is famous for its exquisite architecture and wood work. This shrine is also called Nepali Temple as it was built by King of Nepal. The major attraction of the place is the intricate wood carving.
Bharat Kala Bhavan Museum
Inside the Benaras Hindu University founded by Sanskrit scholar, Madan Mohan Malviya, there is Bharat Kala Bhavan Museum that has rich collection of Indian paintings that date back to between 11th century and 20th century and are about 12000 in number. The sculpture of marriage of Shiva and Parvati and the 11th century statue of Vishnu and the Gandhara sculpture are the major attractions here.