Pushkar Fair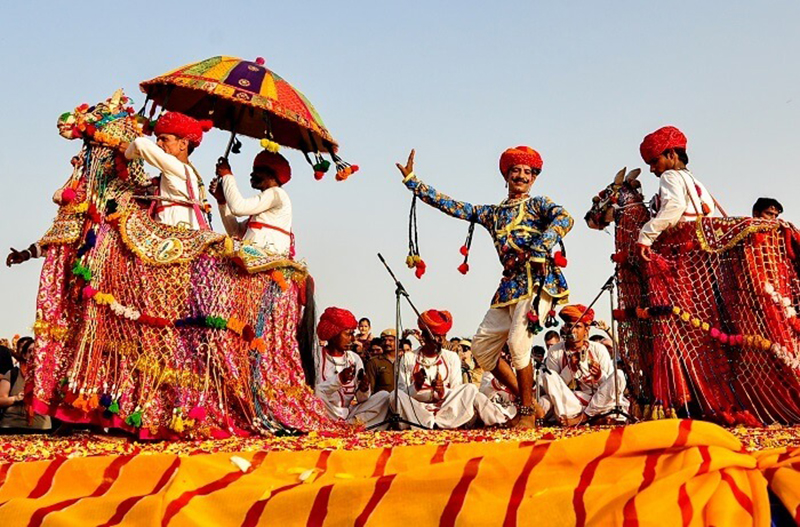 This picturesque livestock fair takes place in the town of Pushkar, in central-eastern Rajasthan. It is held at the start of the Hindu month of Kartik, usually between the end of October and early November. Also known as the Pushkar Camel Fair or Pushkar Mela, it lasts for a few days and attracts a large number of visitors because of its cultural relevance and abundance of exciting exhibitions. The fair starts with a camel race and in the following days, camels, horses, cows, sheep and goats are on sale in the market. Moreover, wide arrays of colourful handmade artefacts such as textiles, bracelets and clothes are displayed by local traders. In the meanwhile, thrilling competitions and celebrative shows fascinate the crowds.
The fair also has a religious significance, in fact, pilgrims travel to Pushkar not only to attend the fair but also to visit the temples and take a dip into Pushkar Lake.
Diwali Festival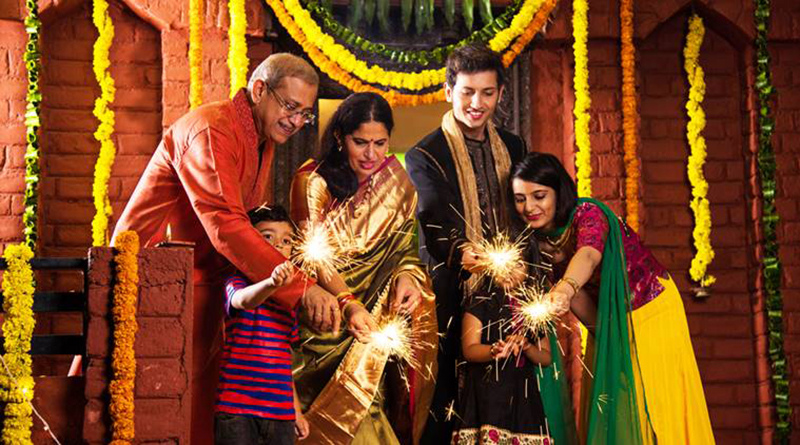 Also called Deepavali, it's the Hindu festival of lights and it's celebrated all over India. According to the Hindu calendar, the dates vary every year but it is either in October or November. The festivity commemorates the return of Lord Rama and his wife Sita to their home after a decade-long exile. In its broader significance, Diwali celebrates the triumph of light over darkness, the victory of good over evil. Hindus decorate their houses with oil lamps, set off impressive fireworks and organise pujas (prayers) with their family or community members. Diwali is also an occasion to purchase new clothes, enjoy traditional sweets and exchange gifts.
Holi Festival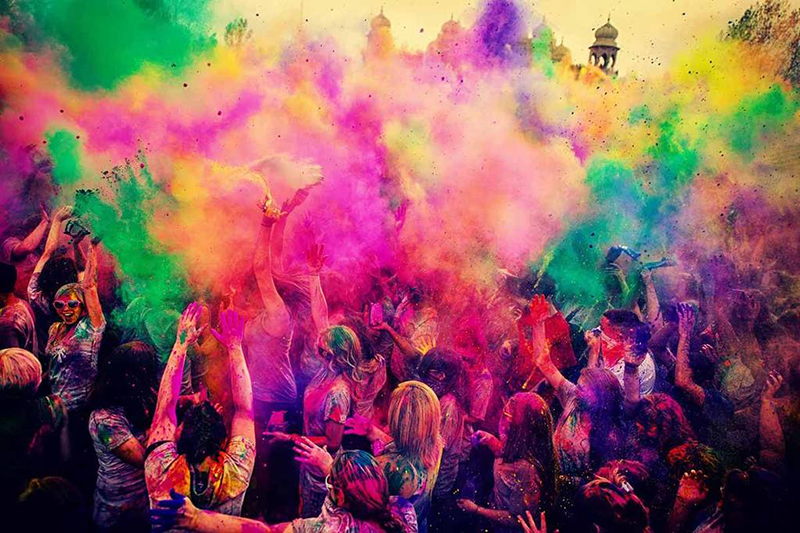 The Hindu spring festival is famous as the 'festival of colours' and it has become immensely popular worldwide. As all the Indian festivals, its dates vary according to the Hindu calendar. The night before the festival starts, religious rituals are carried out around a bonfire in memory of the legendary demoness Holika who was killed in a fire. This rite symbolically signifies the victory of good over evil.
In Northern India, on Holi day, both adults and youngsters throw colourful powders at each other, celebrate and have fun. Special delicacies, desserts and drinks are enjoyed on this day. The most popular drink is thandai, a cold drink made of milk and bhang, a paste containing cannabis.
Particularly interesting and lively are the celebrations of Holi in Mathura, Uttar Pradesh, supposedly the birthplace of Lord Krishna. According to Hindu texts, on Holi day Lord Krishna visited his beloved Radha and because he was jealous of her beautiful fair skin, he playfully coloured her face. Lord Krishna was then chased away by Radha's friends, the gopis of Barsana, nearby Mathura. Nowadays these fierce ladies, reproduce this legendary episode and armed with sticks await the arrival of men from the village of Nandgaon, who are ready to defend themselves with shields. The battle is epic.
Hola Mohalla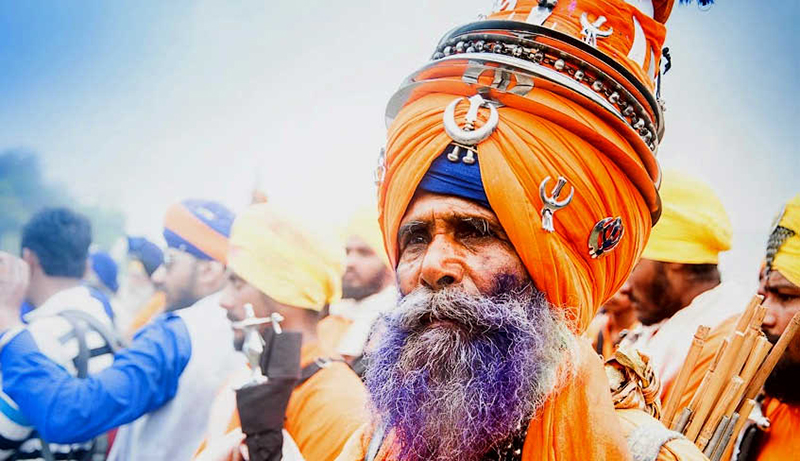 It is the most exciting Sikh festival and it takes place in the city of Anandpur, Punjab. It usually coincides with Hindu's Holi festivities. Every year on these auspicious dates, over 100,000 Sikhs gather to participate in this impressive event. It was Guru Gobindh Singh in the 17th century who founded Hola Mohalla as a way to exhibit and celebrate the martial skills of his community. Sikhs are the caste of the warriors and in this special occasion, they simulate battles, play traditional sports, perform and play war drums in amazing marches. One of the highlights of the festival is the Nihang army's procession. Wearing blue and orange turbans and vests, they carry weapons and march through the crowds riding horses and elephants. Sikhs' have a very strong sense of community and Hola Mohalla is the best occasion to dive into their rich cultural heritage and vibrant traditions.