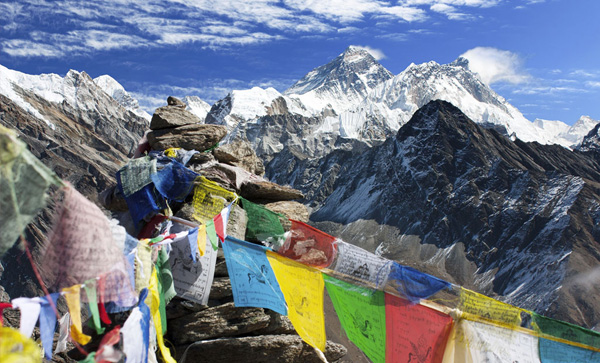 Offering a kaleidoscope of sceneries and experiences, the country is certainly the best place to visit for family vacation, honeymoon tours and even for adventure holidays. Bhutan is the place for romantic travelers, adventure lovers and nature lovers.
Major Attractions Of Bhutan
#1. Thimphu
Thimphu is charming capital city nestled in the Himalayas with the beautiful sights of the Chuu River flowing through it. You will see buildings that are built only in Bhutanese style. Rock climbing is a must experience adventure sport, Dzong such as Tashichhoe and Simtokha; Monasteries such as Dechen Phodrang, Tango and Cheri, Dechencholing Palace, Dochula Pass a scenic spot located more than ten thousand feet above sea level, Norzin Lam Street, Clock Tower Square, Motithang Takin Preserve, National Memorial Chorten, Buddha Dordenma Statue, charming cafes and bars as well as nightclubs and restaurants are the top attractions of Thimphu.
#2. Paro
Surrounded by unleveled mountains, lush green fields and historical buildings, peaceful serene beauty and clean air make Paro the foremost popular destination in Bhutan. Paro and Zuri monasteries and palaces like Paro Taktsang (Tiger's Nest Monastery), Chele La Pass, Pelri Goemba, Ugyen Pelri Palace, Bondey Lhakhang, Khangkhu Lhakhang, Tago Lhakhang, Rinpung Dzong, Druk Choeding and National Museum, Zuri Dzong Trek, River Raftering and Kayaking in Paro Chhu is a thrilling water sport and will offer you a unique experience are major tourist attractions.
#3. Punakha
Punakha is widely visited by adventure seekers. River rafting in the two rivers/chhus – Mo and Pho, Punakha Dzong, Masked dances and traditional music during Punakha Tshechu, a religious festival of Bhutan, Chimi Lhakhang and Namgyal Chorten, Limbhukha are best places to see in Punakha.
#4. Trongsa
Trongsa is must see place in Bhutan that connects roads to Bumthang, Gelephu and Punakha. Trongsa Dzong is the major attraction.
#5. Jakar
Locally known as Chamkhar, the region is mainly known for its trading centre and the famous attraction in this place is the Jakar Dzong. Other interesting and widely visited attractions are Wangdichholing Palace, Bumthang Brewery, Cheese Factory are major tourist attractions.
#6. Phobjikha and Gangtey Valley
Jigme Singye Wangchuck National Park, Phobjikha Valley, Tsechu Festival and the Crane Festival that welcomes the black-neck cranes are vigorously celebrated in the Gangten Monastery courtyard. Nyelung Dechenling, Gangte Goemba, Kumbhu Lhakhang, Khewang Lhakhang, Damchen Lhakhang, White Chorten and Wangmo Hand-Woven Carpet Factory are other tourist attractions.
#7. Wangdue phodrang
Border town near Punakha, Wangdue Phodrang is widely famous for its bamboo products, slate and stone carvings. Wangdue Phodrang dzong during Wangduephodrang Tsechu celebration, Radak Neykhang, Archery Ground, Vegetable Market, Army Training Centre, Dzong Gate and Eight Chortens are other tourist interest places.
#8. Jigme Dorji National Park
One of the top travel destinations in Asia for wildlife, Jigme Dorji National Park is the only park that has National Tree Cypress, National animal Takin, National Bird Raven and National Flower Blue Poppy existing together in the same premises.
#9. Bumthang Valley
Bumthang Valley, the spiritual heartland of Bhutan filled with apple trees and precious Buddhist sites is a tourist's delight.
#10. Phuentsholing
Amo Chuu, Chukha Hydrothermal Project, the Crocodile Breeding Center, the gate at the border (called Bhutan Gate) and Karbandi Monastery are chief tourist attractions of Phuentsholing.
Hidden Attractions Of Bhutan
#1. Chomolhari
Starting at Paro, Chomolhari trek is one of the most challenging treks of Bhutan. After a difficult trek, it rewards the trekkers with blissful views. The glacial lakes, the snow capped mountains and splendid views of the landscapes are other key attractions.
#2. Archery
The national sport of Bhutan Archery played every year during tournaments and festivals is must visit.
#3. Wild Safari
Without exploring the wildlife, your Bhutan tourism will be incomplete. Bhutan welcomes you with wildlife safaris, tiger safaris and bird watching tours as well. Bumdeling Wildlife Sanctuary, Jigme Dorji National Park, Jigme Khesar Strict Nature Reserve, Phibsoo Wildlife Sanctuary are some wildlife places to visit.
#4. Trekking In Mountain of Jomolhari
This ultimate adventure activity will give the best travel experience as you trek along the emerald forest you will be surrounded by a wide range of beautiful landscapes, fauna and flora.
#5.Mountain Biking
Mountain biking is an adventurous eco-friendly sport where you can enjoy this thrilling activity mainly in places such as Tongsa, Paro Valley, Phobjikha Valley, Punakha, Wangthang La, Wamrong and many other locations in Bhutan.
#6. Fishing
Paro Valley, Bumthang Valley, Trongsa Region, Thimphu Valley and Lhuentse Region are few places great for fishing. However, fishing is allowed only on catch and release basis. If you are looking to spend some quality time with each other, then fishing is a perfect activity for families.
#7. Birding
It is a popular and recreational activity enjoyed by everyone. Phobjikha Valley, Bumthang, Bomdeling, Tingtibi, Trongsa, Punakha and Thimphu are ideal places for bird watching.
#8. Hot Spring Therapy Gasa Tshachus
Locally known as Tshachus in Bhutan, there are many hot springs that require small treks. If you would like to seek or get cured from health problems, then make a visit to hot springs. You can find hot springs in places such as Gelephu located in Tshachu of southern Bhutan, Dur Tshachu located in Bumthang and Duenmang Tshachu located on the riverside of Mangde Chu. However, Gasa Tshachus is a popular hot spring in Bhutan where you need to do a ten hour trek from Punakha.
Hotels To Stay
Kichu Resort Paro, Punatsangchhu Cottages in Zamtopang are very good hotels to stay.
Cuisine Of Bhutan
Ema datshi, Kewa datshi, Shamu datshi, Shakam ema datshi Shakam dried beef, Shakam paa a wonderful Bhutanese food of dried beef cooked with dried chilies, Shakam shukam datshi, Phaksha paa slices of pork, Sikam paa dried pork belly fried up with dried chilies, Yaksha shakam dried yak meat, goep, Juma a type sausage made with minced meat, Gondo datshi Butter egg fry, Jasha maru Bhutanese chicken stew, Hoentay, Momos dumplings, Red rice, Lom, Khatem, Jaju Bhutanese milk and vegetable soup, Goen hogay is a traditional Bhutanese cucumber salad, khur-le a Bhutanese pancake, puta noodles, tshampa a dough starch, puffed rice known as zaow, Chogoo cheese snack, Ezay, Suja butter tea are unique cuisine of Bhutan.
Festivals Of Bhutan
Thimphu Tshechu Festival celebrated on 10th Day of 8th month of Lunar Calendar, Jambay Lhakhang Drup Festival and Wangdue Phodrang Tshechu Festival celebrated during October – November, Punakha Drubchen and Tshechu Festival celebrated during February or March, Paro Tshechu Festival most popular spring festival of Bhutan and takes place in the months of March or April, Haa Summer Festival celebrated in July are unique festivals of Bhutan.
Tourism Circuit Of Bhutan
Tourism Council of Bhutan (TCB) plans to develop eastern circuit. It launched new official destination website in 2017. The TCB has undertaken this major development and up-gradation of its official travel destination website with the hope and expectation of improving information sharing among the stakeholders of the tourism industry in Bhutan.