Not only body massages and relaxation treatments but also diseases like weight loss, Anti-ageing, Detoxification, Distress, Digestion Problem, Back pain problem, acne treatment, herbal massage, body massage, knee joint pain relief, Dandruff issues, Stress management, wide range of rejuvenation and beauty treatments and for every kind of disease you will get ayurvedic spa treatment in Tamil Nadu and Kerala.
Tamil Nadu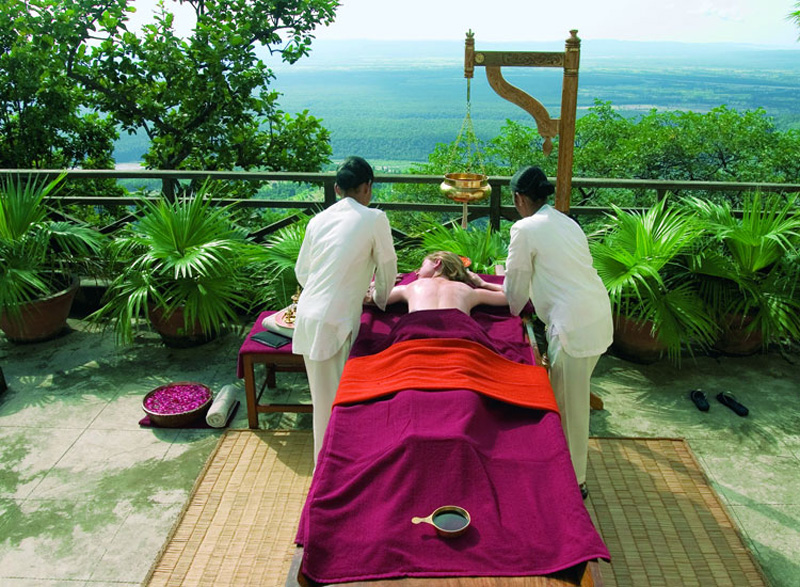 Deluxe Spa And Wellness Centre
#1. Poorna Ayur In Coimbatore
Even though it is in Tamil Nadu, you can experience authentic Kerala Ayurveda. They have a team of experienced doctors and therapists on call to understand your wellness needs and suggest solutions.
Luxury Spa And Wellness Centre
#1. Sohum Spa In Chennai
It is luxury wellness spa which is clean and neat. Signature therapy, facial treatments, massages make you rejuvenated.
#2. Sowkhya Ayurvedic Spa In Chennai
Sowkhya Ayurvedic Centre offers a range of treatments and ayurvedic packages according to your budget. Sowkhya offers treatments for back pain, stress management, arthritis management, obesity management and rejuvenation therapies. Sowkhya also offer beauty treatments and refreshing massages. It is highly popular for weight loss treatment.Most of the people got satisfied.
#3. Ayurillam In Chennai
Ayurillam offers unique and high end holistic programmes for wellness. They use panchakarma method for treating various diseases like arthritis, neurological problems, depression, insomnia, women related problems like menstrual and infertility, obesity, respiratory problems like asthma and gastro-intestinal problems and others. It also offers face care, hair care and massages.
Superior Spa And Wellness Centre
#1. Manthra Bali Spa In Chennai
You can enjoy the authentic Bali Spa as the oils, the salts, the scrubs all are from Bali, Indonesia. The starting price for massage is 3900rs.
#2. The Prana Spa in Kodaikanal
Located at 7000 feet altitude in Kodaikanal a small romantic town atop the misty mountains of kodaikanal, the climate is ideal for revitalizing your energies. Four hand massage, Swedish relaxation massage, Deep tissue massage, Balinese massage, Thai massage, Body wraps in different flavours, Hot stones massage, Pomegranate anti-aging treatment, Pineapple anti-acne treatment, Green tea purifying treatment, Coconut nutritive treatment are done here.
Unknown Spa And Wellness Centers In Tamil Nadu
#1. Kalpaviruksha Ayurveda Village in Coimbatore
They offer full body massage, head massage, herbal bath, foot massage and much more spa and wellness packages.
Kerala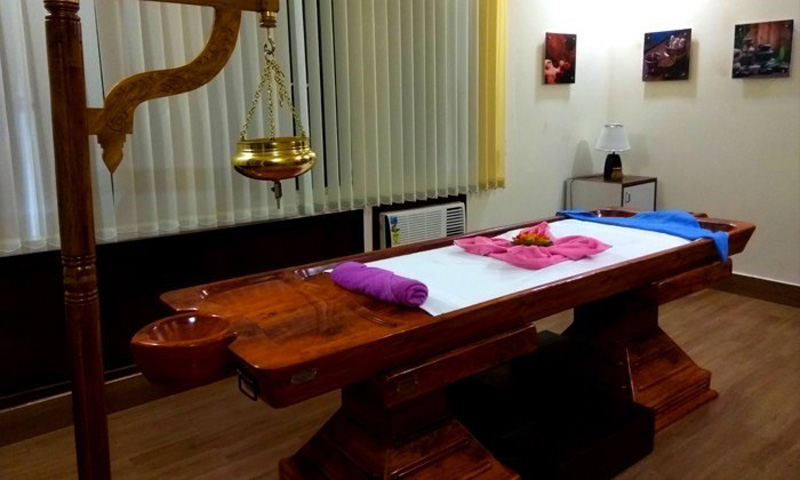 Deluxe Spa And Wellness Centre
#1. Kairali - The Ayurvedic Healing Village,Palakkad, Kerala
Kairali offers ancient Indian traditions like Ayurveda, along with Yoga and Meditation for the complete wellbeing of mind, body, and soul. The massages and Ayurvedic treatments offered here are extremely beneficial and effective. If you wish to experience therapies for obesity, stress, weight and hair loss then make a visit. It also holds expertise in treating chronic diseases. Kairali provides an excellent Panchakarma program and also has very friendly staff, heavenly garden and swimming pool.
#2. Niraamaya Retreats Surya Samudra, Kovalam, Kerala
The Niraamaya spa offers breathtaking views everywhere and friendly staff, outstanding Ayurvedic treatments and spa, yoga, reflexology, European healing practices, Chinese and Thai treatments natural therapies from across the world. Better book well in advance during November to March.
#3. Maya Spa, Kumarakom
The Maya Spa is the largest Spa Resort of South India that provides solution to all health and wellness related problems. It offers Ayurvedic massages, eastern and western therapies (that includes from Swedish to Indonesian) and a variety of skin therapies.
#4. The Leela, Kovalam, Kerala
Apart from a hotel, the place also offers lifestyle package, wellness package, and therapeutic package. Along with these they also offer spa treatment with ranges of the spa to revitalize your mind, body, and soul. Therapeutic treatment is also a field in which they are specialized to heal their clients.
Luxury Spa And Wellness Centre
#1. Taj Bekal Resort and Spa, Kerala
Known for its Jiva spas, the Taj hotel group offers long-term wellness programs of 2-4 weeks duration, Ayurveda programs, Indian aromatherapy, scrubs and wraps, and beauty rituals.
#2. Prakruthi Ayurveda Spa & Treatment Centre
The Prakruthi Ayurveda team is known for traditional art of healing. The place is recommended by many foreign tourists. You will find highly professionals for massaging.
#3. Ayurville In Cochin
Ayurville is a place for relaxation and enjoying luxurious massages, facial, body and beauty therapies using natural organic products that provide you with a feeling of total wellbeing.
#4. Pranavam Clinic in Trivandrum
It's a wonderful destination for Naturopathy Yoga and Ayurveda treatments. Sandal wood massage is a must try in combination with a cooling medicated takradhara. This centre is highly recommended by many foreign tourists.
#5. Kalari Kovilakom, Payyallur, Kerala
It is popularly called palace for Ayurveda. The accommodation is as grand as you can get in a wellness retreat in this lovely enclave. You will love the gardens full of medicinal herbs and trees. Daily yoga and meditation apart from spa treatments can't be missed.
Superior Spa And Wellness Centre
#1. Sarovaram Ayurvedic Health Center, Ashtamudi, Kerala
Located on the bank of Ashtamudi Lake, it offers Ayurveda care package, rejuvenation and detoxification package for a healthy living. Apart from having spa and wellness, you can also enjoy bird watching, herbal garden visit, temple and village visit. The center is specialized in providing treatments for panchakarma, weight reduction, backaches, sinusitis, body purification and detoxification, sleeping disorder, arthritis, neck and shoulder pains, and rejuvenation.
#2. Mitra Hermitage Ayurvedic- Day Packages
It offers a personalized day package included the doctor's consultation followed by great massage and treatments from excellent therapists. The centre has authentic attentive staff, good food and a peaceful atmosphere. It is recommended by many tourists.
#3. Somatheeram, Kovalam, Kerala
The World's first Ayurvedic center Somatheeram has been providing Ayurvedic treatment for over 30 years. You will get Panchakarma treatments, ayurvedic body care, ayurvedic beauty care, yoga and meditation. They are effective in curing diseases like paralysis and nervous disorders, severe skin diseases, leukemia and sports injuries.
Unknown Spa And Wellness Centers In Kerala
#1. Doctors Ayurveda and Yoga centre In Varkala
Located in the corner of pristne odayam beach at varkala, they provide fantastic Abhyanga and Sirodhars, extremely good masseur. They also offer individually tailored treatments after individual consultation and serve ayurvedic food, provides accommodation also.
#2. Ayurdara In Cochin
If you are looking for a posh and glittery ayurvedic retreat, professional, down-to-earth and effective ayurvedic treatment, then here is the centre. Ayurdara is run by a highly committed practitioner who will see you every day before treatment.
Other Best Spa And Wellness Centers In India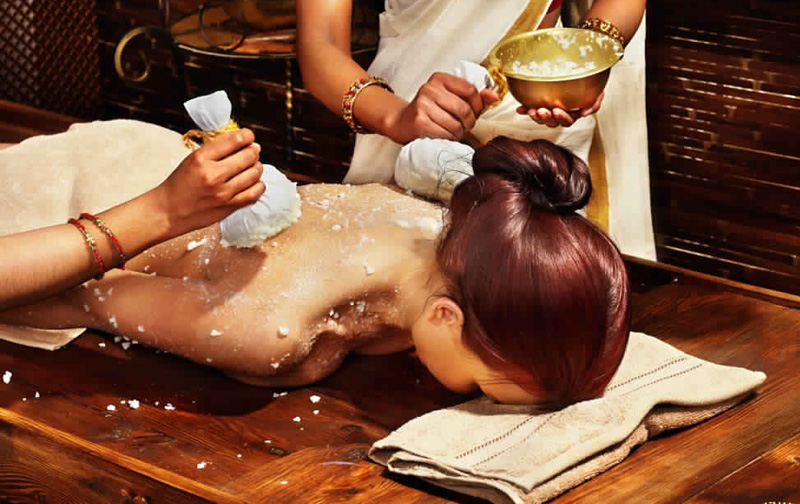 #1. Ananda In the Himalayas, Rishikesh, Uttarakhand
One of the top destination spas in India that is set against the soothing background of the Himalayas, it offers therapeutic treatments based on traditional Indian practices of Ayurveda, yoga and meditation. The price is highly expensive that accommodation and spa packages start from around $1,000 for a couple per night that includes special cuisine and treatments.
#2. Kaya Kalp the Royal Spa, Agra
Kaya Kalp itself has become a world famous brand in the field of spa. It is huge with Royal Mughal ambience spread at every nook and corner. The masseuses are extremely skilled at their jobs. They take around $150 for a room per night. $35 for a 30 minute tension reliever massage, $80 for a 90 Relaxation Ritual (massage and facial).
#3. Atmantan Wellness Resort, Pune
It is an amazing wellbeing destination! The fitness and spa treatments, massages they offer are really good. The price is highly expensive that it starts from around $2,500 for two people for three nights, including all meals and spa therapies.
#4. Ayurvedagram Heritage Wellness Center, Bengaluru, Karnataka
Ayurveda and Yoga practices are performed here to treat people. This wellness center specializes in arthritis lower back, diabetes, psoriasis, sinusitis, spondylosis, digestive disorders, hair fall, hyperacidity, hypertension, pimples, respiratory disorder and ulcers. The facilities offered are modest sized, well kept and the staff is excellent. You will feel new born and energized after the treatment.
#5. Indus Valley Ayurvedic Centre In Mysore
The cottage is beautiful and surrounding is serene. You can experience the true nature and birds chirping each day. The place is known for their ayurvedic treatments and body massages. They offer several packages for weight loss, panchakarma treatment, and rejuvenation packages.
#6. Wildflower Hall, Shimla, Himachal Pradesh
Filled with the exclusive range of massage, yoga, and Ayurvedic treatments, Wildlife Hall offers some majestic views of the Great Himalayas. It is acknowledged for all-embracing spas like massage therapies, revitalizing body therapies, and skin & nail care, ayurvedic therapies, and specialty baths.
#7. Amarvilas Spa, Agra, Uttar Pradesh
Amarvilas resort is known for authentic spa treatments which help in rejuvenating and relaxing the body. Moreover, the resort has a spa therapy for couples also who want to enhance their love through rejuvenating spa experience.
#8. SwaSwara, Gokarna, Karnataka
Located amidst peace and serenity in Gokarna, this wellness center gives a panoramic view of the beach. It offers authentic Ayurveda treatments along with yoga classes.