#1. Agra Fort - Uttar Pradesh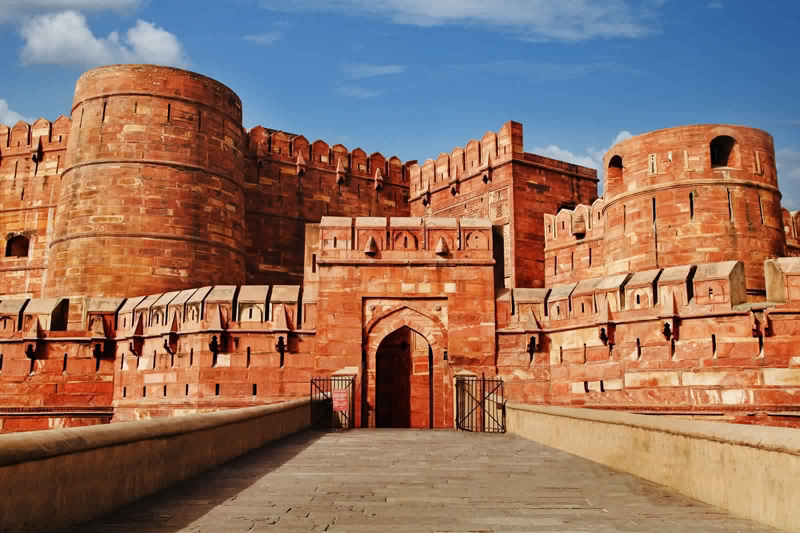 Located at a distance of just 2.5 km from Taj Mahal, Agra Fort is declared as the UNESCO World Heritage site. Agra is easily accessible as it is well-connected with all major cities in India. As it is built of a kind of red sandstone, it is known as Red Fort. Akbar built this fort in 1565 A.D, and is a masterpiece of design and construction.
You can explore Diwan-i-Khas, Pearl Mosque, Moti Masjid, Anguri Bag, Diwn-i-Aam, Khas Mahal, and Musamman Burj within the fort. Sheesh Mahal, Golden Pavilions, Jahangir's Palace, Naubat Khana (Drum House) and Khaas Mahal are the other important monuments inside the fort. To provide an insight into the history of the monument, UP Tourism has started a new sound and light show.
Inside the Agra Fort, you will find more than 500 buildings which are fine specimens of the Mughal and Persian style of architecture.
#2. Taj Mahal – Uttar Pradesh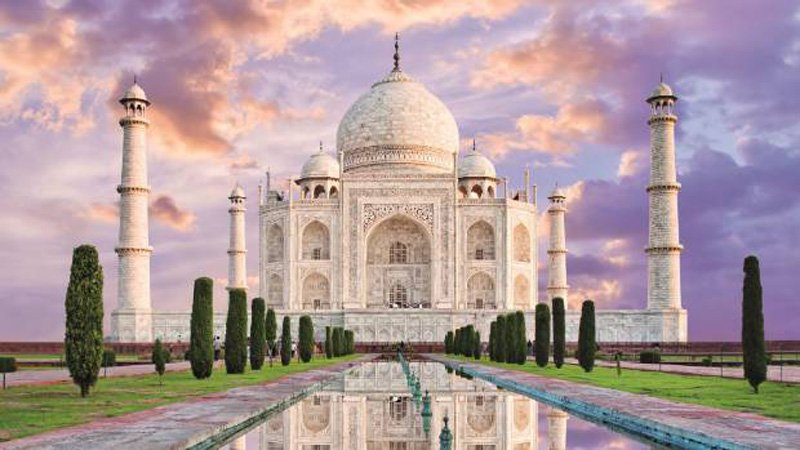 One of the Seven Wonders of the Modern World, Taj Mahal was built by a seventeenth-century Mughal King Shahjahan in memory of his beloved wife Mumtaz where the building was originally an ancient shrine of the Hindu god Shiva.
It was captured and reconstructed by hiring approx. 20,000 stone carvers, craftsperson and artists from different corners of the country along with artists from Iraq and Turkey. Its intricate designs, pristine white marble mesmerize the tourists. The building on the western side is a mosque while the other is a guesthouse of Mughal age.
#3. Fatehpur Sikri – Uttar Pradesh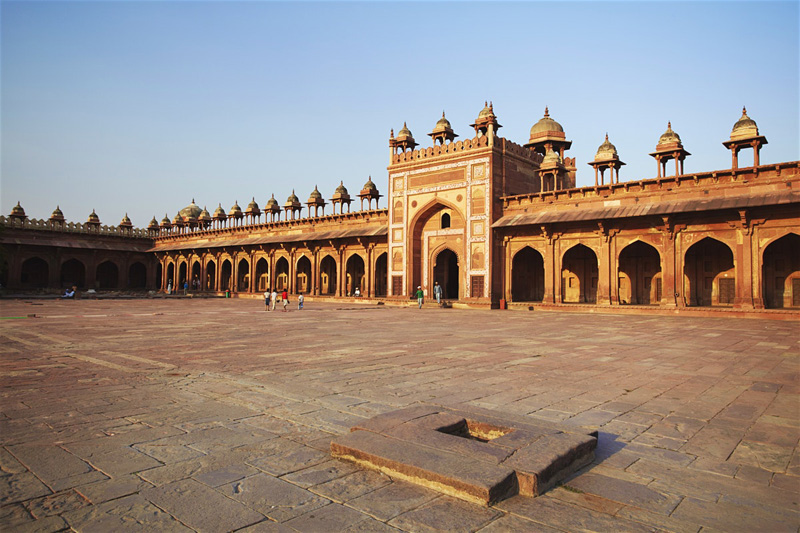 Once a blooming capital of the Mughal Emperor Akbar till 1585, Fatehpur Sikri was formerly known as Fatahabad. The city was built to honor the Sufi saint Salim Chishti. Buland Darwaza made from red sandstone with carved marble and granite inlays, Diwan-I-Khas hall of the private audience, Jodhabai Palace, Tomb of Sheikh Salim Chisti is one of the finest examples of the artistic stone carving mastery in medieval India, Jama Masjid marks the transition of the Islamic architecture which was combined with the Hindu style architecture, Birbal's Palace, Mariam's Palace, House of the Turkish Sultana and Panch Mahal, Ram Bagh an amusement garden and for the purpose of relaxation are major attractions. It is recommended to visit Fatehpur Sikri between November and April.
#4. Ajanta Caves -Maharashtra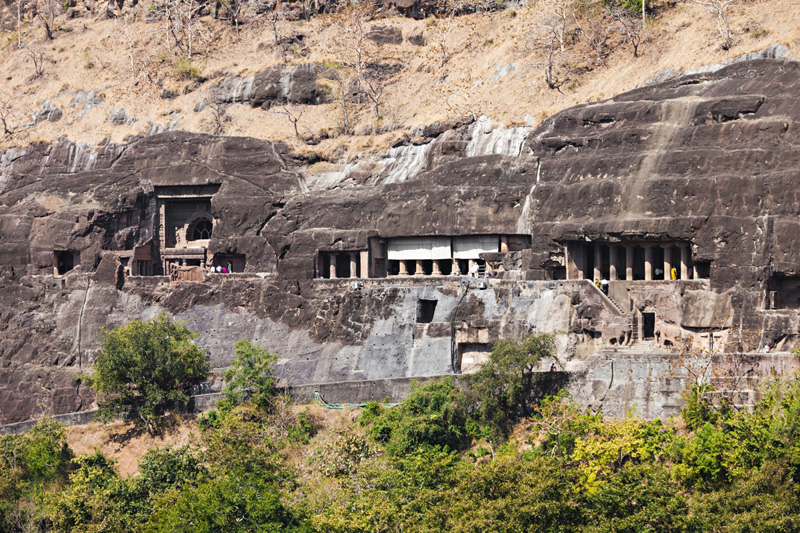 You will find a group of 29 Buddhist cave temples that date back to the 2nd century BC that shows some of the best masterpieces of Buddhist art in the country. Various Bodhisattvas with meaningful inscriptions can be seen in these caves on the walls.
Carved in a horse-shoe shaped rock, Ajanta Caves is 104 km from Aurangabad. Built in the period between 200 BCE and 680 CE, Ajanta Caves has viharas and Buddhist monasteries. It is better to visit the Ajanta Caves between November and February. You can explore the rich heritage in each cave and also visit each of the 30 rock-cut Buddhist cave monuments that showcase some of the finest paintings and sculptures in the Indian history. All the paintings are authentic and the cave has intricate abstract designs of devils, birds, fruits and flowers.
#5. Ellora Caves – Maharashtra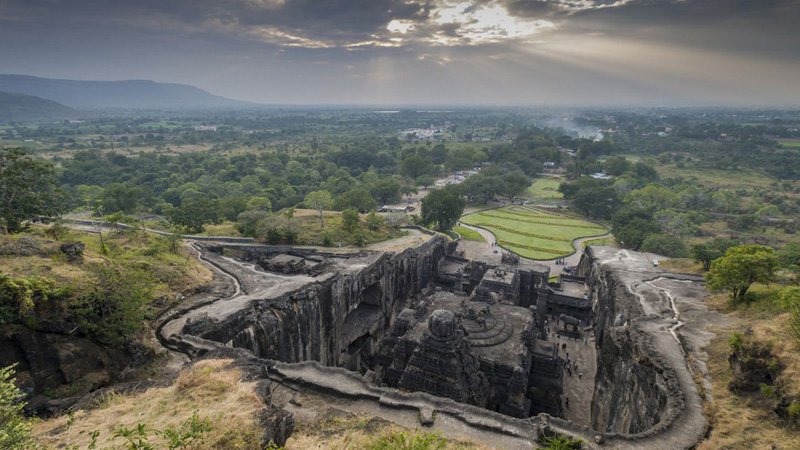 Ellora Caves is 29 km away from Aurangabad and is easily reachable from different neighboring places like Mumbai, Hyderabad and Ahmedabad. The best time to visit this place is between June and March. Ellora Caves are scattered randomly and were built between 5th and 10th century.
Built under the rule of Chalukya, Kalachuri and Rashtrakuta rulers, carvings represent the harmony between Hindus, Buddhists and Jains. It has 34 caves and each has its own significance. Impressive carving of Maitreya Buddha, Padmapani holding a lotus, Kailash Temple, Cave 15 that depicts the ten avatars of Lord Vishnu speaks the architectural brilliance of then craftsmen.
Ajanta and Ellora Festival is organized annually in November by Maharashtra Tourism Development Corporation. Buddha sculptures handcrafted by the local artisans, semi-precious stones, clothing, and Buddhist and Jain paintings make the place one of the best shopping destinations in India.
#6. Elephanta Caves – Maharashtra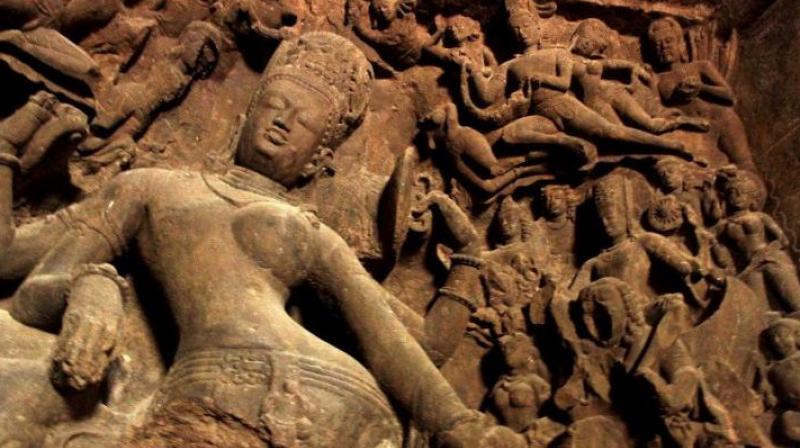 Situated in the Gharapuri Island, the caves were renamed as the Elephanta Caves due to their shape of the elephant. You will find 7 caves in total which are dedicated to Lord Shiva and those rocks cut sculptures depicts the ancient Hindu culture and tradition.
A massive hall supported by large pillars and a large Mahesamurti statue, Three-headed shiva sculpture, Shiva Nataraja and Ardhanarishvara, Andhakasuravada murti, Kalyanasundara murti, Cosmic dance of nataraja, Gangadhara murti, Panel depicting saptamatrikas are the main attractions of this island. To reach Elephanta Caves, you need to take a ferry ride from Gateway of India in Mumbai. From here, it takes one hour by sea.
You can find Indian artifacts, sculptures made of marble, amazing items of wood work, jewellary in local flea market which is a paradise for women.
#7. Chhatrapati Shivaji Terminus – Maharashtra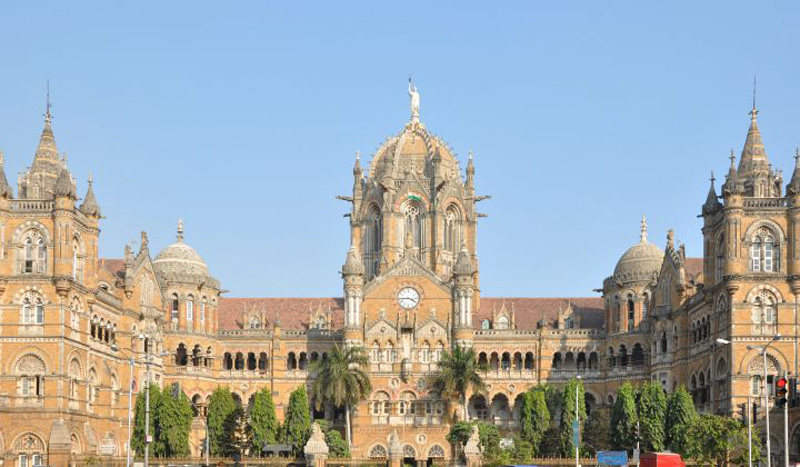 Built in 1887, Chhatrapati Shivaji Terminus is believed to be a finest example of 19th century railway architectural marvels in Mumbai. It facilitates 7 suburban and 11 separate out-station tracks. Gateway of India, Flora Fountain, Sanjay Gandhi National Pak, Juhu Beach, Marine Drive, Elephanta Caves, Wankhede Stadium, Nariman Point are nearby tourist attractions.
The railway station serves as a terminal for long distance trains as well as the local trains of the Mumbai Suburban Railway. You will find pointed arches, beautiful turrets, iron works, wood carvings, balustrades and ornamental brass. CST Heritage walk is organized by Central Railways.
#8. Kaziranga National Park – Assam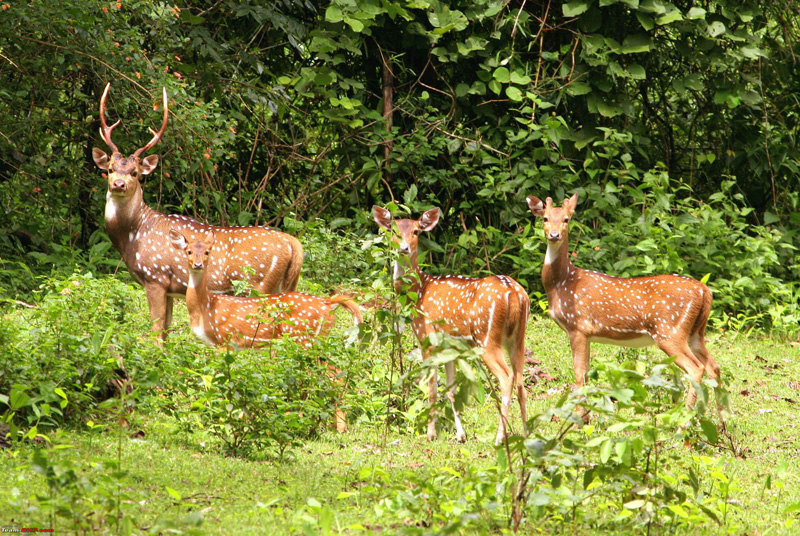 Kaziranga is the place where wildlife roams fearlessly and has unique natural environment, is situated in the district of Golaghat and Nagoan in the state of Assam. Indian one-horned rhinoceros, tigers, Elephants, wild water buffaloes and swamp deer, various species of migrating and inhabitant birds, barasingha, grey-headed eagles, water birds like pelicans, whistling teal, Bengal florican, bar-headed goose, swamp partridge, herons are the major tourist attractions.
To explore the hidden mystery of the dense jungle, you can either opt for elephant safari or jeep safari to move in the open grounds on these majestic animals. The best time to explore Kaziranga National Park is between November and March.
#9. Manas Wildlife Sanctuary – Assam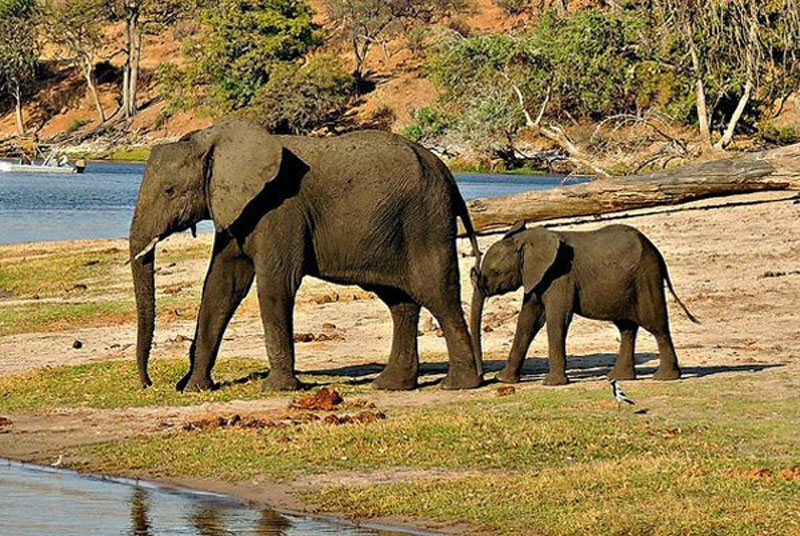 Located in North-East India, Manas Wildlife Sanctuary is recognized not only for its rich biodiversity but also for its spectacular scenery and natural landscape. You can spot tiger, swamp deer, rhinos, pygmy hog and Bengal florican while sitting on an elephant.
The national park is also famous for the rare golden langur and the red panda, wild water buffalo. From Mathanguri, elephant rides are arranged by forest officials to Manas. During the tea season, you can see tea pickers in groups and the best time to see activity is between October and first week of December and again from mid March onwards.
You can go for rafting in the azure water of the river at Manas National park for a breathtaking experience.
#10. Group of Monuments at Mahabalipuram – Tamil Nadu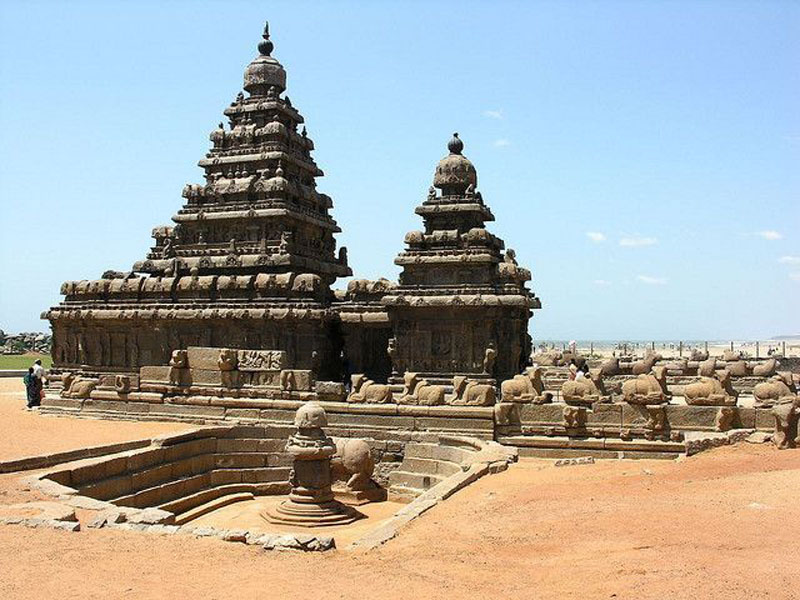 Situated just 60 km off Chennai on the Bay of Bengal coast, you will find many resorts in Mahabalipuram close to the tourist spots. Mahabalipuram Dance Festival is celebrated in the month of January or February every year where artists from all over the country come together to perform. The best time to visit this place is during October to March.
Varaha Cave, a small rock-cut mandapam (hall), Sculpture Museum, sunlight glimmers in the Mahishamardini Cave, Somaskanda sculpture radiates peace, Lord Vishnu in omniscient repose is a masterpiece of dhwani (the art of suggestion), Arjuna's Penance, Shore temple, Pancha Rathas, Tiger caves, Ganesh ratha, Mahishamardini Mandapam are worth visiting.
There is a forest with tribal people and all forms of animal life, just as they would appear in their habitat.
#11. Great Living Chola Temples – Tamil Nadu
Splendid in architecture, sculpture, painting and bronze casting, the Great Living Chola Temples showcases that they were innovative builders and the achievements of the royal Chola dynasty. It comprises of three temples; the Brihadisvara Temple at Thanjavur which is 1,000 years old and has the tallest temple tower in the world, the Temple of Gangaikonda Cholapuram and the Airavatesvara Temple at Darasuram known for its architecture, stone image of Shiva and 24-m vimana at Darasuram are worth visiting.
They used granite to create design consisting of deities, warriors, kings and dancers. All the three temples follow ancient Vedic rituals and the deities are worshipped every day.
#12. Mountain Railways of India – West Bengal, Tamil Nadu & Himachal Pradesh
Darjeeling in north of West Bengal, Ooty in Tamil Nadu and Shimla in Himachal Pradesh are the three most visited scenic hill stations. The journey on Darjeeling Himalayan Railway that offers Jungle Safari Holiday Trains and Joy Rides gives you a memorable experience. The scenery is very beautiful all though the trip is good fun.
Kalka-Shimla Toy train takes you through the mysterious pine forests of the Himachal Himalayan region. Nilgiri Mountain Railway also called Rack Train takes you through the picturesque forested hills and tea plantations. You will be thrilled whole the train ride as it twists and turns around the hills, traversing forests and tea plantations, passing through many tunnels.
#13. Great Himalayan National Park – Himachal Pradesh
If you are a kind of person who loves forest areas and adventures, then plan to visit Great Himalayan National Park that is blessed with incredible views of towering trees, dangerously rocky paths and flowers blooming in the grass. Located in Kullu District, it has wildlife species like the goral, musk deer, tragopan, brown bear, snow leopard, thar leopard, monal, bharal, koklas, snow cock etc.
Trekking, Ecozone activities like rock climbing, river crossing, camping in alpine pastures are major tourist activities. If you need any assistance and guidance, you can contact Range Officer wildlife at Sainj or Range Officer Wild Life at Sai Ropa or the Director of Great Himalayan National Park at Shamshi.
#14. Sun Temple in Konark – Odisha
The Sun Temple built by King Narsimhadeva I of the Ganga Dynasty is an example of architectural excellence existing in those times. You can know the magnificence of the Konark temple throughout its intricate sculpture work.
Nata Mandir (dance hall), Bhog Mandapa (dining hall), sculptures on the walls are exotic beautiful carvings. Sun God is placed in such a way that they catch the sunrays, during dawn, noon and sunset.
In the form of a chariot of Sun God with extravagant carvings, the entire temple is conceptualized which is dragged by 7 horses.
#15. Keoladeo National Park – Rajasthan
Keoladeo National Park formerly known as the Bharatpur Bird Sanctuary is recognized as one of the world's most important bird breeding and feeding grounds. You will find over 370 species of birds and animals such as the painted storks, basking python, nilgai, deer and more.
The nearest airport is Agra. You will find regular rail services that connect all the major cities. The specialty of the park is that it is a man-made and man-managed wetland. The best time to visit the place is between August and November for the resident birds and for the migrating birds, between October and February.
Inside the park, you can embrace the nature through 4 modes of transportation. A short walk or bicycle ride or by cycle rickshaw or in Tonga. If you are bird photographer and nature lover then you will enjoy the place a lot.
#16. The Jantar Mantar – Rajasthan
Jantar Mantar is the place where you can witness the world's largest sundial which is considered as one of the largest observatories in the world. Samrat Yantra, Hindu Chhatri, Jaiprakash Yantra are major tourist attractions.
Built by Maharaja Jai Singh II, Jantar Mantar was one of five astronomical complexes that had the most advanced observatory instruments with the ability to predict eclipses, track the location of stars and determine the exact orbit of the earth around the sun.
Apart from the texts, this observatory is the single most representative work of Vedic thought that still survives. This observatory is a proof of cosmological, astronomical and scientific concepts which is still in impeccable working condition and provides accurate information just like the modern instruments.
#17. Hill Forts – Rajasthan
Rajasthan known as the 'Land of kings' has various historical monuments. The hill forts of Rajasthan are a wonderful example of the beautiful architecture, testimony to the valor, bravery and cultural traditions of the Rajputs. Chittorgarh Fort, Amber Fort, Mehrangarh Fort, Kumbhalgarh Fort, Jaigah fort, Ranthambore fort, Jaisalmer fort, Gagron Fort, Nahargarh Fort, Junagarh Fort, Taragarh Fort, Alwar Fort, Lohagarh Fort, Mandawa Fort fascinate the tourists with their amazing architecture.
The best time to go on a trip to Rajasthan is between October and February. It gives you a great weather to roam about and you will experience the most cherished memories.
#18. Churches and Convents – Goa
Goa was invaded by Portuguese and during their rule for many years they destroyed many Hindu temples and established a major number of Churches. The Churches and Convents of Goa are a group of Catholic religious buildings that shows the Portuguese style of art and architecture around Asia.
The UNESCO World Heritage Site of "Churches and Convents of Goa" comprises of Basilica of Bom Jesus, Se Cathedral, Church of St. Francis of Assisi, Chapel of Santa Catarina/Chapel of St. Catherine, Ruins of the Church of St. Augustine, Church of Divine Providence (São Caetano or Saint Cajetan), Igreja de Nossa Senhora do Rosário/Church of Our Lady of the Rosary are the most popular churches in old Goa region.
#19. Group of Monuments at Hampi – Karnataka
Hampi located in the Karnataka state was the last capital of the last great Hindu Kingdom of Vijayanagar. It was fabulously rich kingdom and was conquered by Muslims very brutally. They couldn't face the king directly and so backstabbed and conquered. It took them over a period of six months to loot the wealth of the kingdom.
So, you can imagine how much wealthy kingdom it was and how much efficiently king ruled.
Ugra Narasimha monolith, Virupaksha Temple, florid ornamentation, Lotus Mahal, very delicate and bold carvings, Pampapathi, Vithala Temple along with the "Musical Pillars", Queen's Bath, Singaradu Hebbagilu, Hazara Rama Temple, Shri Vishnu incarnations depicts few of the erotic sculptures of those times.
#20. Group of Monuments at Pattadakal – Karnataka
Situated at Bijapur district of Karnataka, Monuments at Pattadakal exhibits the great Chalukya architectural style. Sangamesvara temple, Kadasiddhesvara temple, Jambulingeswara temple, Galaganatha temple, Ksivisvesvara temple, Mallikarjuna temple, Virupaksha temple are various notable sacred temples you can find at Pattadakal.
The famous ceiling panels of sacred dikpalas, navagrahas, Ardhnarisvara, the dancing Nataraja, Tripurari, Lingodbhava, Trivikrama, Varahavisnu and various ancient sculptures depict the importance of ancient Indian architecture. The best time to visit the place is between February and March.
#21. Khajuraho Group of Monuments – Madhya Pradesh
Khajuraho is the perfect example for architectural magnificence and artistic excellence by then architects of a particular time in ancient India. It has incredible carvings and designs depicted on the temple walls.
Located in Chhatarpur District of Madhya Pradesh, Khajuraho is popular for its erotic sculptures such as Kandariya Mahadeva temple, Lakshman temple, Chausath Yogini temple, SEL show, Matangeshwar temple, Chaturbhuj temple, Brahma temple, Chitragupta temple, Devi jagadamba temple are major tourist attractions.
Built between 950-1050 AD by the Chandela Dynasty, these temples has incredible carvings and designs, stunning displays of fine sculptures and exceptional architectural skills, various forms like meditation, wrestling, spiritual teachings, kinship, royalty and most significantly, erotic art.
There were more than 85 temples, but today only 25 remain as from 13th to 18th century, Khajuraho went into the hands of Muslim Dynasties and in this period, they destroyed many temples.
#22. Buddhist Monuments at Sanchi – Madhya Pradesh
Located in the North of Bhopal, UNESCO World Heritage Site Sanchi Stupa is a famous sightseeing destination where you will find some of the oldest and most interesting Buddhist monuments at Sanchi that illustrates Mauryan Art and Architecture and monasteries of the Buddha. For the followers of Buddhism, Sanchi is a famous pilgrimage destination.
The Great Stupa was erected for paying homage to Lord Buddha and the Sanchi Stupa known for its masterpiece of Buddhist art is a major monument constructed to portray the life and journey of Lord Buddha.
The Great Stupa, The Four Gateways, The Ashoka pillar, The Sanchi Museum are the major tourist attractions. The best time to visit the place is between November and February.
#23. Rock Shelters of Bhimbetka – Madhya Pradesh
Located in Madhya Pradesh, these rock shelters date around 10,000 years old is an UNESCO World Heritage Site since 2003. Bhimbetka that has around 243 rock shelters is an archaeological treasure. The naturally carved rocks surrounded by dense forests will mesmerize you.
There are paintings broadly classified under periods of Upper Paleolithic, Mesolithic, Chalcolithic, Early Historic and medieval and each period has its own unique artistic and decorative style. You will find abundant natural resources like perennial water supplies, natural shelter, rich forest flora and fauna.
Zoo rock, Boar rock, Auditorium rock shelter are the major tourist attractions.
#24. Sundarbans National Park – West Bengal
Sundarbans National Park is an example of natural awe-inspiring scenery. Not only known for natural scenery and tiger, it is the only mangrove forest in the world which is the habitat of tigers. The spectacular boat trip at Gadkhali from Kolkata that passes through islands and narrow creeks is something that will amaze you.
You can have motorboat safari and experience the glimpses of tigers can be seized that developed an interesting characteristic of swimming in the saline waters. They can be seen doing sunbathing on the river banks between November and February. It is a perfect spot for those who love wildlife, dense forest, bird watching.
#25. Nanda Devi and Valley of Flowers National Parks – Uttarakhand
Situated in Chamoli District of Uttarakhand state, the Valley of Flowers National Park known for its cascading post-monsoon blossoms is the second national park after Nanda Devi National Park. The park that has stunning beauty of the nature is a paradise for trekkers, adventure tourists and naturalists.
You need to obtain permission from the Forest Department check point near Ghangaria. Camping and overnight stay is prohibited. You need to plan for a full day trek to reach here from Govindghat to the village of Ghangaria. On the way, you can enjoy the spectacular scenic beauty which is decorated by rocky boulders, wild flowers, springs, waterfalls and snow capped peaks.
#26. Humayun's Tomb – Delhi
The Humayun's Tomb which is one of the UNESCO World Heritage Site in Delhi was the first architectural construction built during Akbar's reign. It was built in the memory of Humayun, by his Persian widow, Haji Begum. The Mughal style of garden tomb was first introduced in this tomb is an architectural masterpiece that is characterized by high arches and double domes.
This monument is built of red sandstone and white. It has a central dome which is made up of white marble and has various small minarets and pillars in the geometrical pattern to give it a grand look. Walls that have net-like screen placements, barbers tomb, octagonal shaped tomb, Lodhi Gardens of Delhi are major tourist attractions.
#27. Qutb Minar and its Monuments – Delhi
Qutb Minar, the world's tallest stone tower that raises 5 storeys and 73 meters in height is inscribed as one of the three UNESCO World Heritage Sites in Delhi. Every Monument of Mughals was built by destroying Hindu temples.
Qutb Minar is built after demolishing and reusing stones from the existing Hindu and Jain temples. Inside the complex, you will find structures Quwwat-ul-Islam Mosque, the Tomb of Iltutmish, the Tomb of Imam Zamin, and Major Smith's Cupola.
If you walk towards Qutab Minar and turn right, you can see Shiv in hindi written on them. The major attraction here is Iron Pillar which is a rust-resistant iron column from Gupta Empire has Brahmic inscriptions as it is built of materials reused from some 20 Brahman temples.
This is a 7-meter tall kirti stambha that was originally built as dhjava to Lord Vishnu. You can embrace the pillar with both hands facing the pillar to get your wishes fulfilled.
#28. Red Fort Complex – Delhi
The Red Fort is the largest monument in Delhi and an epitome of the rise and fall of mighty empires which was built by using Red sandstone extensively. Diwan-i-Aam (Hall of public audience), Diwan-i-khas (Hall of private audience), Moti Masjid personal mosque of Aurangzeb, Hayat Baksh Bag, Royal Baths, Naubat-Khana (Drum house), Rang Mahal (Painted palace), Tasbih Khana, a sleeping chamber or Khwabgah, Mumtaz Mahal (which has now been converted to a Museum) and intrigues of royal court of Mughal era during the son-et-lumiere are some of the attractions inside Red Fort.
The existing structures are not even one third of the original fort but the ruins and existing buildings stand testimony to the heritage and architecture of Mughal era in India. Lahore Gate is one of the emotional and symbolic focal points of the modern Indian nation.
#29. Mahabodhi Temple Complex at Bodh Gaya – Bihar
The Mahabodhi Temple Complex at Bodh Gaya is the location where Siddhartha Gautama, the Buddha, attained enlightenment is one of the four holy sites of Buddhism. Six sacred places within an enclosed area and the Lotus Pond, balustrades and memorial column are classic examples of sculptural masterpiece.
This site is called Bodhimanda in Pali language and its monastery is called Bodhimanda Vihara. The first temple was built around 3rd century by Ashoka the Great. You can discover teachings and life of Buddha and Ashoka's reverence for the religion in Mahabodhi temple. Temple festival at Bodhgaya begins in September and reaches its zenith in January.
#30. Archaeological Site of Nalanda Mahavihara – Bihar
Nalanda was an ancient center of higher learning in India and is the second oldest university after Takshila which housed a big library called Dharmaganja (Piety Mart).
For over 800 years, it was one of the best universities in the world. Students from across the globe came here to study. Small chapel retains a half-broken statue of the Lord Buddha, pyramidal mass of Temple no .3, Viharas, Chaiyas, Nalanda Archaeological Museum, Nava Nalanda Mahavihara are worth visiting. The best season to visit is between October and March.
Muhammad bin Bakhtiyar Khilji destroyed Nalanda university. Thousands of monks were burnt alive and thousands were beheaded. He set the complete library on fire that had nearly 9 million manuscripts.
#31. Champaner – Pavagadh Archaeological Park – Gujarat
Champaner-Pavagadh Archaeological Park is built from the locally sourced limestone and has shades of pink and yellow is one of the epitomes of rich Indian culture. You will find both ancient monuments and temples from the prehistoric era.
You can find heritage monuments belonging to 16th century like tombs, gateways, mosques, temples, fortresses and walls, palaces, and pavilions, helical wells, custom houses. Rocky hilltop, Kevda Masjid and Cenotaph, Kalika Mata Temple, Lakulisa temple, Pavagadh fort, Lila Gumbaj Ki Masjid, Jami Masjid and Helica Step-well are some of the famous places to visit.
#32. Historic City of Ahmadabad – Gujarat
From the sultanate period, Ahmedabad City which is 600 years old presents a rich architectural heritage. The walls and gates of the Fort city, numerous mosques, tombs, Hindu and Jain temples are major attractions.
Many pols are part of a cottage industry, so you will find people crimping silver chains together for traditional jewellery and various other crafts. The walled city was built before motor vehicles, meant for pedestrians and bicycles, so its small windy streets are best explored on foot.
#33. Rani-ki-Vav – Gujarat
Located in Patan town of Gujarat, Rani-ki-Vav which is a seven-storied structure in which each step is 64m long, 20m wide and 27m deep was built as a memorial of the 11th Century AD king of the Solanki dynasty.
You will find around 800 sculptures of Lord Vishnu in his 10 different incarnations; the sculpted Apsaras (Celestial Dancers) with 16 different make-up styles also add grace to this distinct structure on side walls.
The stepwells are a distinctive form of subterranean water resource and storage systems on the Indian subcontinent that speaks about the craftsmens' ability in stepwell construction reflecting mastery of this complex technique constructed between 1022 and 1063 AD. Seven levels of stairs with sculptural panels of high artistic quality; more than 500 principle sculptures, religious imagery are major attractions.
#34. Western Ghats
The Western Ghats mountain chain which is older than the Himalayas that influence the Indian monsoon weather pattern is recognized as one of the world's eight "hottest hotspots" of biological diversity.
UNESCO added the Ghats that start at the border of Gujarat and Maharashtra and runs through the States of Maharashtra, Goa, Karnataka, Tamil Nadu and Kerala ending at Kanyakumari to the world heritage list.
Western Ghats are home to several rare species of birds, animals, insects, fish, amphibians and plants, species of hill stream fish. Karvi in Maharashtra and floral vistas of Neela Kurunji in Kerala are a visual treat in monsoons.
#35. Khangchendzonga National Park – Sikkim
Khangchendzonga National Park which is located at the heart of the Himalayan range has a unique diversity of plains, valleys, glaciers, spectacular snow-capped mountains covered with ancient forests, alpine lakes and sacred shrine named Tholung Monastery introduces you to the real nature beauty.
The best time to visit the Kanchenjunga National Park is between April and May. The park has 18 sub-forest types with large diversity of species of 1580 higher plants, 124 mammals and 300 birds. It is one of the perfect destinations for trekkers.
#36. The Architectural Work of Le Corbusier – Chandigarh
The Architectural Work of Le Corbusier is a serial site with 17 locations located in 7 different countries on 3 different continents which celebrate the work of 20th-century architect Le Corbusier.
Along with 16 other buildings in six countries, Le Corbusier's architectural creation "The Complexe du Capitole" in Chandigarh secured UNESCO world heritage tag which reflects the solutions that the Modern Movement sought to apply during the 20th century. Complexe du Capitole is called the crown of his creations even though all the important buildings were designed by the Swiss-French master architect.