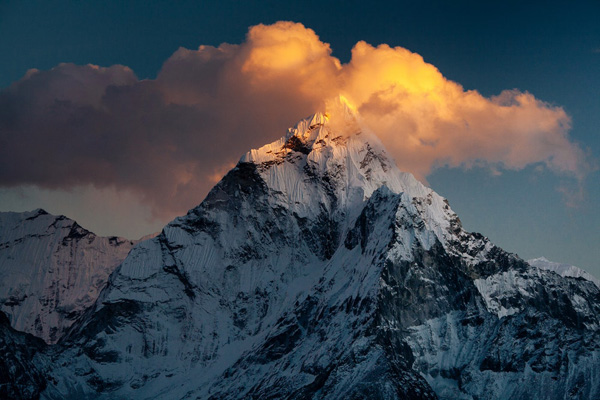 Major Attractions Of Nepal
#1. Kathmandu
The capital and largest city in Nepal, Kathmandu is the place where most adventures in Nepal begin. Swayambhu Temple (Monkey Temple), Pashupati Nath Temple, Lumbini, Shivapuri Nagarjun National Park a birdwatcher's paradise and you can also have cycling and motor biking ride, Kirtipur a historic spot, Durbar Square Kathmandu, Garden of Dreams, Hanuman Dhoka, Narayanhiti Palace, Dakshinkali Temple where you can also have hiking and trekking experience, Chhauni Museum, Pilgrims Book House, Ashok Binayak, Indra Chowk, Nagarkot known for Paragliding, sunrise view of the Mount Everest and other peaks, Royal Botanical Garden, Langtang National Park, Kumari House, Kathesimbhu Stupa, Chitwan National Park offers jeep tours and visitors can experience the park through jungle treks, elephant rides and canoe rides, Bhaktapur famous for Terracotta products, lotus and pretty handicrafts and colorful masks, Boudhanath Stupa, Everest Region for trekkers, Annapurna Base Camp Trek, Patan well known for its artisans and gorgeous handmade silk saris, Kopan Monastery, Shechen Monastery, Khawalung Monastery, Thamel, White Monastery, Asan a shopper's delight, Phulchoki natural garden of flowers, Casino Royale, Taudaha Lake, Trekking in Helambu region are major tourist attractions.
#2. Pokhra Valley
Pokharam offers a number of high-end hotels, clean and comfortable guesthouses popular for adventure sports like paragliding and other fun activities like paddle boating on the calm lake water. Mahendra Gufa dark and cavernous cave, Temple of Tal Varahi, Temple Tree Resort and Spa, Fish Tail Lodge, Verdant forests, blue skies, underground caves, waterfalls, Valley of Orchids, Massif Glaciers, and majestic views of three mountains- Mt Manslu, Mt Dhaulagiri, and Mt Annapurna, an early morning start to Sarangkot, International Mountain Museum or taking a course in meditation or yoga, Boating in Trishuli River, Rupa Tal freshwater lake where there is boating opportunity for all the tourists are major tourist attractions.
#3. Jankpur
Janakpur was once the capital of a millennia-old Indian kingdom known as Mithila which is the birthplace of the goddess Sita and the place where she married the Lord Ram is also known for the more than 100 sacred pools. The massive 19th-century marble structure is the largest temple in Nepal.
#4. Everest and the Trek to Base Camp
Mount Everest, the highest mountain on earth is known for trekking and climbing. All trekkers are technically required to have a guide. The best time to go for trekking is between March to May and September to December. If you don't like to trek but still want to see, then it is possible to see it on clear days from the hill town of Nagarkot near Kathmandu.
#5. Khaptad National Park
It is a mid-mountain national park in western Nepal. Make sure you carry your own tents as there are no lodges here. An important festival which is celebrated here is the Ganga Dashahara during Jestha Purnima.
#6. Bardia National Park
It is the park with amazing wildlife opportunities where spotting elephants and rhinos are quite common. Don't forget to experience elephant safari. The best time to visit is October.
#7. Panch Pokhari Trek
Do you like to have adventure walking journey? Then you shouldn't miss Panch Pokhari which means five ponds, the holy lakes in Langtang region of Nepal. Jannai Purnima is the sacred thread festival celebrated here.
Hidden Attractions Of Nepal
#1. Koshi Tappu Wildlife Reserve
Located close to Kamaladi in Kathmandu, it is often called the bird's paradise and you will find a beautiful amalgamation of peace along with paradise of nature. It is the only reserve where you can spot the endangered Arna (a wild water buffalo) and some endangered species of birds too like Swamp Francolin, Bengal Florican and much more. The best time to visit is between November and February.
#2. Parsa Wildlife Reserve
Located close to Narayangadh, next to the famous cousin Chitwan National Park, Parsa wildlife reserve is home to many tigers, cobras and pythons, hordes of wild elephants, tiger, leopard and sloth bear amongst others. The best time to visit this place is between October and February.
#3. Shuklaphanta Wildlife Reserve
Located in Kanchanpur district, Shuklaphanta is a wildlife hunting reserve that the forest has always remained undisturbed. You will also find Nilgai and Jackal in this wildlife reserve.
#4. Begnas Tal
Located in Kaski district of Nepal, the lake changes colour depending on the season. From Pokhara valley, it takes about 40 minutes by bus to reach the lake. Since it is visited comparatively less, the original beauty is undisturbed and it is extremely clean and quiet. In addition to being surrounded by green mountains, boating, fishing and swimming are some of the activities you can indulge in. The best time to visit the place is October.
Hotels To Stay
Temple Tree Resort and Spa in Pokhara, Hotel Parkside in Chitwan, Summit Hotel in Patan are good hotels to stay.
Cuisine Of Nepal
Fried rice dish of Vegetable pulao, Dal Bhat tarkari is the wholesome meal, Momo contain steamed vegetables or meat, Thukpa hot noodle soup, Sel Roti rice flour bread, Gorkhali Lamb filling curry dish, Gundruk Dhido a corn porridge, lip-smacking Aalu Tama, Yomari fish-shaped treats, Chatamari Nepali pizza, kheer sweet dish, Samyebaji traditional dish during religious occasions, Masu ledo spicy meat in gravy form, Juju dhau (Yoghurt), Thupka noodle soup, Maas Ko Bara, Keema chatamari topped with an egg, meat and onions, Tingmo and aloo phing steamed, porous bread are very unique lip-smacking cuisine of Nepal which you don't find elsewhere.
Festivals Of Nepal
Mahashivaratri festival celebrated in February, Fagun Purnima or Holi in March, Bisket Jatra a chariot festival of Bhaktapur celebrated in April, Buddha Jayanti celebrated in April, Janai Purnima Raksha Bandhan celebrated in August, Gai Jatra festival of cows celebrated in August, Indra Jatra popular and fun festivals of Nepal celebrated in August and september, Teej The woman-only festival celebrated in September, Dashain biggest festival of Nepal Kite flying events and worship of Ashta Matrikas celebrated in october, Tihar festival of lights celebrated in November, Lhosar the most vibrant festival where mask dance and decorating monasteries and pagodas with colourful prayer flags celebrated between December and January and in March, Chhath Parva a four day festival celebrated in October or November, Mha Puja celebrated by the Newar community, Ghode Jatra (the horse parade) celebrated between March and April, Rato Machchhindranath Jatra one of the most significant festivals in Patan, are highly unique festivals of Nepal.
Tourist Circuit Of Nepal
The state plans to develop Buddhist circuit as India's first trans-national tourist circuit and also Ramayana circuits.