Delhi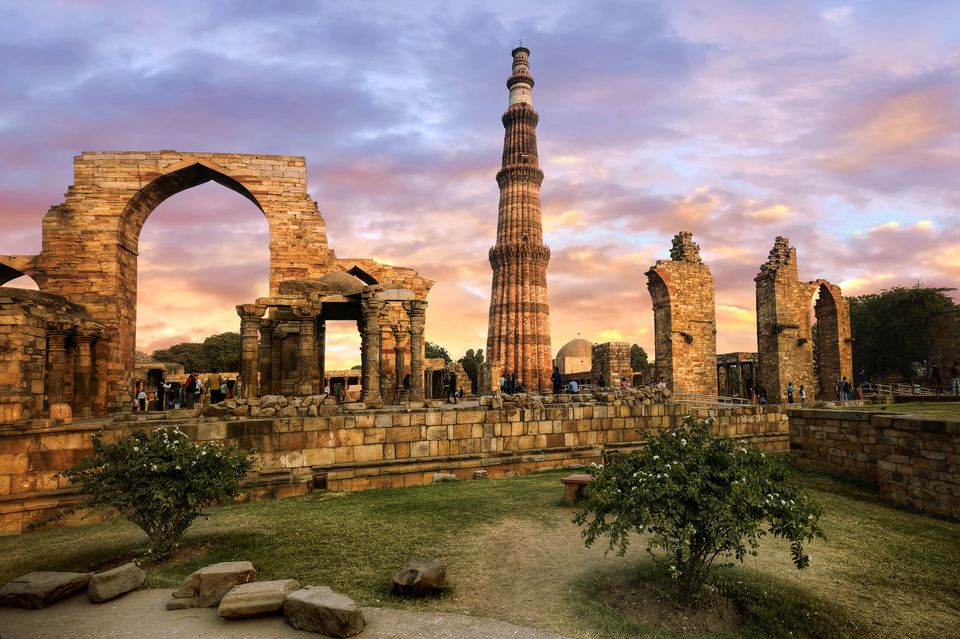 Discover some of the many faces of Incredible India by visiting Delhi. Some of the best images of India's diversity can be captured here. Delhi is one where you will be astound and impressed at every edge. There are end number of places in Delhi which you can stopover and fancy.
The city of Delhi is full of fascinating places to visit and see. Some of the main ones are as follows –
Alluring Qutab Minar Complex, appealing Red Fort, elegant Purana Quila, splendid Jama Masjid, fascinating Safdarjang's Tomb, dazzling India Gate, marvelous Rashtrapati Bhawan, graceful Rajghat, pleasing Purana Quila, exquisite Jantar Mantar and divine Humanyu'sTomb,Bangla Sahib or the colourfull Sahajanabad & Chandni chowk .
Shopping  in Delhi
Apart from historical places Delhi is also acclaimed for its incredible range of shopping options specially handicrafts like carpets, silk, jewellery and cotton that are synonymous with India. Delhi is a paradise for shopping, eating and sight-seeing. Recorganized markets and bazaars are must see places in Delhi like Chandni chowk, Delhi haat, palika bazaar, karol bagh, Khan market, Lajpat nagar, Cannaught place, Janpath and Sarojini Nagar.
Religious places in Delhi
In India there are very scanty places which can together be described as modern and traditional, historical and new. Delhi is one of them. In addition to this the city has plentiful options in gardens, malls of South Extension, places of worship which symbolizes equality and brotherhood(Jama Masjid , Bangla Sahib, Akshardham temple, Lotus Temple and Sacred heart church)excursions, food outlets and culture.
Famous Food Corners in Delhi
Influencial food corners in Delhi are Paranthe Wali Gali, Lala Babu Chaat Bhandar, Bishan Swaroop, Shree Balaji Chaat Bhandar, Khandani Pakode wala, Kulcha King, Prince's Paan & Chaat Corner, Dilli Haat, Khan Chacha, Sitaram Diwan Chand, Bittoo Tikki wala, Salim's Kebabs, Dolma Aunty ke momos and Al-Bake.
Jaipur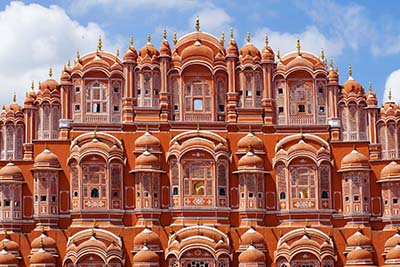 Jaipur the Pink city, multicolored Jaipur, the capital of Rajasthan the City famous for its unique culture, tradition, soothing music, beautifully laid out gardens, parks, attractive monuments and marvelous heritage hotels. All the places in the Pink city are worthy of admiration. Jaipur is connected with most Parts of India by both railways or by airways and also connected with roadways. Jaipur can be reached from Delhi by traveling by road or flying directly to Jaipur either from Delhi or Mumbai. From Agra one needs to drive to Jaipur or take a train to Jaipur and in between visit some famous monuments like Fatehpursikri or the famous stepwells The Abhaneri .
Places to visit in Jaipur
Bountiful places to visit in Jaipur such as Amber Fort, City Palace, Jantar-Mantar, Hawa Mahal, Nahargarh fort, Jaigarh Fort, Jal Mahal, Birla Mandir, Albert hall museum, Rambagh Palace, Govind devji temple, Raj Mandir Cinema, Jaipur zoo.
Jaipur is one of the colorful experiences you can ever have. Its real charm lies in inner lanes, streets and markets. This desert city has all the amenities of the big city. Its airy is infused with the romance, adventure, and gallantry of an incredibly rich historical tradition. Jaipur tour is half done without Camel ride, folk music and desert sounds. People here are very cheerful and will make your trip eventful.
Festivals in Jaipur
Though the Indian State of Rajasthan is known for its monuments, Forts, and Festivals. There are a lot of festivals especially organized by Rajasthan tourism Dept. throughout Rajasthan but in Golden triangle route in Jaipur Teej festival, kite festival, Gangaur festival, and Dhulandi festival are specially organized. Basically, the Dhulandi festival attracts foreigners to celebrate Holi in Jaipur in a unique way. Holi is celebrated in all over India at the same time during the month of March.
Famous Bazaars of Jaipur
The ideal destinations in Jaipur is its markets which has numerous stories engraved in every corner.Famous bazaars are:
Johri Bazar: Oldest as well as the largest shopping mall in the city. Famous for precious gems, stones, timeless jewellery, exquisite sarees. It is the busiest marketplace in Jaipur.
Bapu Bazaar: Place which can't be missed is colorful Bapu Bazar. Largest camel leather market in the world, finest quality 'Morji' shoes and other leather goods like belts, wallets, lamp sheds and bags.
Famous food corners in Jaipur
A trip to Jaipur is not complete without digging into convincing Rajasthani food. You can't return without trying its renowned cuisines like dal bati churma, laal maas, kachori. Some places where you can try authentic food are Spice Court, Natraj, Shri Thaal Village Restaurant, Rawat Mishtan Bhandar, Laxmi Misthan Bhandar and Chokhi Dhani- Place where celebration never stops. The only five-star rated ethnic village resort in India, is one of the best places to visit in Jaipur.  Best tourist destination in Jaipur for entertaining its visitors.
Your appetite will grow larger after visiting this place. Traditional food is served with Folk music. Swimming pool, health clubs and popular puppet shows are there to relax your mind.
Agra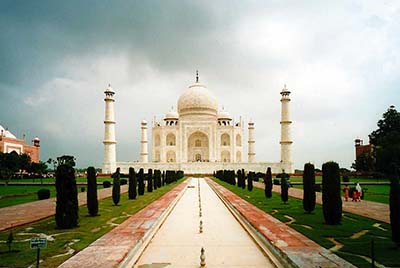 Agra is chiefly famous for its mindboggling Taj Mahal,It is known as home for iconic Taj Mahal, It is the proof of brilliance by Mughals, It would serve as feast to your eyes to watch and it looks more beautiful on the night of full moon day, It stands as a lasting tribute to love and lovers beyond time and also named as wonder of the world. It is the major tourist destination because of its unique history and beauty.
The best way to travel from Delhi to Agra is by different trains . The  trains that you can catch from Delhi to Agra are Bhopal Shatabdi, Kerala Express, New Delhi Jabalpur Superfast Express, A P Express, Intercity Express, Nizamuddin Pune Junction,Kalka Superfast Express and fastest train Gatiman Express.
By road and Bus- Your journey can be made enjoyable by road. Make your journey Smooth by travelling from Yamuna Expressway
There are Multiple bus types are available such as Volvo, AC, Non AC, AC available between Delhi Agra.
By road and Bus- Your journey can be made enjoyable by road. Make your journey Smooth by travelling to Agra a enjoyable one.
Places to visit in Agra
From Delhi we move on to Agra where you will observe a completely distinctive airy. Filled with architectural gems, culture,handicrafts and rich tradition. Agra tour has an element of education in it. You will learn a lot while traveling. Every place has a message to serve and element of entertainment. Certain locations are their which stand apart because of their sheer excellence they have to offer in terms of natural beauty. There are end number of places in Agra which you can cherish life long like Agra Fort, Itmad-Ud-Daulah, Wildlife SOS, Mehtab bagh and Shesh Mahal. Three beautiful places which are meagerly famous in Agra are:
Taj Mahotsav- More than a event but not less than a event - Taj Mahotsav is the opportunity to experience Art , Craft , Culture & Cuisine under one roof every year during the Month of March at non other than the city of Taj Mahal- Agra and it is organised of UP tourism dept. Started in the year 1992,this event or festival is now grown up child and offer you to experience around 400 artists from different part of India and many more. It also organise Funfair activities which is big attraction for kids and family. This is the chance to experience the glimpse of  whole India at one place.
Excursion from Agra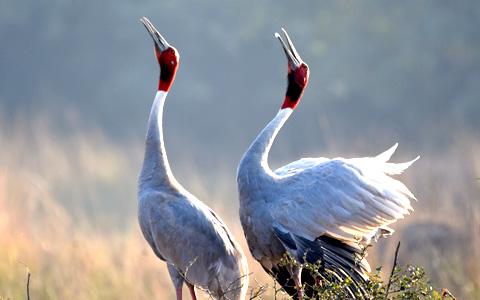 Bharatpur Bird Sanctuary-Famously known as Keoladeo National Park or Keoladeo Ghana National Park. It has thousands of rare and endangered birds, which comes here during the winter season. It serves as a home for mant species of birds. It is major tourist destination in Agra and famous for its beauty. It is also declared as World Heritage site.
Fatehpur Sikri – Majorly famous for its mystic Sufism.  Fatehpur Sikri is a fascinating build city. It is one of the praise worthy examplar of Mughal architectural. It is the finest illustration of the culmination of Hindu and Muslim architecture. Fatehpur Sikri Mosque is said to be a replica of the mosque in Mecca and has layouts, imitative from the Persian & Hindu architecture. Prime attractions in Fatehpur Sikri are Diwan-i-Khas, Panch Mahal,Tomb of Salim Chisti, Buland Darwaza, Palace of Jodha Bai, Hawa Mahal, Nagina Masjid, Sunehra Makan and the Jama Masjid.
MUGHLAI FOOD
Agra is maily known because of the Mughals. They only constructed all those famous monuments. Muslim empire left indelible imprints on Agra's cuisine. Mughlai food is famous in Agra for its creamy, boldly flavored curries; lots of ground and whole spices, dried fruits and nuts; roasted meats. It's a rich cuisine fit for a king. Famous points are Indiana, Pinch of Spice, Tajmahal Restaurant.
Typical street stand breakfast consist of sweet and spicy flavor. Mindblowing apptizing Kachori served with a bowl of spicy sabzi. Jalebi is a must try sweet dish in Agra. Famous points are GMB and Shree ji sweets on fatehabad road.
CHAAT
Tasteful Chaat is very popular in Agra—particularly bhalla, various kachori, samosas, and gol gappas. These all satisfying tempting snacks can oly be found on the streets of India. Famous area is Chaat wali gali in sadar bazaar.
Famous point - Rambabu paranthe wale on old Delhi Agra highway
PETHA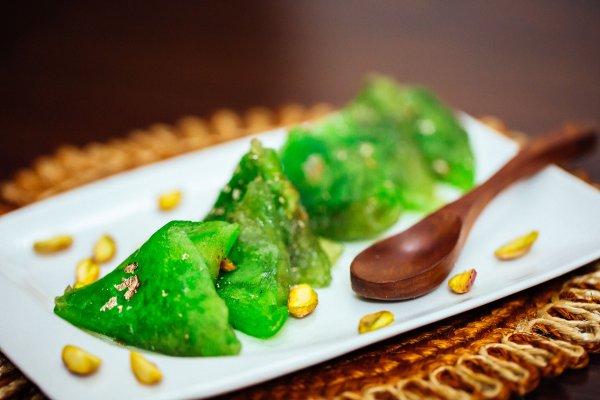 Fragrance of tempting Petha will make you feel tempted as soon as you will enter Agra . It is a centuries-old sweet dish also called as white pumpkin or squash. It comes in many varieties like plain petha of white color, kesar petha, chocolate petha in colorful shades of pineapple, coconut and mango. Famous point and area - Panchhi Petha and Baluganj area.
Kathmandu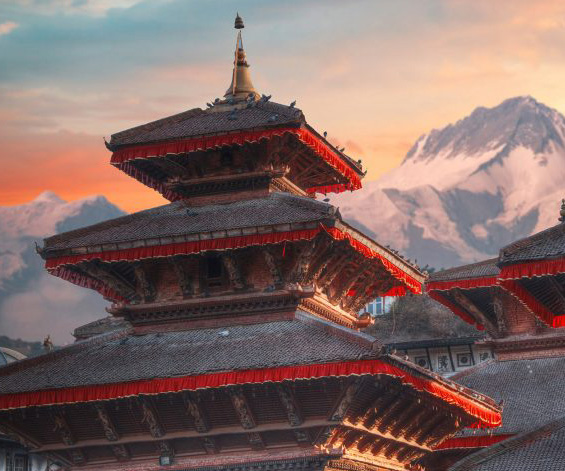 The capital and largest city in Nepal, Kathmandu is the place where most adventures in Nepal begin. Swayambhu Temple (Monkey Temple), Pashupati Nath Temple, Lumbini, Shivapuri Nagarjun National Park a birdwatcher's paradise and you can also have cycling and motor biking ridevv, Kirtipur a historic spot, Durbar Square Kathmandu, Garden of Dreams, Hanuman Dhoka, Narayanhiti Palace, Dakshinkali Temple where you can also have hiking and trekking experience, Chhauni Museum, Pilgrims Book House, Ashok Binayak, Indra Chowk, Nagarkot known for Paragliding, sunrise view of the Mount Everest and other peaks, Royal Botanical Garden, Langtang National Park, Kumari House, Kathesimbhu Stupa, Chitwan National Park offers jeep tours and visitors can experience the park through jungle treks, elephant rides and canoe rides, Bhaktapur famous for Terracotta products, lotus and pretty handicrafts and colorful masks, Boudhanath Stupa, Everest Region for trekkers, Annapurna Base Camp Trek, Patan well known for its artisans and gorgeous handmade silk saris, Kopan Monastery, Shechen Monastery, Khawalung Monastery, Thamel, White Monastery, Asan a shopper's delight, Phulchoki natural garden of flowers, Casino Royale, Taudaha Lake, Trekking in Helambu region are major tourist attractions.
Nagarkot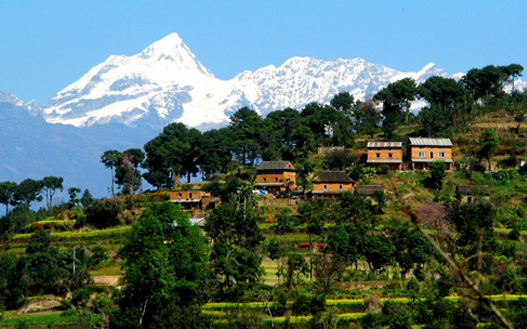 Nagarkot, located 32 kilometers east of Kathmandu, is one of the most scenic spots in Bhaktapur district and is renowned for its spectacular sunrise view of the Himalaya when the weather is clear. Visitors often travel to Nagarkot from Kathmandu to spend the night so that they can be there for the breathtaking sunrise. Nagarkot has become famous as one of the best spots to view Mount Everest as well as other snow-topped peaks of the Himalayan range of eastern Nepal. It also offers an excellent view of the Indrawati river valley to the east. With an elevation of 2,195 meters, Nagarkot also offers a panoramic view of the Valley and is described by visitors as a place whose beauty endures year round.
Many visitors prefer to visit Nagarkot in the spring when surrounding valleys break out in a rich kaleidoscope of different coloured flowers. The flowers are beautiful against the serene backdrop of the snow-covered mountains. Ever popular among the tourists are the short treks and picnics which Nagarkot offers. Treks from Nagarkot are unique and delightful. For anyone who wants to have an adventure without exerting much efforts, a hike to Nagarkot's surrounding areas would be a good option. One can traverse short distances on trekking trails and come close to nature's wonders such as the outer of verdant forests, flower-covered meadows and unusual rock formations.
Pokhara Valley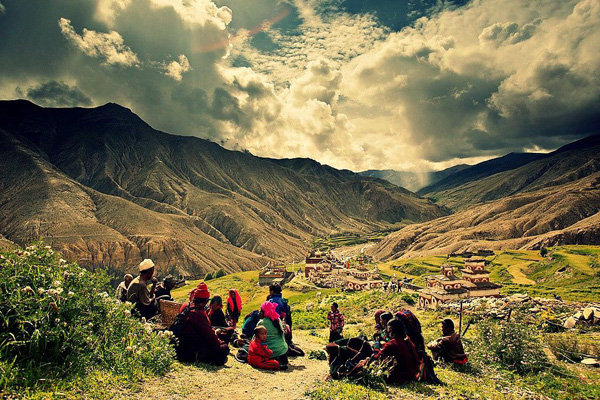 Pokharam offers a number of high-end hotels, clean and comfortable guesthouses popular for adventure sports like paragliding and other fun activities like paddle boating on the calm lake water. Mahendra Gufa dark and cavernous cave, Temple of Tal Varahi, Temple Tree Resort and Spa, Fish Tail Lodge, Verdant forests, blue skies, underground caves, waterfalls, Valley of Orchids, Massif Glaciers, and majestic views of three mountains- Mt Manslu, Mt Dhaulagiri, and Mt Annapurna, an early morning start to Sarangkot, International Mountain Museum or taking a course in meditation or yoga, Boating in Trishuli River, Rupa Tal freshwater lake where there is boating opportunity for all the tourists are major tourist attractions.
Chitwan National Park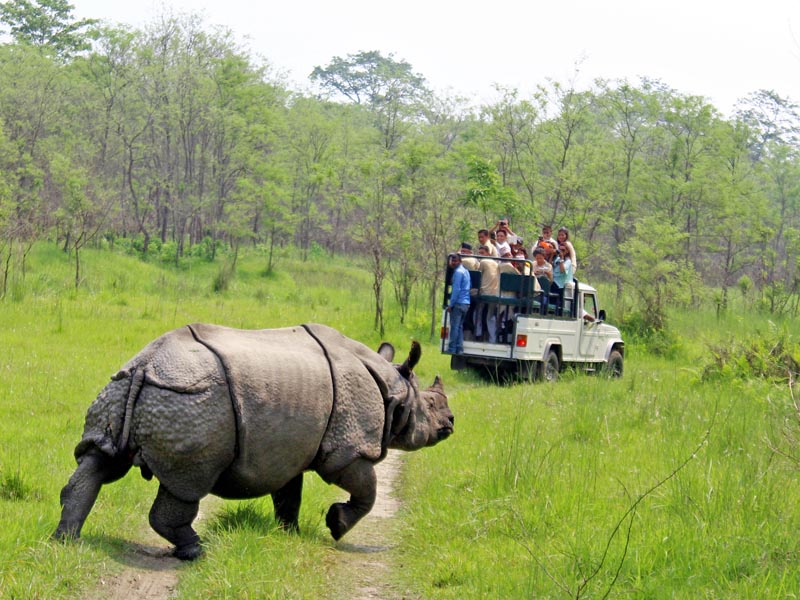 Chitwan is popular because of its Natural Beauty, Chitwan National Park and One Horned Rhino which is found in South Asia and Chitwan National Park is the main source of One Horned Rhino. Chitwan District is popular among tourist for Jungle Safari, Elephant Ride, Canoe Ride, Bird Watching etc. and is best to celebrate the short term holidays.
The Chitwan park is situated in south central Nepal, covering 932 km2in the subtropical lowlands of the inner Terai. The area comprising the Tikauli forest-from Rapti river to the foothills of the Mahabharat-extending over an area of 175 km2 was declared Mahendra Mriga Kunj (Mahendra Deer Park) by the late King Mahendra in 1959. In 1963, the area south of Rapti River was demarcated as a rhinoceros sanctuary. The area was gazetted as the country's first national park in 1973, recognizing its unique ecosystems of international significance. UNESCO declared RCNP a World Heritage Site in 1984,In 1996 an area of 750 km2 surrounding the park was declared a buffer zone, which consists of forests and private lands including cultivated lands. The park and the local people jointly initiate community development activities and manage natural resources in the buffer zone. Government of Nepal has made provision of to provide 30-50 percent of the park revenue for community development and natural resource management in the buffer zone.