Delhi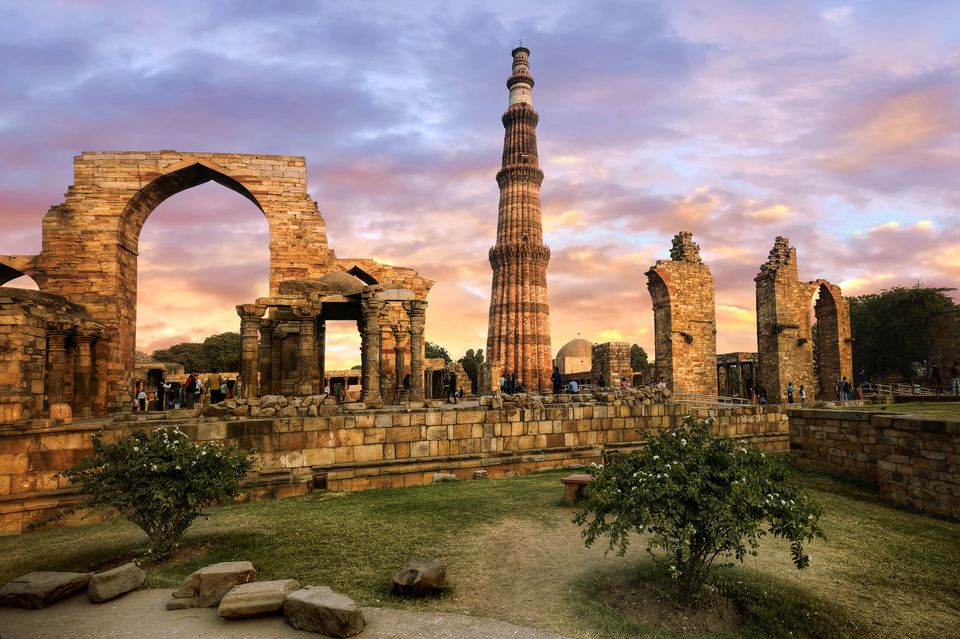 Discover some of the many faces of Incredible India by visiting Delhi. Some of the best images of India's diversity can be captured here. Delhi is one where you will be astound and impressed at every edge. There are end number of places in Delhi which you can stopover and fancy.
The city of Delhi is full of fascinating places to visit and see. Some of the main ones are as follows –
Alluring Qutab Minar Complex, appealing Red Fort, elegant Purana Quila, splendid Jama Masjid, fascinating Safdarjang's Tomb, dazzling India Gate, marvelous Rashtrapati Bhawan, graceful Rajghat, pleasing Purana Quila, exquisite Jantar Mantar and divine Humanyu'sTomb,Bangla Sahib or the colourfull Sahajanabad & Chandni chowk .
Shopping  in Delhi
Apart from historical places Delhi is also acclaimed for its incredible range of shopping options specially handicrafts like carpets, silk, jewellery and cotton that are synonymous with India. Delhi is a paradise for shopping, eating and sight-seeing. Recorganized markets and bazaars are must see places in Delhi like Chandni chowk, Delhi haat, palika bazaar, karol bagh, Khan market, Lajpat nagar, Cannaught place, Janpath and Sarojini Nagar.
Religious places in Delhi
In India there are very scanty places which can together be described as modern and traditional, historical and new. Delhi is one of them. In addition to this the city has plentiful options in gardens, malls of South Extension, places of worship which symbolizes equality and brotherhood(Jama Masjid , Bangla Sahib, Akshardham temple, Lotus Temple and Sacred heart church)excursions, food outlets and culture.
Famous Food Corners in Delhi
Influencial food corners in Delhi are Paranthe Wali Gali, Lala Babu Chaat Bhandar, Bishan Swaroop, Shree Balaji Chaat Bhandar, Khandani Pakode wala, Kulcha King, Prince's Paan & Chaat Corner, Dilli Haat, Khan Chacha, Sitaram Diwan Chand, Bittoo Tikki wala, Salim's Kebabs, Dolma Aunty ke momos and Al-Bake.
Aurangabad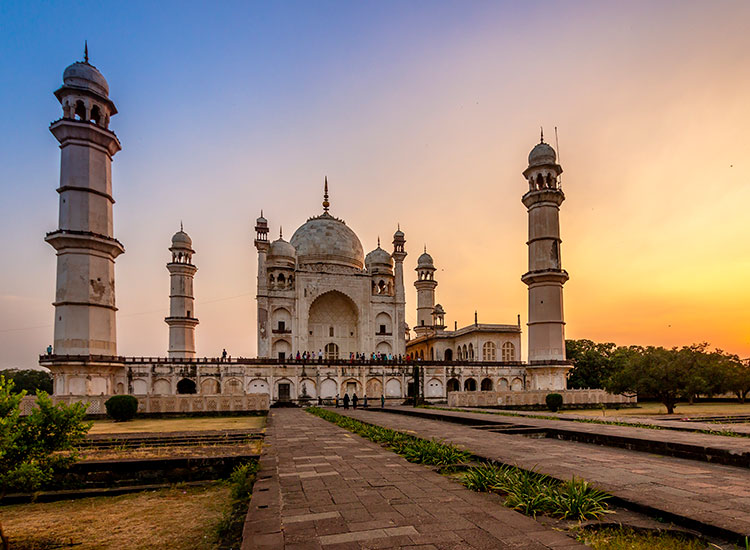 Known for its uproar history, Aurangabad was named after the Mughal Emperor Aurangzeb. You can reach to the place either by flight or train or bus. Ajanta Caves, displays unique style of paintings that cannot be seen in any part of the world, Ellora Caves, Devgiri Fort, Ghrishneshwar Temple, Pitalkhora Caves, Grishneshwar Jyotirlinga, Bibi Ka Maqbara, known as mini Taj Mahal, Daulatabad Fort, Himayat Baugh, Aurangabad Caves, Salim Ali Lake, Jayakwadi Dam, Chini Mahal, Panchakki Water Mill, Jain temple located at Kachner village, Anand sagar, Siddharth Garden and Zoo, Chhatrapati Shivaji Museum are major tourist attractions.
Mumbai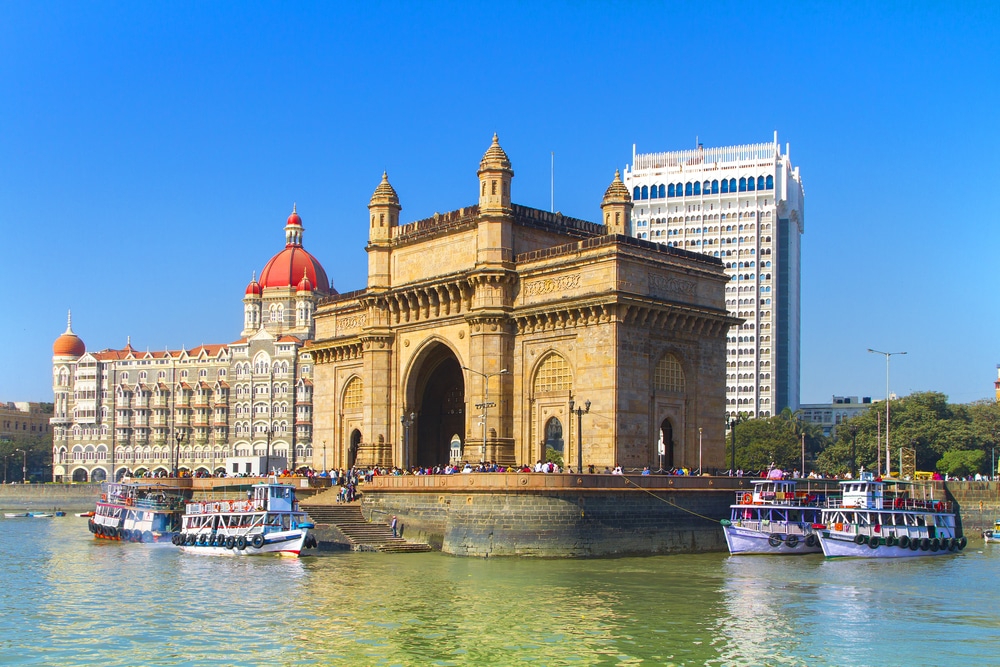 Mumbai, center of India's "Bollywood" film industry is one of the top tourist destinations. You can reach Mumbai from any part of the city either by flight or train or bus. Gateway of India, famous for some street food and Taj Mahal Palace Hotel, Elephanta Caves, Marine Drive, Chhatrapati Shivaji Terminus, Haji Ali Shrine, Sanjay Gandhi National Park, Global Vipassana Pagoda, Iskcon Temple, Jehangir Art Gallery, Chhatrapati Shivaji Maharaj Vastu Sangrahalaya, Mani Bhavan for those who have an admiration for Mahatma Gandhi, Crawford Market, a shopping paradise, Sanjay Gandhi National Park, Taraporevala Aquarium, Girgaum Chowpatty Beach, Kanheri Caves, Mahalaxmi Temple, Mandwa Beach, Bandra Worli Sea Link , Siddhivinayak Temple, Juhu Beach are major tourist attractions.
Udaipur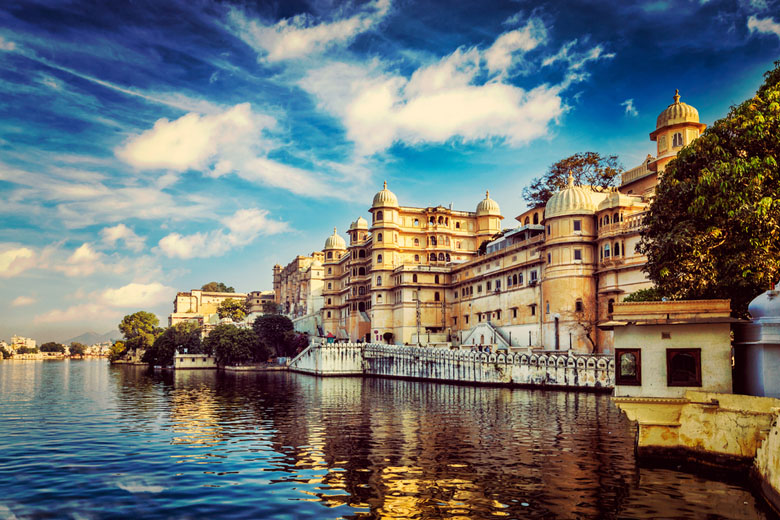 Udaipur - City of Lakes
Famous for its tradition in the style of paintings, palaces reflect the architectural grandeur that existed during the period of Rajputs. Udaipur City Palace, Lake Palace, Monsoon Palace, Lake Pichola, Fateh Sagar Lake, Sajjangarh Palace, Kumbhalgarh Fort is known as The Great Wall of India which is 102km from Udaipur, Jaisamand Lake, Vintage Car Museum, Bada Mahal are worth visiting.
Udaipur ( City of Lakes) was founded by the Maharana Uday Singh II in 1553 as the new capital of  Mewar kingdom, Udaipur often referred as the "Venice of East is indeed a spectacular city. The landmark of Udaipur is "Lake Palace Hotel", the Maharana's Summer retreat on a small island in the center of Lake Pichola. The present maharana still lives in the section of city Palace.
Miniature painting has been a tradition in Rajasthan for Centuries, Udaipur, in particular, is famous for its tradition in this style of paintings. The discipline requires an abnormally a steady hands as the tip of each brush contains only a single hair.Best of the miniature painting can take almost one to two years to complete.
The famous attraction of Udaipur are:
Udaipur City Palace: Started construction by the Maharana Uday singh and completed by over 22 rulers over the span of 435 years, this City palace consist of4 major and several minors palaces. One part of the Palace is converted into museum which consist of antiques of royal family members, paintings and furniture etc. The city and the famous pichola lake can be best viewed from this palace. 
Lake Palace: The landmark of the Udaipur-"Lake palace" was the summer retreat of Maharana and now it is converted into world class palace Hotel.
Monsoon Palace: On the outskirt of Udaipur, this is the best place to get the spectacular view of the skyline of udaipur. Constructed by Maharaja Sajjan Singh on the hill of Bansdara, this was the Monsoon Palace but originally built keeping in my for the purpose of Astronomical centre.
Udaipur is a full package for a tourist to explore, it is impossible to put everything in a page or two about it. But in total it is palace for best cuisines, great hospitality, Several Lakes, Amazing Palace etc.
Jodhpur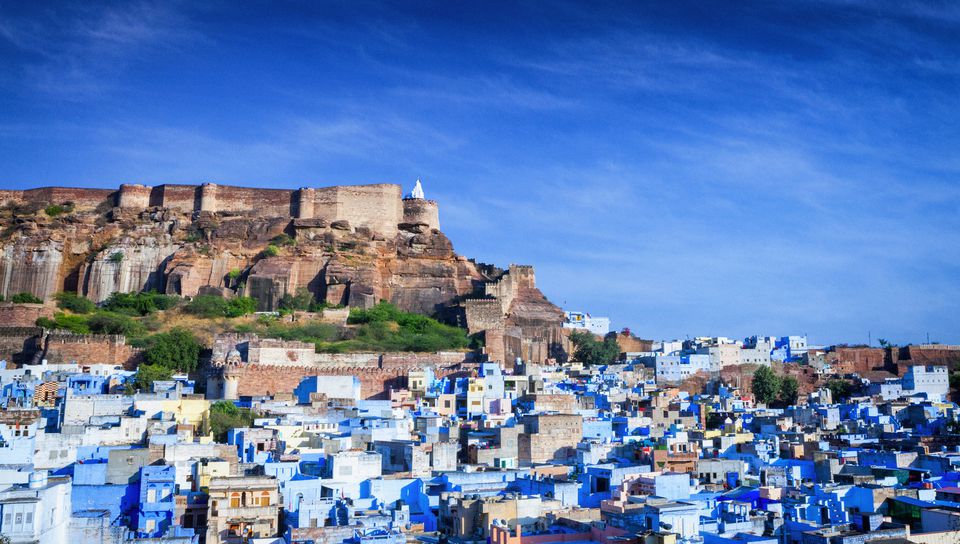 Jodhpur is world famous for its Textile industry and many of its textile producers supply their product in international market. Khejarla fort, Motimahal, Phool Mahal, Sheesh Mahal, Jodhpur Govt Museum, Jaswant Thada, Ranisar Padamsar, Mahamandir temple, Mandore, Kaylana Lake, Machiya Safari Park, Umaid Bhawan Palace, Mehrangarh Fort, Chamunda Mataji temple are major tourist attractions.
Jodhpur (The Blue City): The 500 years old city of Jodhpur can be found right in the heart of Rajasthan. In its 500 years of history, it has never been successfully besieged.There are several forts built to protect some of the most stunning palaces in the whole of Rajasthan and possibly the most impressive of these is "Umaid Bhawan" Palace, one of world's largest private residences. Under the watchful eyes of the English architect Henry Lanchester, 51000 men worked tirelessly for 15 years to build this sprawling residence. Umaid Bhawan is currently owned by Maharaja of Jodhpur, who runs the complex as the Luxury Palace Hotel and museum.
The city can be best viewed from the rooftop of the battlement of Mehrangarh Fort.
Jodhpur is world famous for its Textile industry and many of its textile producers supply their product in international market.
The famous attraction of Udaipur
Umaid Bhawan- As stated above this is largest private residential palace cum Luxury Hotel built in the span of 15 years. And the most sought-after place in Jodhpur.
Mehrangarh Fort: The highest place to get the mesmerizing view of the Jodhpur city.
Chamunda Mataji temple: On the outskirt of Udaipur, this is the best place to get the spectacular view of the skyline of Udaipur. Constructed by Maharaja Sajjan Singh on the hill of Bansdara, this was the Monsoon Palace but originally built keeping in my for the purpose of Astronomical center.
Khejarla fort.
Motimahal
Phool mahal
Sheesh Mahal
Jodhpur Govt Museum
Jaswant Thada
Ranisar Padamsar
Mahamandir temple
Sardar samand Lake and palace
Mandore
Kaylana Lake
Machiya Safari Park etc
Pushkar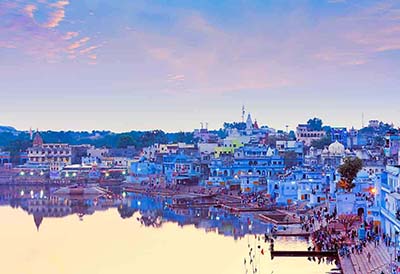 Pushkar - The city of Word Largest Camel Fair and Festivals The place is one of the oldest cities of India, where you can experience Global Village in true sense. The Pushkar Lake, The Camel and Horse Fair, The saviti Mandir and Mountains, Marwari Horses, Brahma Temple are major tourist attractions. Pushkar "The city of Fair and Festivals", are you wondering why you should pack your bag and set forth to pushkar.This hill locked place is one of the oldest city of India and the one of the place is Foreign tourist bucket list .This place is known for its Unique celebration, A place to experience "Global Village" in true sense and the Iconic Landmark of the city" The Pushkar Lake". The famous attraction of Pushkar are: • The Pushkar Lake • The Camel Horse Fair • The saviti Mandir Mountains- "Best Lookout Spot The Sunset spot". • For Marwari Horses • Brahma Temple- The one and only temple of Lord Brahma in Whole India Are you wondering why you should pack your bags set forth to Pushkar fair?
Reason-1 Unique Celebration: The 5 to 10days long fair is celebrated on the auspicious occasion of "Kartik Purnima in the Hindu month of kartikat pushkar.it takes place every year in the month of Oct to Nov. The Greatest Mela(Fair) of Pushkar is a priceless treat for those who wish to see the true colors of Rajasthan. Every year this fair is celebrated with great zeal by people of Rajasthan. The pushkar fair is world largest Camel Fair.it attracts more than 11,000 of camelhorses.
Reason-2 Experience Global Village in true Sense Apart from buying and selling of livestock's, it has become an important tourist attraction.it attracts more than 400,000 tourist . The Melagrams of the fair holds events throughout the day. Touristare Encouraged to be the part of the games like 'Kabbadi', seven stones pit and camel competions are seen Enjoying such indigenous sports.Local acrobats are found all over .One can see a 9 year's old girl is displaying her prowst at tight rope walking whilst balancing Urban pots on her head.
Reason-3 The "Marwadi Horses" One of the major attraction of this faire is the "MarwadiHorses". The "Marwadi Horse" is considered one of the finest bread of the Horse breads of India. It is rare breed of bread is known for its "Inward turning Eartips". 'Marwad' region or area around 'Jodhpur'.This Itcomes in all equine colours.All the 'Marwari' with pinto patterns tends to be the most popular with buyers breeders.
Reason-4 The Iconic Landmark of Town "Pushkar- Lake" Known as 'the Rose Garden of Rajasthan', the essence of the famous Pushkar rose is exported all over the World. Along with an interesting mythological history, a legacy of timeless architectural heritage makes Pushkar a fascinating city. According to legends, Lord Brahma,belived to be the creator of the Universe dropped a lotus to the ground leading to the immediate creation of a lake. He then decided to name the place after the flower, and thus the name,Pushkar(Lotus). The city of Pushkar is home to the only temple dedicated to "Lord Brahma"in the whole world. Hindu Consider a journey to Pushkar to be the ultimate Pilgrimage that must be undertaken to attain Salvation.it is believed that the Holy Pushkarlake has unique power to heal all kinds of diseases and it is also capable of washing away one's sins.
Reason-5 Best Lookout Spot The Sunset "SavitriMandir Mountains" Highest point in the Pushkar is "SavitriMandir and Mountains" where you can look down and see a 360 degree view of Pushkar and the beautiful Sunset in evening. ? Reason-6 Shopping Foods India wouldn't be India without its tempting street food. The best known Rajsthani food is the combination of Dal, Batti and Churna as well as Missi Roti. Being religious destination one may find only vegetarian dishes surround this fair. All dishes are cooked in pure deshi ghee or clarified butter and having mouth -watering spicy flavours and don't get surprised if you find restaurants and stall selling Israeli dishes. This place is also known as the little Israel. Shopping in Pushkar is easy, the main street of the Mela(Fair) is like long shopping street springing into all shuits street with café and shops selling indo-western Rajasthani inspired clothing and many swords shops one can find here which are very lethal. Tourist can buy some traditional Ornaments, necklaces and other handicraft as souvenir to take back from Pushkar.
At last I would like to say-"The Pushkar Fair" is the experience that stays on in the memory of the traveller and leaves one craving to return here. See You in Pushkar...
Jaipur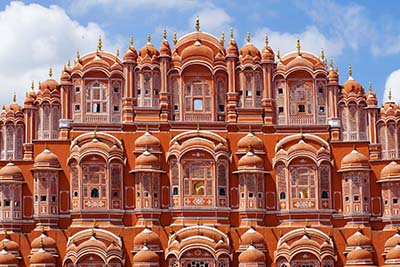 Jaipur the Pink city, multicolored Jaipur, the capital of Rajasthan the City famous for its unique culture, tradition, soothing music, beautifully laid out gardens, parks, attractive monuments and marvelous heritage hotels. All the places in the Pink city are worthy of admiration. Jaipur is connected with most Parts of India by both railways or by airways and also connected with roadways. Jaipur can be reached from Delhi by traveling by road or flying directly to Jaipur either from Delhi or Mumbai. From Agra one needs to drive to Jaipur or take a train to Jaipur and in between visit some famous monuments like Fatehpursikri or the famous stepwells The Abhaneri .
Places to visit in Jaipur
Bountiful places to visit in Jaipur such as Amber Fort, City Palace, Jantar-Mantar, Hawa Mahal, Nahargarh fort, Jaigarh Fort, Jal Mahal, Birla Mandir, Albert hall museum, Rambagh Palace, Govind devji temple, Raj Mandir Cinema, Jaipur zoo.
Jaipur is one of the colorful experiences you can ever have. Its real charm lies in inner lanes, streets and markets. This desert city has all the amenities of the big city. Its airy is infused with the romance, adventure, and gallantry of an incredibly rich historical tradition. Jaipur tour is half done without Camel ride, folk music and desert sounds. People here are very cheerful and will make your trip eventful.
Festivals in Jaipur
Though the Indian State of Rajasthan is known for its monuments, Forts, and Festivals. There are a lot of festivals especially organized by Rajasthan tourism Dept. throughout Rajasthan but in Golden triangle route in Jaipur Teej festival, kite festival, Gangaur festival, and Dhulandi festival are specially organized. Basically, the Dhulandi festival attracts foreigners to celebrate Holi in Jaipur in a unique way. Holi is celebrated in all over India at the same time during the month of March.
Famous Bazaars of Jaipur
The ideal destinations in Jaipur is its markets which has numerous stories engraved in every corner.Famous bazaars are:
Johri Bazar: Oldest as well as the largest shopping mall in the city. Famous for precious gems, stones, timeless jewellery, exquisite sarees. It is the busiest marketplace in Jaipur.
Bapu Bazaar: Place which can't be missed is colorful Bapu Bazar. Largest camel leather market in the world, finest quality 'Morji' shoes and other leather goods like belts, wallets, lamp sheds and bags.
Famous food corners in Jaipur
A trip to Jaipur is not complete without digging into convincing Rajasthani food. You can't return without trying its renowned cuisines like dal bati churma, laal maas, kachori. Some places where you can try authentic food are Spice Court, Natraj, Shri Thaal Village Restaurant, Rawat Mishtan Bhandar, Laxmi Misthan Bhandar and Chokhi Dhani- Place where celebration never stops. The only five-star rated ethnic village resort in India, is one of the best places to visit in Jaipur.  Best tourist destination in Jaipur for entertaining its visitors.
Your appetite will grow larger after visiting this place. Traditional food is served with Folk music. Swimming pool, health clubs and popular puppet shows are there to relax your mind.
Agra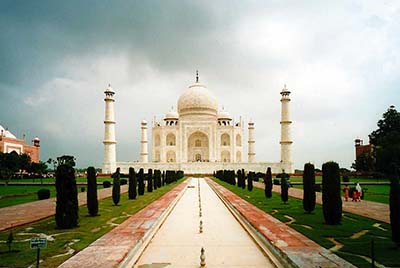 Agra is chiefly famous for its mindboggling Taj Mahal,It is known as home for iconic Taj Mahal, It is the proof of brilliance by Mughals, It would serve as feast to your eyes to watch and it looks more beautiful on the night of full moon day, It stands as a lasting tribute to love and lovers beyond time and also named as wonder of the world. It is the major tourist destination because of its unique history and beauty.
The best way to travel from Delhi to Agra is by different trains . The  trains that you can catch from Delhi to Agra are Bhopal Shatabdi, Kerala Express, New Delhi Jabalpur Superfast Express, A P Express, Intercity Express, Nizamuddin Pune Junction,Kalka Superfast Express and fastest train Gatiman Express.
By road and Bus- Your journey can be made enjoyable by road. Make your journey Smooth by travelling from Yamuna Expressway
There are Multiple bus types are available such as Volvo, AC, Non AC, AC available between Delhi Agra.
By road and Bus- Your journey can be made enjoyable by road. Make your journey Smooth by travelling to Agra a enjoyable one.
Places to visit in Agra
From Delhi we move on to Agra where you will observe a completely distinctive airy. Filled with architectural gems, culture,handicrafts and rich tradition. Agra tour has an element of education in it. You will learn a lot while traveling. Every place has a message to serve and element of entertainment. Certain locations are their which stand apart because of their sheer excellence they have to offer in terms of natural beauty. There are end number of places in Agra which you can cherish life long like Agra Fort, Itmad-Ud-Daulah, Wildlife SOS, Mehtab bagh and Shesh Mahal. Three beautiful places which are meagerly famous in Agra are:
Taj Mahotsav- More than a event but not less than a event - Taj Mahotsav is the opportunity to experience Art , Craft , Culture & Cuisine under one roof every year during the Month of March at non other than the city of Taj Mahal- Agra and it is organised of UP tourism dept. Started in the year 1992,this event or festival is now grown up child and offer you to experience around 400 artists from different part of India and many more. It also organise Funfair activities which is big attraction for kids and family. This is the chance to experience the glimpse of  whole India at one place.
Excursion from Agra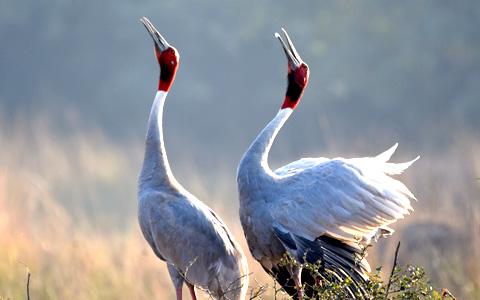 Bharatpur Bird Sanctuary-Famously known as Keoladeo National Park or Keoladeo Ghana National Park. It has thousands of rare and endangered birds, which comes here during the winter season. It serves as a home for mant species of birds. It is major tourist destination in Agra and famous for its beauty. It is also declared as World Heritage site.
Fatehpur Sikri – Majorly famous for its mystic Sufism.  Fatehpur Sikri is a fascinating build city. It is one of the praise worthy examplar of Mughal architectural. It is the finest illustration of the culmination of Hindu and Muslim architecture. Fatehpur Sikri Mosque is said to be a replica of the mosque in Mecca and has layouts, imitative from the Persian & Hindu architecture. Prime attractions in Fatehpur Sikri are Diwan-i-Khas, Panch Mahal,Tomb of Salim Chisti, Buland Darwaza, Palace of Jodha Bai, Hawa Mahal, Nagina Masjid, Sunehra Makan and the Jama Masjid.
MUGHLAI FOOD
Agra is maily known because of the Mughals. They only constructed all those famous monuments. Muslim empire left indelible imprints on Agra's cuisine. Mughlai food is famous in Agra for its creamy, boldly flavored curries; lots of ground and whole spices, dried fruits and nuts; roasted meats. It's a rich cuisine fit for a king. Famous points are Indiana, Pinch of Spice, Tajmahal Restaurant.
Typical street stand breakfast consist of sweet and spicy flavor. Mindblowing apptizing Kachori served with a bowl of spicy sabzi. Jalebi is a must try sweet dish in Agra. Famous points are GMB and Shree ji sweets on fatehabad road.
CHAAT
Tasteful Chaat is very popular in Agra—particularly bhalla, various kachori, samosas, and gol gappas. These all satisfying tempting snacks can oly be found on the streets of India. Famous area is Chaat wali gali in sadar bazaar.
Famous point - Rambabu paranthe wale on old Delhi Agra highway
PETHA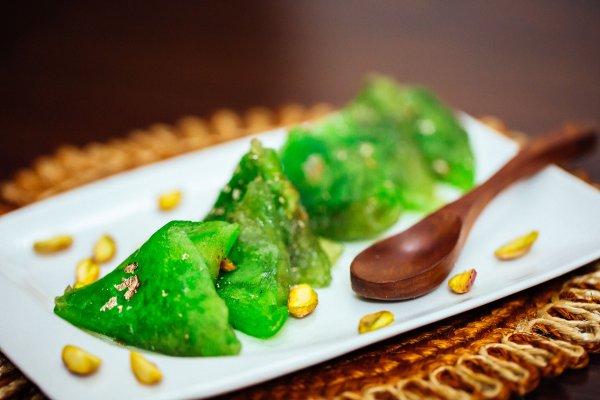 Fragrance of tempting Petha will make you feel tempted as soon as you will enter Agra . It is a centuries-old sweet dish also called as white pumpkin or squash. It comes in many varieties like plain petha of white color, kesar petha, chocolate petha in colorful shades of pineapple, coconut and mango. Famous point and area - Panchhi Petha and Baluganj area.