Kovalam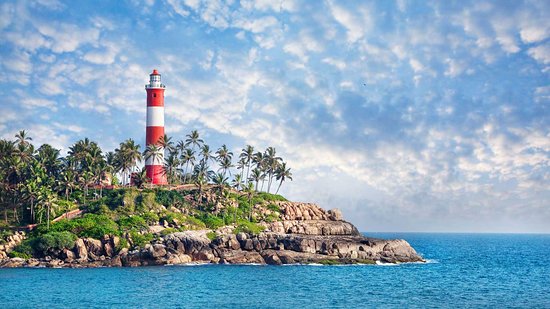 Kovalam is an internationally renowned beach with three adjacent crescent beaches. It has been a favourite haunt of tourists since the 1930s. A massive rocky promontory on the beach has created a beautiful bay of calm waters ideal for sea bathing.

The leisure options at this beach are plenty and diverse. Sunbathing, swimming, herbal body toning massages, special cultural programmes and catamaran cruising are some of them. The tropical sun acts so fast that one can see the faint blush of coppery tan on the skin in a matter of minutes. Life on the beach begins late in the day and carries on well into the night. The beach complex includes a string of budget cottages, Ayurvedic health resorts, convention facilities, shopping zones, swimming pools, Yoga and Ayurvedic massage centres.

Accommodation facilities for tourists at Kovalam range from five star hotels to budget hotels and the choice of food available at restaurants and cafeterias range from Continental varieties to South Indian delicacies.

Thiruvananthapuram, the capital city of Kerala, is just 16 km away from Kovalam and getting there is no hassle. But if you are on holiday it is better to stay in Kovalam and visit the city. The city of Thiruvananthapuram has many interesting places to see like the Napier Museum, the Sri Chitra Art Gallery and the Padmanabhaswamy Temple. The SMSM Institute, a State owned handicrafts emporium, is the ideal place to pick up ethnic curios and other articles. 
Kanyakumari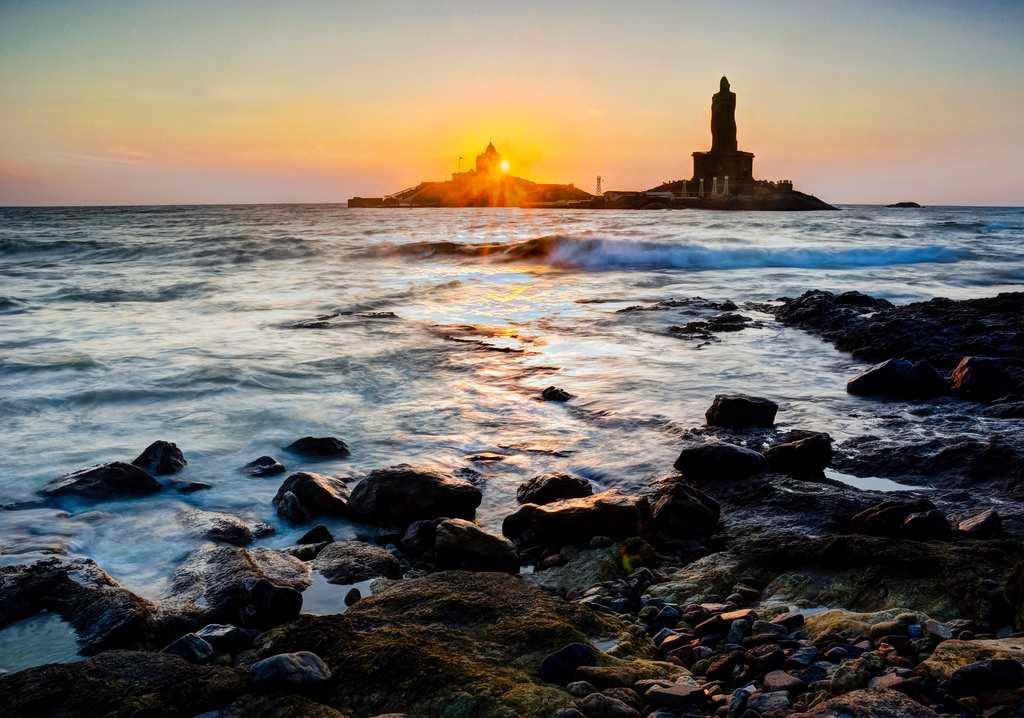 If you want to watch both sunrise and sunset and how sky changes those shades very close then visit Kanyakumari. The nearest airport to Kanyakumari is the Trivandrum International Airport and you can find multiple trains and buses from other places in the state. Kanyakumari Temple, Vivekananda Rock Memorial, Padmanabhapuram Palace, Kanyakumari Beach and Thirparappu Falls are the major tourist attractions.
Rameshwaram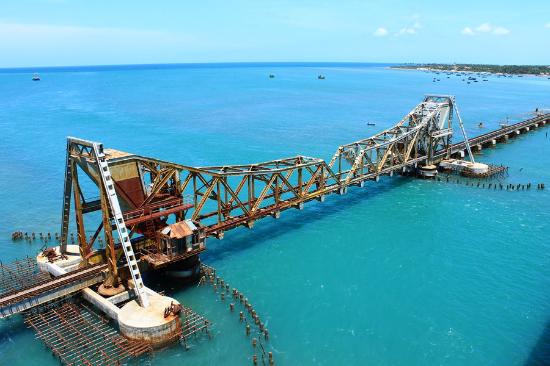 Located on Pamban Island, Rameswaram that has religious significance is a must visit place. The nearest airport to Rameshwaram is Madurai Airport and Tuticorin Airport. You can find trains and regular buses from all major places in state. Ramanathaswamy Temple, Jada Tirtham, Dhanushkodi Temple, Adam's Bridge, Nambu Nayagiamman Temple, Water Bird Sanctuary, Lakshmana Tirtham, Villoondi Tirtham, Thiruppullani and Gandamadana Parvatham are the places you should not miss.
Madurai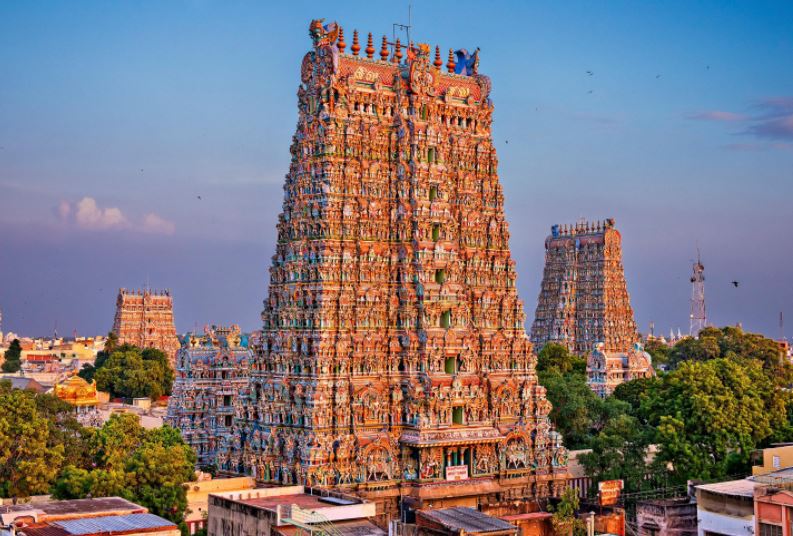 Thiruvananthapuram (or Trivandrum) is the capital of the southern Indian state of Kerala. It's distinguished by its British colonial architecture and many art galleries. It's also home to Kuthira Malika (or Puthen Malika) Palace, adorned with carved horses and displaying collections related to the Travancore royal family, whose regional capital was here from the 18th–20th centuries
Kodaikanal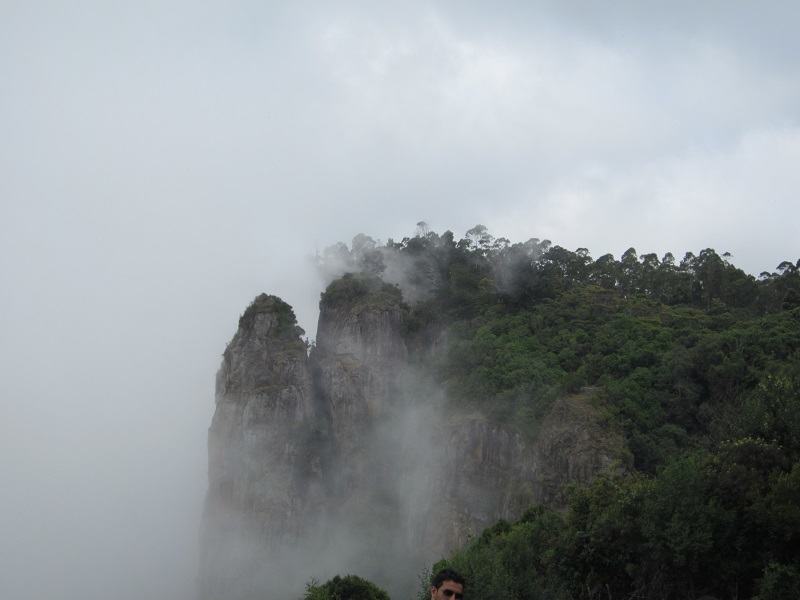 With its name meaning the 'The Gift of the Forests', Kodaikanal is a hill station located in the eastward hills of the Western Ghats in the state of Tamil Nadu. The place is a popular retreat from the hot and humid climate of the lower areas and is located 2,133 meters above sea level. Kodaikanal is also home to the rare Kurunji Flower which blooms just once in 12 years. The area is comprised mainly of meadows and grasslands with a thick forest cover containing eucalyptus, cypress and acacia and pear trees. The climate is usually cool throughout the year with temperatures not going beyond 20 degrees in the summer months of May and June. The economy is mainly supported by tourism and the people are quiet familiar with visitors. Here's the list of the best places to visit in Kodaikanal.
• Berijam Lake
• Coakers Walk
• Kodai Lake
• Kurinjiandavar Temple
Thekkady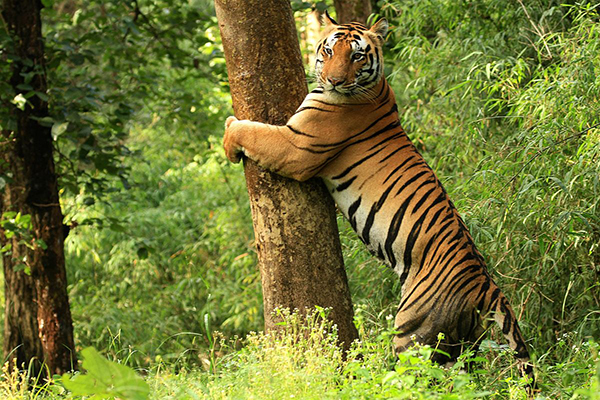 If you are a wildlife enthusiast and want to rejuvenate in the misty mountains then Thekkady is the place for you. You can find trains and taxis to reach Thekkady from Alleppey. It is home to the popular Periyar Wildlife Sanctuary.  You can take a boat cruise over Periyar Lake to view wildlife. Take an elephant safari to see inside the forest. You can find various wildlife species like elephants, tigers, deer, bisons and much more.
Some of the most important tourist attractions in Thekkady are Kurisumala where you can have an adventurous tourism and trekking, Murikkady, Chellarkovil, Pullumedu, Periyar Tiger Trail, Bamboo Rafting which is offered by the Forest Department at Thekkady.
Munnar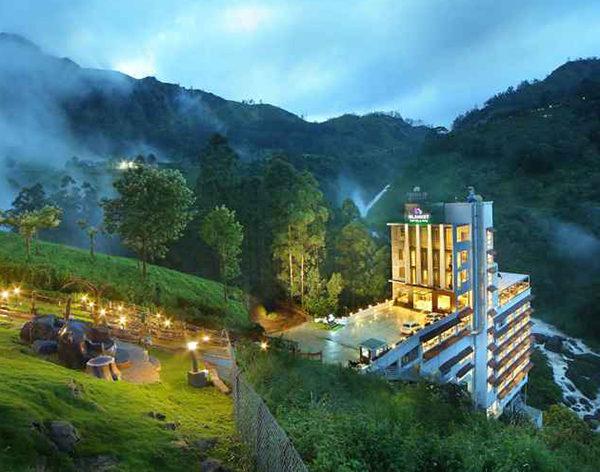 Munnar is a town in the Western Ghats mountain range in India's Kerala state. A hill station and former resort for the British Raj elite, it's surrounded by rolling hills dotted with tea plantations established in the late 19th century. Eravikulam National Park, a habitat for the endangered mountain goat Nilgiri tahr, is home to the Lakkam Waterfalls, hiking trails and 2,695m-tall Anamudi Peak.
Athirappally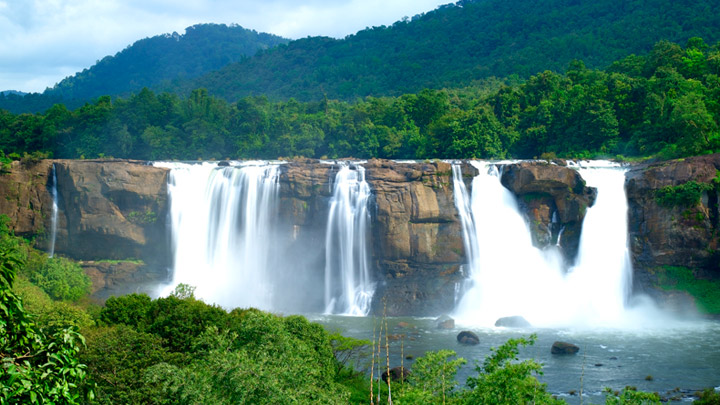 Athirappally has the most majestic waterfalls in Kerala. These picturesque locations have attracted people for ages with their lush greenery and stunning views. At Athirappally, one can see water crashing into the Chalakkudy river after an 80 ft. journey. A cool spray takes over the terrain and people are left enchanted at this natural wonder that presents a stunning backdrop.
Athirappally has exotic fauna on display that has people forming a beeline to visit throughout the year. Rare bird sightings, including rare species of the hornbill, make it a bird lover's paradise. We invite you to use this marvellous wonder as the perfect backdrop for an adventurous trip. The natural beauty presents an ideal shooting location that will surely mesmerise any who sees it.
Cochin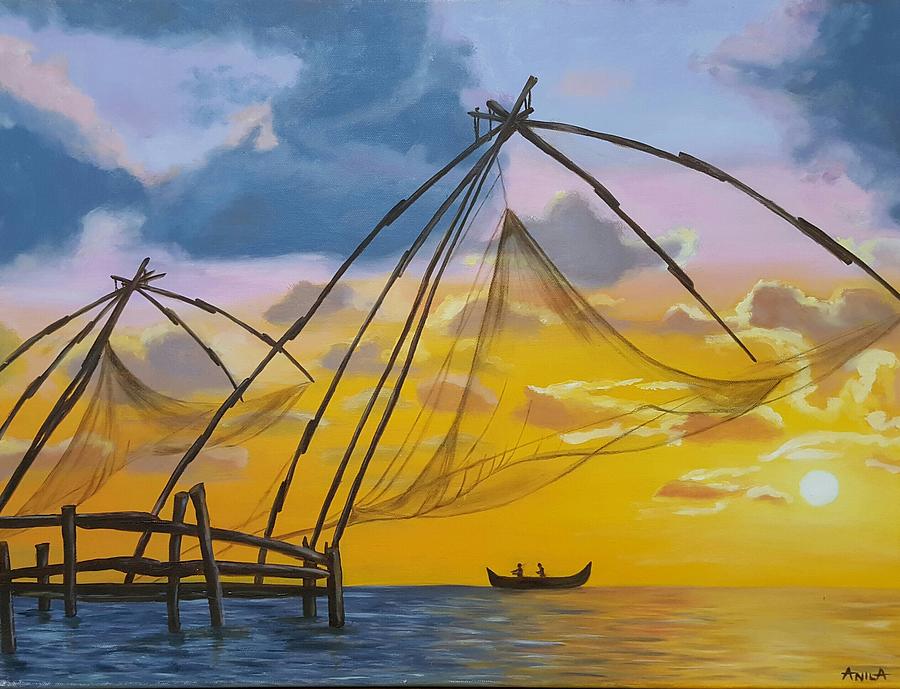 Cochin or kochi which is the cultural and economic capitals of kerala is a must visit place if you love fishing. the major tourist attractions are fort kochi that offers chinese fishing nets, mattancherry, bolghatty and vypeen islands, lulu shopping mall, paradesi synagogue, malayatoor church, kodanand elephant training centre, andhakaranazhi beach, marine drive, hill palace museum and museum of kerala history in edappally.
Alleppey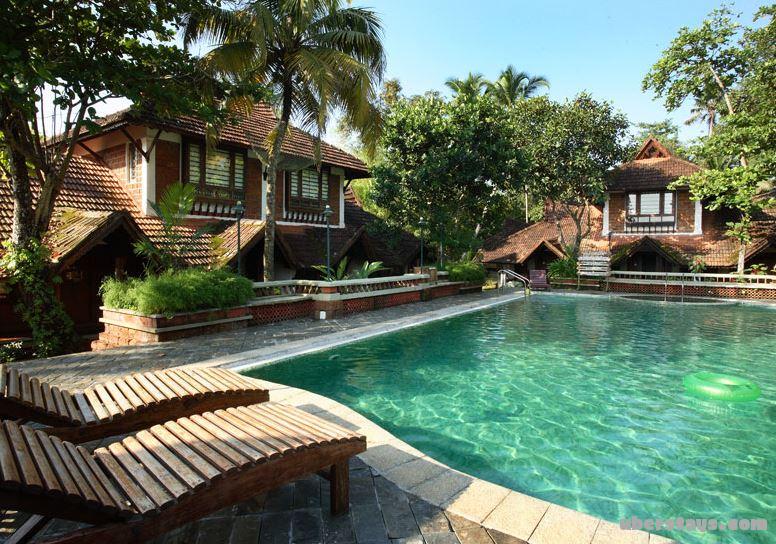 Alappuzha or Alleppey is best known for houseboat cruises. Cochin International Airport is the nearest airport to Alleppey. You can find trains and buses from all major cities. The place is famous for its boat races, beaches, backwater trips, marine products and houseboat stays.
The major tourist attractions are Kumarakom Bird Sanctuary, Alappuzha Beach where you can find favorite beach activities like parasailing, surfing, swimming, boat races, etc., The Snake Boat Race, Marari Beach, Punnamada Lake, Krishnapuram Palace, Revi Karunakaran Museum, Pathiramanal which is small island on the backwaters of Alappuzha and Karumadikuttan. Alleppey Backwaters is something you can't miss if you are a nature lover.