Goa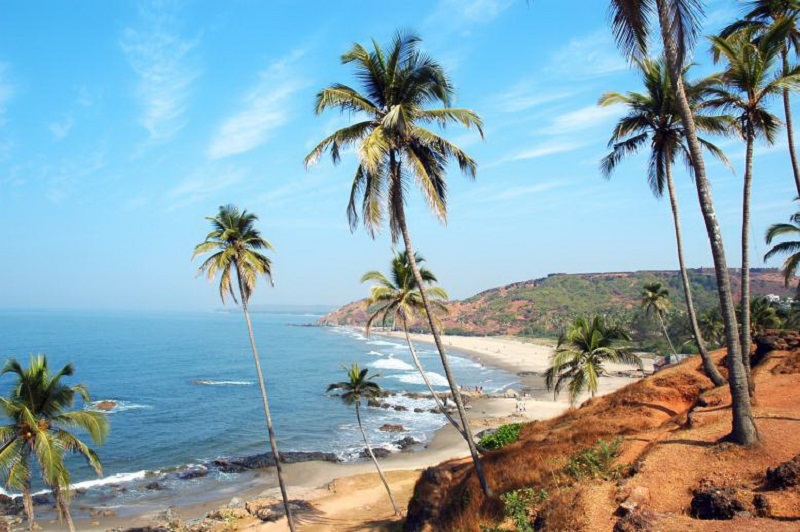 Goa known as "Pearl of the Orient" has breathtaking scenic beauty, magnificent churches, lively parties and massive forts. It is also known for its golden and white sand beaches. Goa is highly popular with Western tourists for excellent touristic facilities.
The official language of Goa is "Konkani". You can find people speaking in English too. Simply to say, Goa is the fun capital of India.
Unique Features Of Goa
Goa, land of Beaches has astounding number of bars, laterite stone that is the most abundant, exotic wildlife and birdlife, various types of handicrafts, Dekhni dance performed by women, Morulem folk dance, Lamp dance, rave parties, late night parties on exotic beaches of Goa, green forest, sunshine, crocodile boat trip, Bhandad, Corredinho which are Portuguese folk dances are very unique to Goa.
Goa is the only place in India where you can ask a biker a lift and actually pay him without worrying about riding with a stranger. You will find mix culture of India and Portugal. More importantly, Goa is home to some of the finest casinos in India.
North Goa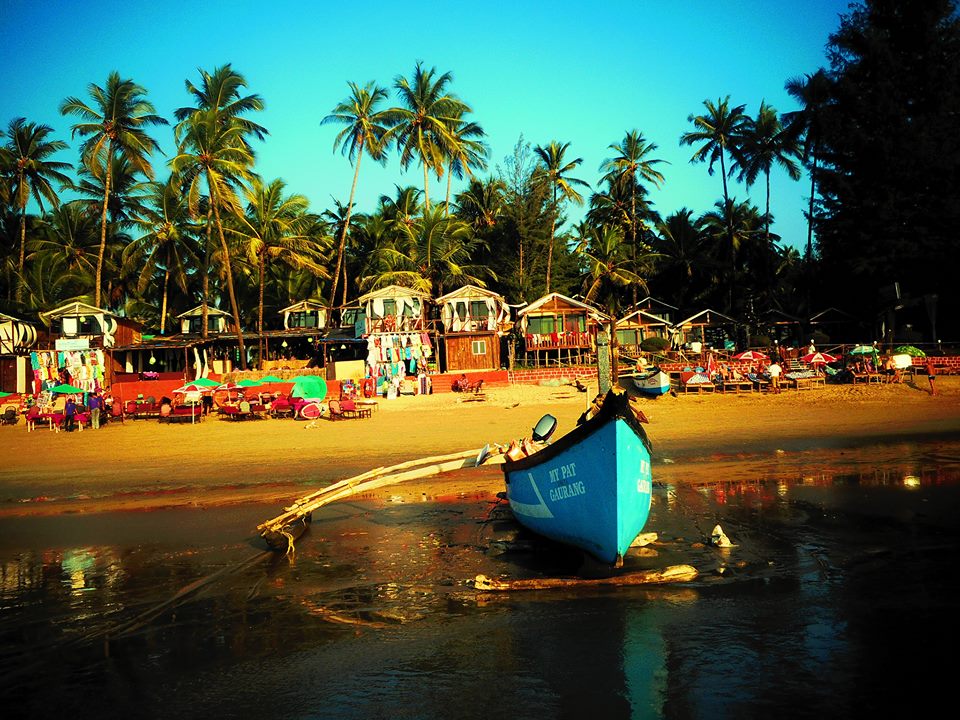 North Goa is a paradise for romantic couples as you can find backwaters and isolated places. It offers vivid water sports. Romantic Photo shoot for couples can be done in any part of the Goa.
Major Attractions Of Goa
#1. Panaji or Panjim
The town has Portuguese style setting with concrete structures, red titled roof and churches. The capital of Goa lies on the southern left bank of the Mandovi River that offers Crocodile Boat Trip is an amazing place. A boat cruise through the River Mandovi at night gives you memorable experience. You can find direct flights, trains and buses to Goa from all major cities.
The major tourist attractions are Our Lady of the Immaculate Conception Church, Basilica of Bom Jesus, Se Cathedral, Dr. Salim Ali Bird Sanctuary, Cycling at Chorao Island, par Island situated across the ever-active Mandovi River where you can enjoy backwaters, Bambolim Beach that offers scuba ping, jet skiing and para-sailing, St. Francis Of Assisi Church, Goa State Museum, Arvalem Waterfalls popular amongst the swimmers, Church Of St. Augustin, Mahalaxmi Temple, Idalcao Palace, Jama Masjid, Reis Magos Fort, Dona Paula Beach offers a great scenic view, Miramar Beach famous for Cycling Expedition, adventurous trek to Todo Waterfall.
#2. Bardez
The fort offers picturesque views of Chapora River uniting with the waters of Arabian Sea. It is just 13 km from Panjim City. The major tourist attractions are Fort Aguada Beach for Dolphin Spotting, Chapora Beach that has white sand beach famous for fishing and boat building, Overnight Houseboat Cruise at Chapora River, Baga Beach famous for parasailing, water scooters, banana boat rides and sun-basking, artificial tattoos and braids, Calangute Beach famous for Aroma Facial Massage, Parasailing, Water-skiing, Wind-surfing, Dolphin trips and also Casino Palm, Snow Park, Arambol Beach, Anjuna Beach famous for its full-moon parties and trance Parties, Anjuna Hill that offers Quad biking.
Vagator Beach famous for its rave parties, Sport Fishing, Mandrem Beach perfect for a bonfire party and Sunset kayaking, Ashwem Beach famous for relaxing Ayurvedic massage, swimming and fresh seafood, Candolim Beach is a home to the Snip Spa Salon and also famous for jet skiing, catamaran sailing, water scooters, surfing, banana rides, bump rides, parasailing and paragliding, flames entertainment and night life are the places that can't be missed.
Chapora Fort, Shri Mangueshi Temple, The Church of Mae De Deus, Hathi Tours, Morjim Beach famous for Olive Ridley Sea Turtles, watching dolphins, swimming in the deep sea and Russian cuisine, Konkan Explorers, Anjuna Market, Reis Magos Fort, Nyex Beach Club and Sinquerim Beach is an ideal place for swimming, also famous for water-skiing, para-sailing, Sport Fishing, scuba ping and windsurfing, Shri Shantadurga Temple, Corjuem Fort are other tourist attractions.
#3. Dudhsagar Waterfalls
Located at 60 km from Panjim City and a part of the Bhagwan Mahavir Wildlife Sanctuary is great hiking destination and famous for camping, Dudhsagar Waterfalls is one of the tallest cascades in India famous for Sightseeing, Trekking and Jeep Safari. You can swim at the foot of the waterfalls and enjoy the scenic view. Don't miss Crab Catching Trip At Sonaulim which is 2.3kms from Dudhsagar falls. After the Dudhsagar falls, the trek to Vagheri Peaks is the most exhilarating treks in Goa. While on this trek, you can also visit the Netravali Wildlife Sanctuary that has many adventurous activities.
Hidden Attractions Of Goa
#1. Grand Island
Grand Island is a perfect destination for both professional pers and beginners. It is highly popular for scuba ping, snorkeling, ping and fishing, real sea adventure activities, experience fishing. During the boat trip to Grand Island, you can watch the dolphins gambling and playing. It is a favorite place of treasure-hunters. You can start your sailing excursion from Dona Paula which is in Panjim city in the morning and sail to Grand Island.
#2. Mapusa
Mapusa is a commercialized town of Goa and is just 13km from Panjim. The major tourist attractions are Shree Dev Bodgeshwar Temple, Maruti Temple, Ozran Beach for a peaceful stay, Friday Market, Church of Our Lady of Miracles, Siridao Beach is a photographer's dream, Chapel of Jesus of Nazareth and Sri Kalika Temple.
#3. Bicholim
The major tourist attractions are Mayem Lake covered in a rich green cover of vegetation, cashew trees, palm trees, betel nut and pineapple plantations, Lamgau Caves and Nirancarachi Rai Grove.
#4. Valpoi
The place offers challenging trekking at Udaan Dongor that gives you an experience of getting a 360 degrees view of the entire Western Ghats and Mhadei wildlife sanctuary, Rafting at Valpoi River are the major attractions that can't be missed.
South Goa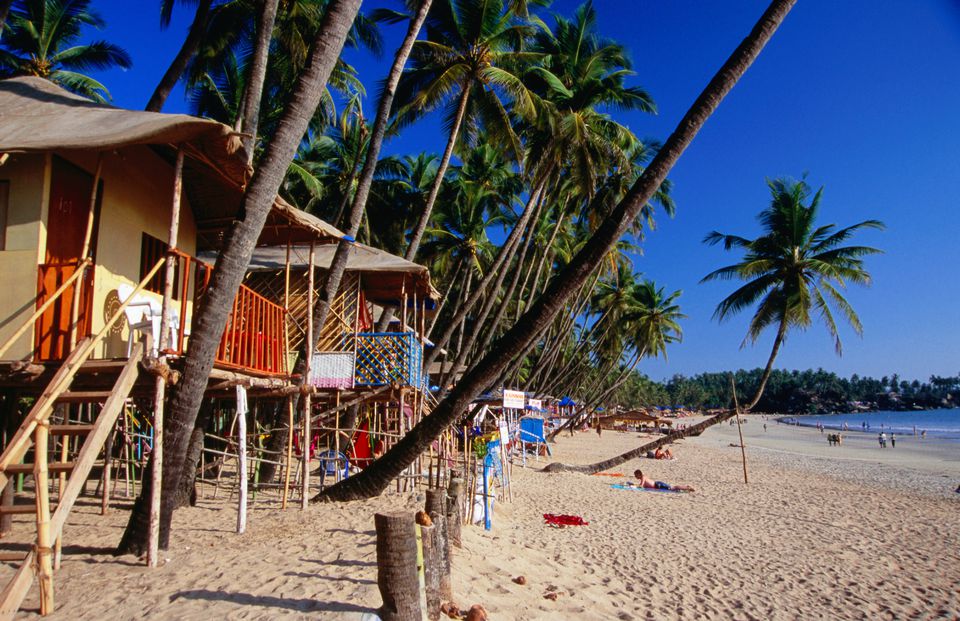 South Goa is a place where you can find exotic beaches and heritage villages. Here you can experience rich Portuguese architectural legacy that was left behind. Other than water sports, you can find various adventurous activities in Goa. It also organizes freaky silent parties.
Major Attractions Of Goa
#1. Canacona
Being on the southern border, Canacona preserves a unique cultural balance. You will find many people who speak or understand Kannada in addition to Konkani and Marathi. You can find buses, motorbikes, cabs from Panjim city to Canacona. The major tourist attractions are Palolem Beach famous for Dolphin Spotting and Ayurvedic Massage, Monkey Island, Butterfly Beach, Colomb Beach famous for Kashmiri Food, Beach Shacks and Silent Noise Party, Upper Sauri Canyoning, Agonda Beach famous for Hill Hiking, Dolphin Sighting, Sport Fishing and Samdarshi's mediation Ashram (winter), Patnem Beach famous for wellness treatments, Cola Beach where you can enjoy lovely backdrop of coconut palm groves, Shri Navdurga Temple, Cotigo Wildlife Sanctuary, Rajbag Beach, Mallikarjuna Temple, Cabo de Rama Fort , Galgibaga Beach and Leopard Valley.
#2. Margao
You will find buses, cabs and motorbikes from any part of the place in Goa to Margao. The major tourist attractions are Colva Beach famous for Full Moon Party and Dolphin Sighting, Benaulim famous for Seafood and Dolphin Sighting, Bogmalo Beach famous for Scuba ping, Varca Beach famous for playing beach football, Our Lady of Gloria Church, Cavelossim that has an amazing sunset view and also famous for resorts and sun bathing, Mormugao Fort, Assolna has Portuguese Palaces, Jewellery and Trinkets, Majorda Beach famous for water sports and nearby you can visit Mae De Deus Church, Kakolem Beach, Chandor has a collection of Portuguese architecture, Loutolim known for its ancestral museum, Betul Beach, Mobor Beach famous for Blue Whale Shack, Banana Boat Ride, Ringo Ride, Winch Boat Parasailing, water-skiing, wind-surfing and jet-skiing and Ayurvedic Spa.
#3. Vasco Da Gama
Vasco Da Gama is around 25km from Panjim city. The major tourist attractions are Baina Beach famous for Snorkeling and Camping, Bogmalo Beach, Velsao Beach, Zuari River, Arossim famous for Abhyanga Spa (four-hand massage).
#4. Ponda
Ponda which is the cultural capital of Goa has amazing tourist attractions like Butterfly Conservatory, Shivaji Fort, Old Borim Bridge, St. Roque Chapel, Sahakari Spice Farm, Safa Masjid, Shanta Durga Temple, ATV biking where in you can ride an extremely powered bike in all the types of terrains. You can reach here from any part of the place in Goa through various transportations.
Hidden Attractions Of Goa
#1. Assolda
Assolda is famous for Hot Air Ballooning Flight adventure. You can join your pilot in the hand-crafted basket and explore a marvelous overview of Goa. Ground crew follows your balloon over grounds and roads to assure a safe landing.
#2. Dharbandora
If you want to experience even more thrilling adventures then you should visit Dharbondara. Here is what the place offers, Shower with the Giant Elephants, Flying Elephant Zip Lining Activity, Rock Climbing, Flat Surface Rappelling and Elephant Safari.
Cuisine That You Don't Find Elsewhere
Goa is highly popular for seafood. Seafood delicacies like squid, pomfret, mackerel, shark, tuna, crabs, prawns, tiger prawns, lobster and mussels are very unique to Goa. Goan Feni is the local alcoholic drink with strong aroma that you don't find anywhere else.
Fish Curry and rice is a traditional food of Goa, Tamre bhaji, Bebinca Goa's most famous sweet, Pork Meat, Sanna, white fluffy bread made of coconut, Goan Fish Curry, Goan Prawn Curry, Fish Recheado, Pork Vindaloo, Rava Fried Fish, Chicken Xacuti, Chicken Cafreal, Pork Sorpotel, Karanji(sweet), Chouricos, spicy pork sausages, Dodol famous Goan sweet eaten during Christmas time, Prawn Balchao, Kalputi, Dangar, Fish Suke, Pork Assad, Caldo Verda, Alle Belle sweet, Khatkhatem (mixed vegetable curry), Moongacho Gathi (curried green gram), Veg Shagoti, Fish Hooman, Crab XecXecA Curry, AmbotTik Sour and Spicy, Mushroom Xacuti , Mackerel Reacheado are very unique to Goa.
Festivals In Goa
All the major religious festivals of India are celebrated in Goa with all the pomp and show. Due to the strong Roman Catholic influences, most of the festivals of Goa are Christianity specific. Goa Carnival that is celebrated from Feb 14 to 17, Christmas, Saptah Festival during September for 7 days, New Year Fiesta, Grape Escapade, Wine Festival celebrated from 23rd February to 26th February, Goa Food and Cultural festival in the month of April for 5 days, Goa Cashew and Coconut Fest In the month of May, Sao Joao festival loaded with folk dance celebrated on 24th June, Sunburn festival for music lovers in the month of December for 3 days, VH1 Supersonic music festival from 27th – 30th December, Shigmo festival on 17th march, Bonderam festival takes place at the par Island on the 4th Saturday of August, Goa International Latin festival for salsa dance lovers, Feast of Three Kings in January, Shree Shantadurga Zatra from 3rd To 8th January in Fatorpa Temple are festivals which are not seen in other states of India.
Tourist Circuit Of Goa
The state tourism plans to improve the infrastructure facilities like parking, illumination and providing handicap friendly access at Calangute, Baga, Anjuna, Morjim, Ashwem, Junaswada beach and Mandren beach. It also plans to provide Wi-Fi and take safety and security measures.
Badami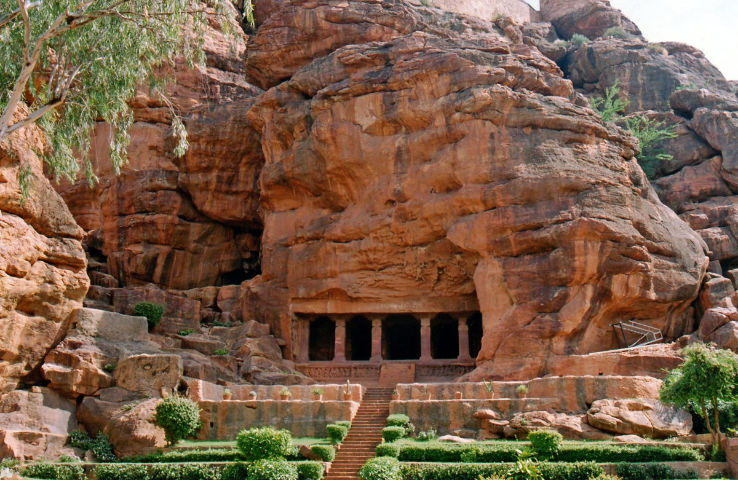 During badami trip you will visit the heritage sites which represent chalukyan architecture and have a hundred of different stone temples. the major tourist attractions are the lad khan temple, the ravanapadhi cave temple, meguti jain temple, galaganatha group of temples, badami cave temples, bhutanatha group of temples, mallikarjuna group of temples, archaeological musuem, virupaksha temple, kashiviswanatha temple, sangameshwara temple, papanatha temple and galaganath temple.
Hospet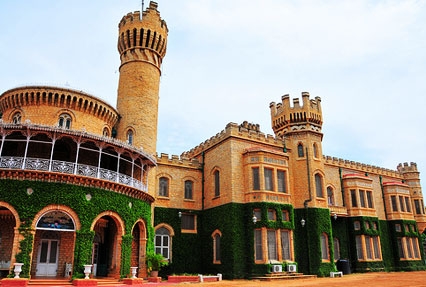 Hospet, officially Hosapete, is a city in Bellary District in central Karnataka, India. It is located on the Tungabhadra River, 12 km from Hampi.
Hassan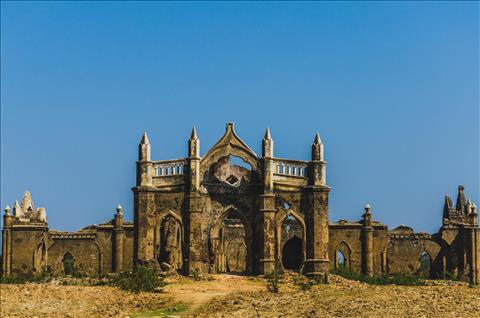 Hassan is a town and the district headquarters of hassan district in the indian state of karnataka. the town is situated 980 m above sea level. it is named after the hasanamba temple.
Mysore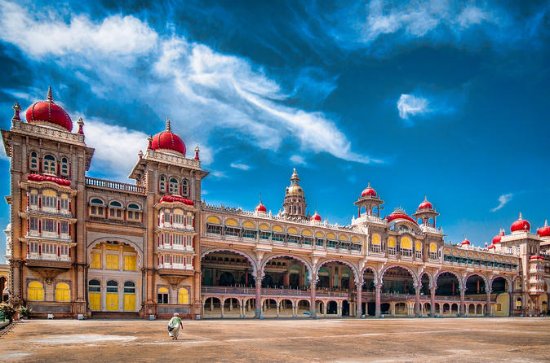 Mysore is the place where you can explore magnificent palaces, stunning gardens that make Mysore unique. You can find regular trains, buses and flights from other major cities of the country.  The major tourist attractions are Mysore Palace, Karanji Lake, Chamundi Hills, Lalitha Mahal, Mysore Zoo, Brindavan Gardens, KRS Dam, Railway Museum, Rangantittu Bird Sanctuary, Talakad which is the epicenter of horticulture and wine making, Melukote to enjoy folk dances, ethnic cuisines, Melody World Wax Museum, Jaganmohan Palace, Jayalakshmi Vilas Mansion and St. Philomena's Church.
Bangalore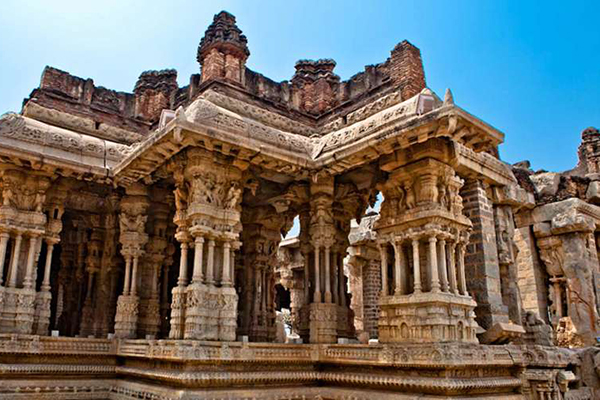 A capital city of state is one of the popular tourist destinations to visit in Karnataka. The IT hub of the country has pleasant and comfortable weather round the year. The fascinating tourist destinations are Go-karting for racing enthusiasts, Bannerghatta Biological Park, Bangalore Palace, Lal Bagh Botanical Gardens, Cubbon Park, Tipu Sultan's Summer Palace, Wonder La Amusement Park, National Gallery of Modern Art, Innovative Film City, Shiva Temple, Chunchi Falls, Nandi Hills, ISKCON temple, Aerospace Museum and Shivasamudram Falls.