Delhi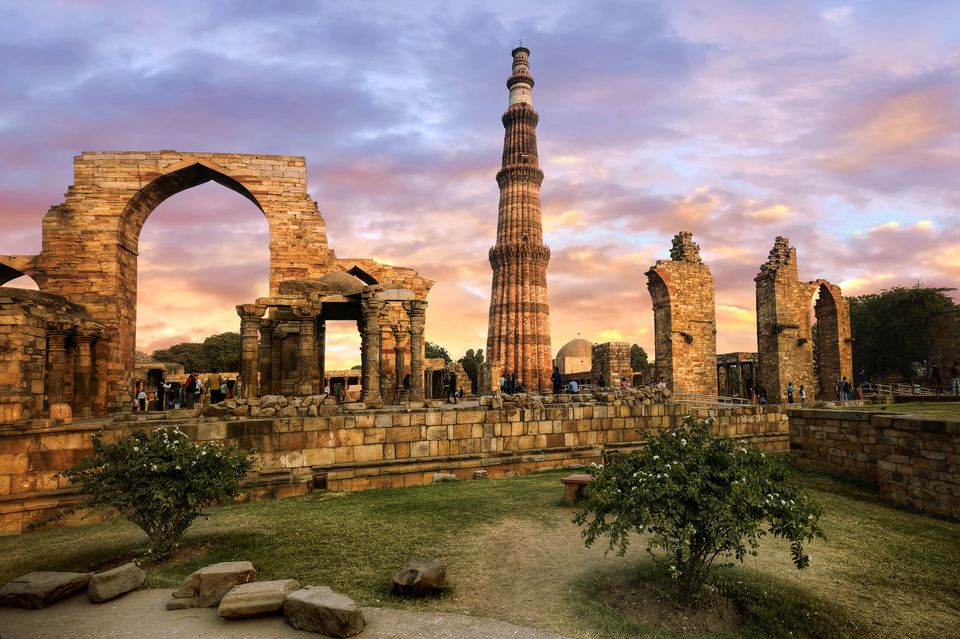 Discover some of the many faces of Incredible India by visiting Delhi. Some of the best images of India's diversity can be captured here. Delhi is one where you will be astound and impressed at every edge. There are end number of places in Delhi which you can stopover and fancy.
The city of Delhi is full of fascinating places to visit and see. Some of the main ones are as follows –
Alluring Qutab Minar Complex, appealing Red Fort, elegant Purana Quila, splendid Jama Masjid, fascinating Safdarjang's Tomb, dazzling India Gate, marvelous Rashtrapati Bhawan, graceful Rajghat, pleasing Purana Quila, exquisite Jantar Mantar and divine Humanyu'sTomb,Bangla Sahib or the colourfull Sahajanabad & Chandni chowk .
Shopping  in Delhi
Apart from historical places Delhi is also acclaimed for its incredible range of shopping options specially handicrafts like carpets, silk, jewellery and cotton that are synonymous with India. Delhi is a paradise for shopping, eating and sight-seeing. Recorganized markets and bazaars are must see places in Delhi like Chandni chowk, Delhi haat, palika bazaar, karol bagh, Khan market, Lajpat nagar, Cannaught place, Janpath and Sarojini Nagar.
Religious places in Delhi
In India there are very scanty places which can together be described as modern and traditional, historical and new. Delhi is one of them. In addition to this the city has plentiful options in gardens, malls of South Extension, places of worship which symbolizes equality and brotherhood(Jama Masjid , Bangla Sahib, Akshardham temple, Lotus Temple and Sacred heart church)excursions, food outlets and culture.
Famous Food Corners in Delhi
Influencial food corners in Delhi are Paranthe Wali Gali, Lala Babu Chaat Bhandar, Bishan Swaroop, Shree Balaji Chaat Bhandar, Khandani Pakode wala, Kulcha King, Prince's Paan & Chaat Corner, Dilli Haat, Khan Chacha, Sitaram Diwan Chand, Bittoo Tikki wala, Salim's Kebabs, Dolma Aunty ke momos and Al-Bake.
Leh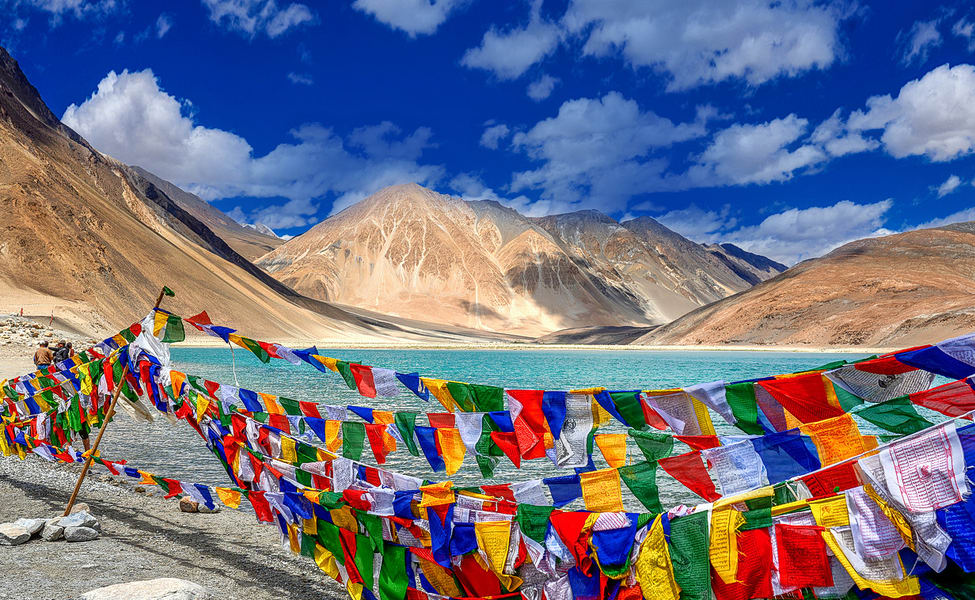 There is no other place on earth that matches with the scenic beauty of Leh and the bliss you can experience here. Jagged with colourful fluttering flags, dramatic mountains and unforgettable landscapes, Leh is a treat to one's eyes which also offers plenty of adventure sports.
The place offers beautiful scenery, loads of monasteries and lakes to discover, lot of trekking trails! Pangong Lake, Magnetic Hill, Nubra Valley, Tso Moriri Lake, Lamayuru Monastery, Shanti Stupa, Royal Leh Palace, Chadar Trek, Tso Kar Lake, Hemis Monastery, Khardungla Pass, Drass Valley, The Snow Leopard Trek are major tourist attractions. Don't miss cycling in Ladakh, jeep safari, Camel Safari, Camping at Nubra Valley, Motor Biking.
Major Attractions Of Leh
Leh Market
The artifacts and souvenirs are often displayed on the road-side stalls and it is the best market to get Tibetan handicraft items like Pashmeena wool dresses, Prayer wheels, Traditional Ladakhi jewellery which are genuine.
Leh Palace
The ancient Leh Palace which is just 5 km away from the Leh is under the control of Archeological Survey of India (ASI) and offers a panoramic view of the Stok Kangri and Zanskar ranges across the Indus Valley.
Shanti Stupa
The highest white beautiful stupa on a hilltop in Chanspa, Leh district is the best place to admire the beauty of Himalayas. It was built by the Japanese monks to promote world peace. Don't forget to do a little meditation besides the Stupa which might help you get what you came here for. The nighttime view is even better.
Sangam Point
One of the most famous spots in Leh which is the meeting point of the Indus and Zanskar is known as the Sangam Point. It is an amazing sight for the onlookers as the water of the Indus River is very warm and the Zanskar is frozen.
Hemis Monastery
The Hemis Monastery is visible during a Leh Ladakh road trip. The distance between Hemis and Leh is 40kms and easily accessible by any vehicle. Interior decorated by numerous gold statues and stupas enhanced by the precious yet rare stones is worth visiting.
Drass Valley
Drass Valley gives you an exhilarating experience and is the must visit place. It offers amazing sights where you can't click a bad pic.
Nubra Valley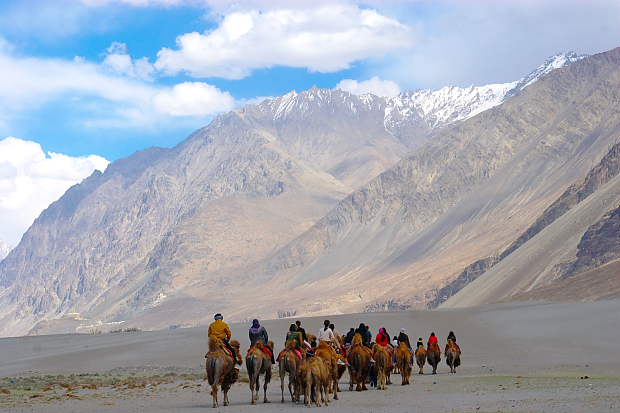 Nubra valley is a place that cannot be missed if you are travelling to Ladakh in the summer as it is rich in sightseeing opportunities. Trekking, camping and camel safaris at Hunder, ATV Ride at Khalsar, Zimskhang Palace, Ensa  Gompa and Yarab Tso Lake are major attractions. The sand dunes of the Nubra Valley give you Arabian Nights like experience.
Amritsar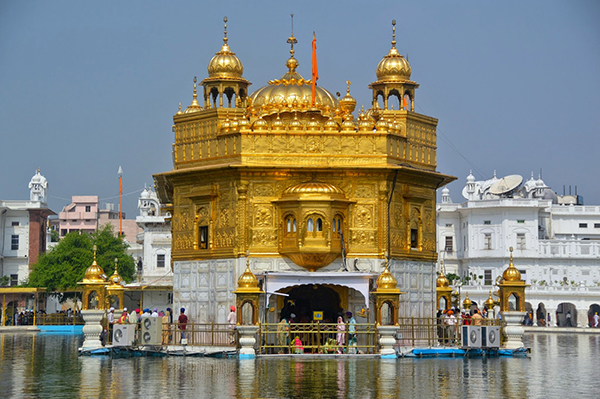 This agricultural heartland of indian sub continent is the birthplace of sikhism. it was here that guru nanak sowed the seed for a new inclusive spiritual path based on equality for all & the pursuit for contentment. now sikhism is 5th largest religion of our universe. located on the north western end of india, sharing the international border with pakistan, this indian state of punjab got its name from 5 rivers (ravi, sutlej, chenab, jhelum, beas) that flows through it.
Dharamshala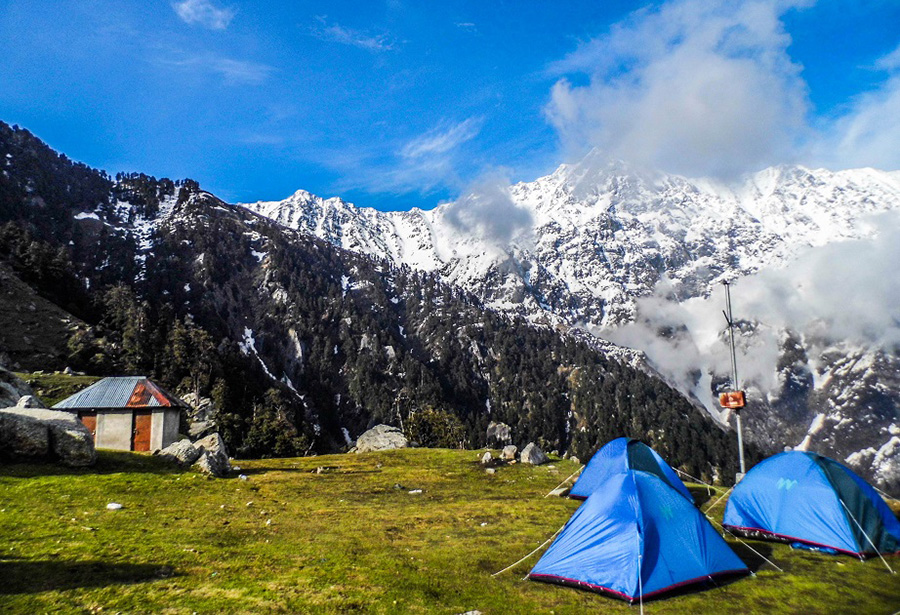 Himachal Pradesh is the place that is custom built for adventure sports of all kinds. Dharamshala is famous as the city of Dalai Lama, known as spiritual center for Buddhists, the place offers many adventurous activities. Trek to Guna Devi from McLeod Ganj, Kangra Valley, Dharamkot, Camping and Trekking at Triund, Hike from Mcleodganj to Bhagsu covering 12 km passing through waterfall, Masrur for those who love historic sites, are popular attractions.
Dharamshala is a city in the Indian state of Himachal Pradesh. Surrounded by cedar forests on the edge of the Himalayas, this hillside city is home to the Dalai Lama and the Tibetan government-in-exile. The Thekchen Chöling Temple Complex is a spiritual center for Tibetan Buddhism, while the Library of Tibetan Works and Archives houses thousands of precious manuscripts.
Attraction in Dharamsala
Dalailama Temple:- Mcleodganj is a holy city in Dharamshala, which is famous for many attractions including the Dalai Lama temple. This temple is also called as Tsuglakhang Temple. Dalai Lama visits this temple twice or thrice every year to preach and bless. Thus, the temple gets its name as Dalai Lama Temple. If you are lucky enough to visit the temple during his visit, you can listen to his preaching. Very close to the residence of Dalai Lama, this temple stands as an important pilgrim spot. This temple is famous for providing religious teachings. The most important feature of this temple is the morning ritual.
Bhagsunag Falls:- Bhagsunag Falls is one of the most scenic places to visit in Dharamsala. That is pretty cold but full of minerals
St. John's Church: - This church lies between Forsythe and McLeod Ganj. It is on the 8 km walk from Lower Dharamsala. St. John's is one of the oldest churches in the Dharamsala and has a memorial dedicated to Lord Elgin. Built in the Gothic style, it has stained glass windows and floors of cobble stones.
Kangra Art Museum: - This popular museum exhibits the art and culture of the Dhauladhar region. Royal artifacts, dresses, shamianas, jewelry, manuscripts, coins, photographs and sculptures are on display.
Triund: - Lying at a distance of 20 kilometers from Dharamsala, Triund is a spectacular location. Set in the foothills of the snow covered Dhauladhar Range; this tourist attraction is mainly known for its trekking activities and picnic spots. Triund is easily accessible from Mcleodganj and is home to Snow leopards, bear, birds, wild goats and pigs.
Dharamkot: - This magical spot is located at the summit of Dharamkot Hill. Just 11 km away from Dharamshala, Dharamkot offers you panoramic views of the Kangra Valley, the surrounding ranges and the Pong Dam Lake.
Kareri: - This is a great picnic spot that lies at a distance of 22 kilometers from the famous Kotwali Bazaar. It is known for its pristine Kareri Lake that is surrounded by green meadows and forests with pine and oak trees. It also has Kali and Durbasa temples that are worshipped by many visiting Dharamsala.
Nurpur: - Located at a distance of 66 kilometers from Dharamsala, Nurpur is named after the beloved wife of Jahangir, the Mughal Emperor. It is famous for its beautiful Krishna temple and historical fort.
Taragarh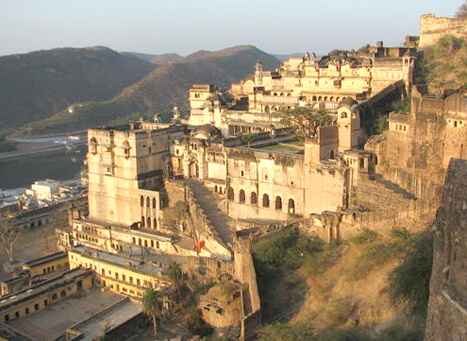 Taragarh positioned at an elevation of 3,400 feet, the destination of Taragarh is at the bottom of the Dhauladhar Mountains, presenting a grand inspection of the contiguous snow- dressed hit the highest point.
Taragarh a legacy destination of Himachal Pradesh is sanctified with a quantity of a good number of extravagant and gorgeous landscapes everywhere, it is a vacationers heaven -supercilious snow peaks, bottomless gorges, flourishing green valleys, swift sinuous rivers, captivating peak lakes, blossom decorated paddock, gorgeous temples and monasteries precipitous in time. Also take pleasure in tranquilizing your minds, visiting the attractions, trekking, climbing, fishing, Para-gliding, skiing, ice skating and golf.
Pragpur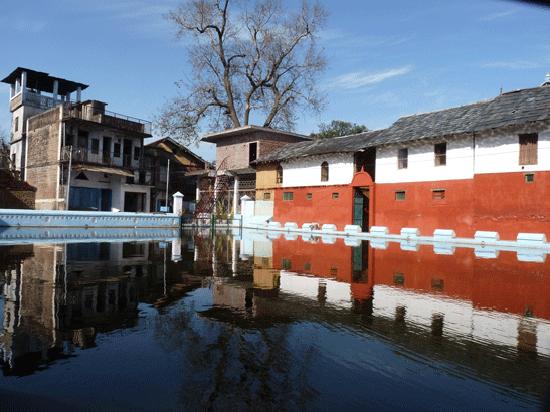 Pragpur is situated in the district of Kangra, is one of the prominent tourist destinations of Himachal Pradesh. The place was declared as a Heritage Village in 1997 by the Government of Himachal Pradesh. The twin villages of Garli-Pragpur were later declared Heritage Regions in the year 2002. This was done because there are several places in the region which are of historical and religious significance. 
The Taal, a pond located in the heart of the village, is a major attraction of the place as the entire village seems to be constructed around it. The heritage structures situated in the vicinity of the Taal include the Radha Krishna Mandir, Nehar Bhawan and Naun. An ancient building said to be more than 100 years old, the Bhutail Niwas, attracts numerous tourists. Another attraction of Pragpur is the Judge's Court, a manor showcasing the Indo-European style of architecture. The Dhunichand Bhardial Sarai adds to the list of prominent tourist destinations of Pragpur. Other than that, Bajreswari, Jwalamukhi, and Chintpurni are a few of the renowned temples in the region that attract numerous visitors. Lohri, a popular festival of the village, which celebrates the movement of the sun from the southern hemisphere to the northern hemisphere, draws large numbers of tourists every year. Another festival, which brings, in a large number of visitors to Pragpur during the month of September, is the Wrestling Festival. 
Shimla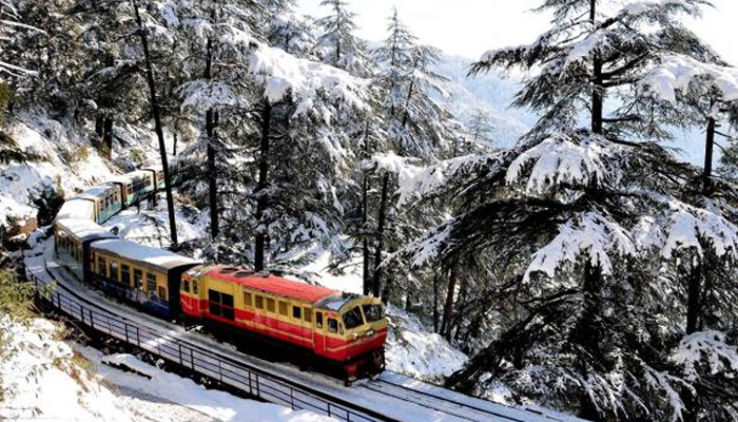 Shimla is the stunningly rich greenery and majestic snow clad mountains greet you to enjoy their timeless beauty. Jakhoo Hill for all the nature lovers, Kufri ideal for activities such as skiing, hiking and Ice Skating, Annandale for Adventure Golf, Kalka–Shimla Railway, Naldehra And Shaily Peak for trekkers, Camping at Shoghi, Kiala Forest are popular attractions.