Srinagar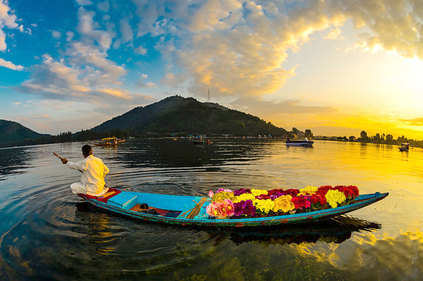 The summer capital of Jammu and Kashmir, Srinagar is well known for the "Dal Lake", house-boats, dry fruit, saffron and traditional Kashmiri handicrafts like handwoven woollen shawls, carpets and rugs.
Dal lake where one can hire shikaras and buy souveniers from floating markets, Nigeen Lake popular for Shikhara ride or a houseboat stay, Indira Gandhi Tulip Garden, Wular Lake known for Boating and relaxing retreat, Chatpal known for Apple and walnut trees, Betaab Valley known for Magnificent views and carpeted greenery, Aru Valley known for Hiking, skiing (in winters), horse riding, camping, and trekking, Mughal Gardens, Dachigam National Park known for Wildlife safari, Shankaracharya Temple, Awantipora are major tourist attractions. The best time to visit Srinagar is between April and September. Don't forget to buy Pashmina shawls.
Kargil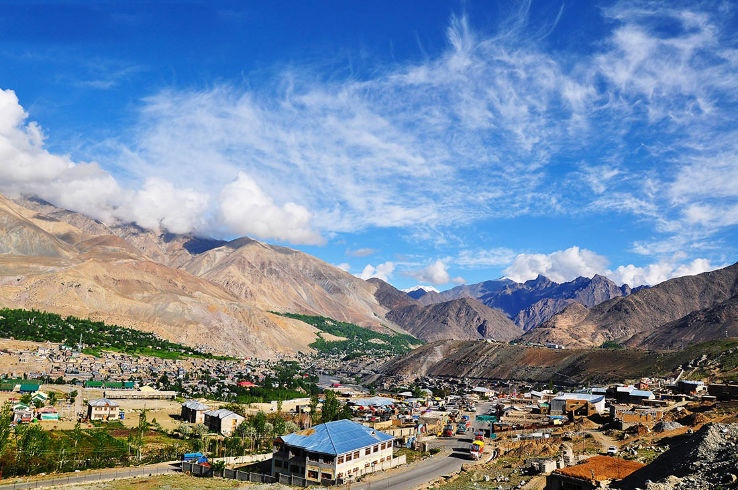 Kargil is the second biggest town of Ladakh became popular after a war was fought over the region between India and Pakistan. There is Kargil war memorial hall in the Drass for the bravery of Indian soldier during the Kargil war. Mainattractions are - Rangdum Monastery, Mulbekh Monastery, War Memorial, Suru Valley.
Leh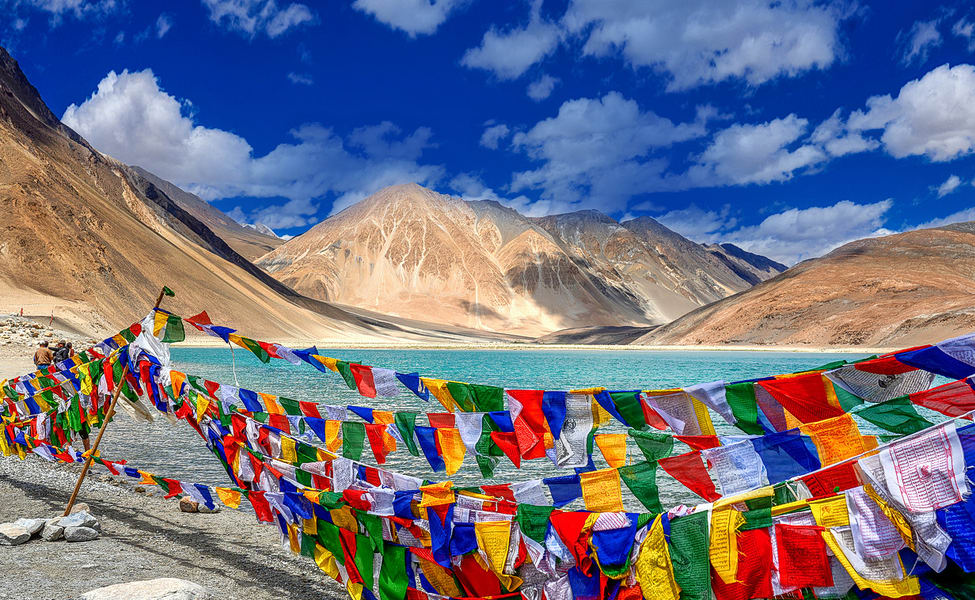 There is no other place on earth that matches with the scenic beauty of Leh and the bliss you can experience here. Jagged with colourful fluttering flags, dramatic mountains and unforgettable landscapes, Leh is a treat to one's eyes which also offers plenty of adventure sports.
The place offers beautiful scenery, loads of monasteries and lakes to discover, lot of trekking trails! Pangong Lake, Magnetic Hill, Nubra Valley, Tso Moriri Lake, Lamayuru Monastery, Shanti Stupa, Royal Leh Palace, Chadar Trek, Tso Kar Lake, Hemis Monastery, Khardungla Pass, Drass Valley, The Snow Leopard Trek are major tourist attractions. Don't miss cycling in Ladakh, jeep safari, Camel Safari, Camping at Nubra Valley, Motor Biking.
Major Attractions Of Leh
Leh Market
The artifacts and souvenirs are often displayed on the road-side stalls and it is the best market to get Tibetan handicraft items like Pashmeena wool dresses, Prayer wheels, Traditional Ladakhi jewellery which are genuine.
Leh Palace
The ancient Leh Palace which is just 5 km away from the Leh is under the control of Archeological Survey of India (ASI) and offers a panoramic view of the Stok Kangri and Zanskar ranges across the Indus Valley.
Shanti Stupa
The highest white beautiful stupa on a hilltop in Chanspa, Leh district is the best place to admire the beauty of Himalayas. It was built by the Japanese monks to promote world peace. Don't forget to do a little meditation besides the Stupa which might help you get what you came here for. The nighttime view is even better.
Sangam Point
One of the most famous spots in Leh which is the meeting point of the Indus and Zanskar is known as the Sangam Point. It is an amazing sight for the onlookers as the water of the Indus River is very warm and the Zanskar is frozen.
Hemis Monastery
The Hemis Monastery is visible during a Leh Ladakh road trip. The distance between Hemis and Leh is 40kms and easily accessible by any vehicle. Interior decorated by numerous gold statues and stupas enhanced by the precious yet rare stones is worth visiting.
Drass Valley
Drass Valley gives you an exhilarating experience and is the must visit place. It offers amazing sights where you can't click a bad pic.
Nubra Valley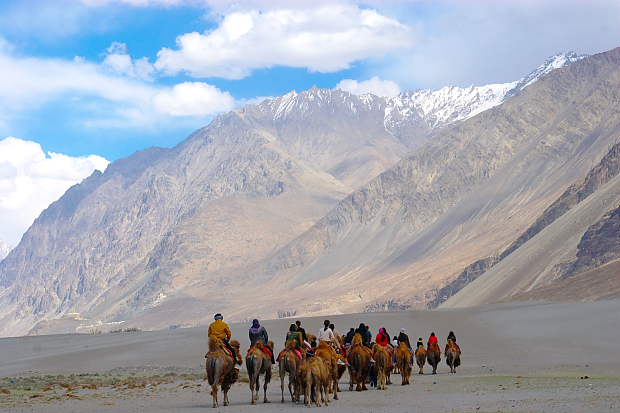 Nubra valley is a place that cannot be missed if you are travelling to Ladakh in the summer as it is rich in sightseeing opportunities. Trekking, camping and camel safaris at Hunder, ATV Ride at Khalsar, Zimskhang Palace, Ensa  Gompa and Yarab Tso Lake are major attractions. The sand dunes of the Nubra Valley give you Arabian Nights like experience.
Pengong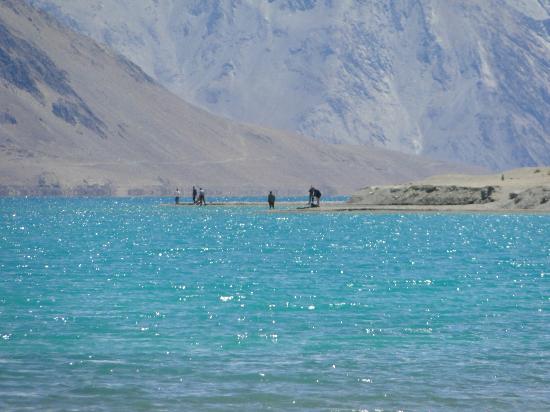 Pangong Lake also known as Pangong Tso is a beautiful endorheic lake situated in the Himalayas and is 134 km long, extending from India to China. Pangong Lake is situated at a height of 4350 m and is one of the biggest tourist attractions of the country. The beauty and allure of this lake has attracted people from all over the country and beyond. The lake is said to be in the process of being identified as a wetland with international significance under the Ramsar Convention and if everything goes as expected then the Pangong Lake will be the first in South Asia to be a trans-boundary wetland and that too under this convention.
The one factor that makes this Lake so popular is the fact that it keeps changing colors. Situated in the Himalayan range it is approximately 140 km from Leh in Jammu and Kashmir. The name of the lake Pangong was got from a Tibetan word Banggong Co that means a narrow and enchanted lake. And now you know that the lake has got its name rightfully. You will know this when you visit the beautiful lake of Pangong. You are sure to be enchanted by the charm. And because the lake is a long stretch, one third area of the lake lies within our country and the other two third portion lies with Tibet and is controlled by China.