Paro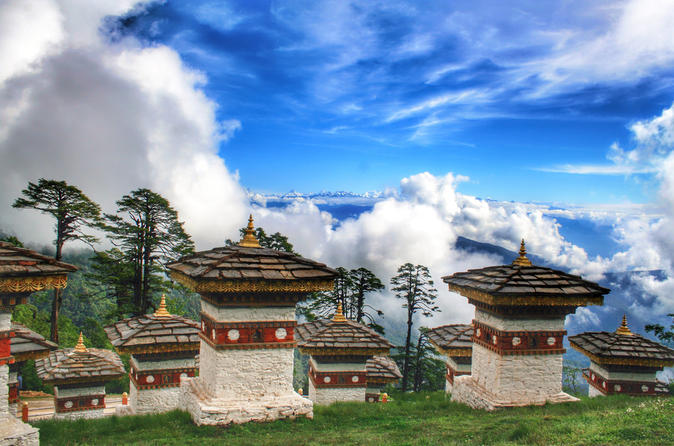 Surrounded by unleveled mountains, lush green fields and historical buildings, peaceful serene beauty and clean air make Paro the foremost popular destination in Bhutan. Paro and Zuri monasteries and palaces like Paro Taktsang (Tiger's Nest Monastery), Chele La Pass, Pelri Goemba, Ugyen Pelri Palace, Bondey Lhakhang, Khangkhu Lhakhang, Tago Lhakhang, Rinpung Dzong, Druk Choeding and National Museum, Zuri Dzong Trek, River Raftering and Kayaking in Paro Chhu is a thrilling water sport and will offer you a unique experience are major tourist attractions.
Thimphu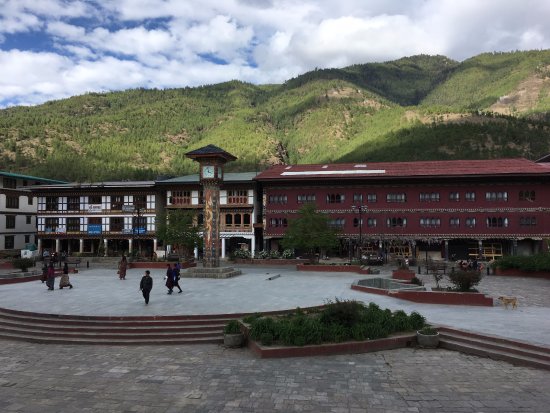 Thimphu is charming capital city nestled in the Himalayas with the beautiful sights of the Chuu River flowing through it. You will see buildings that are built only in Bhutanese style. Rock climbing is a must experience adventure sport, Dzong such as Tashichhoe and Simtokha; Monasteries such as Dechen Phodrang, Tango and Cheri, Dechencholing Palace, Dochula Pass a scenic spot located more than ten thousand feet above sea level, Norzin Lam Street, Clock Tower Square, Motithang Takin Preserve, National Memorial Chorten, Buddha Dordenma Statue, charming cafes and bars as well as nightclubs and restaurants are the top attractions of Thimphu.
Punakha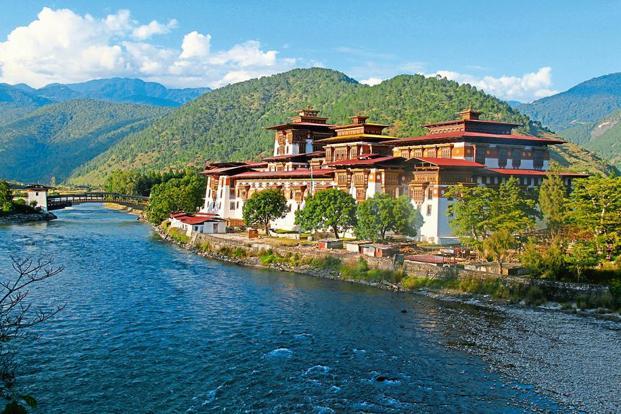 Punakha is widely visited by adventure seekers. River rafting in the two rivers/chhus – Mo and Pho, Punakha Dzong, Masked dances and traditional music during Punakha Tshechu, a religious festival of Bhutan, Chimi Lhakhang and Namgyal Chorten, Limbhukha are best places to see in Punakha.
Trongsa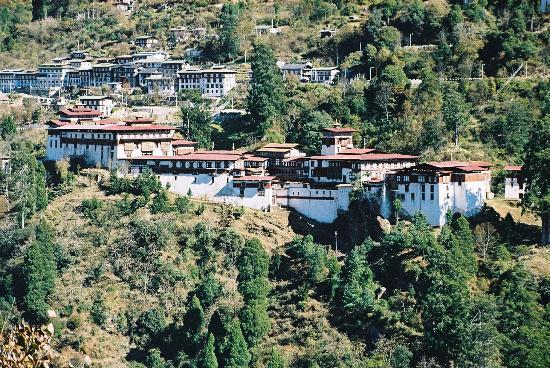 The Vanguard of the Warriors - Trongsa Dzongkhag is located near the centre of Bhutan and was considered crucial in controlling the kingdom in earlier years due to its strategic position.
This town is situated on a steep ridge and offers spectacular views of the deep valleys surrounding it. The various hotels, guesthouses and restaurants all offer stunning views from their balconies. Trongsa Dzong is easily visible from anywhere in town and is always an impressive sight as it is situated atop a steep ridge that drops off into the clouds on its south side
The Trongsa Dzong, which was built in 1644, used to be the seat of power of the Wangchuck dynasty before they became rulers of Bhutan in 1907. Traditionally, the King of Bhutan first becomes the Trongsa Penlop (governor) before being named the Crown Prince and eventually the King. Built on a mountain spur high above the gorges of the Mangde Chhu, the dzong controlled east-west trade for centuries. Trongsa also boasts an impressive museum. The watchtower of Trongsa has been converted into a museum dedicated to the Wangchuck dynasty and is a good place to learn about the history of the kingdom.
A five-day festival known as the Trongsa tsechu is held in the northern courtyard during December or January. Every monastery in Bhutan observes this festival, which celebrates the arrival of Guru Rimpoche to Bhutan in the 8th century, a mark of triumph of Buddhism over evil. It is held in spring and autumn seasons according to the Bhutanese calendar.